Indiana ready for challenges North Carolina brings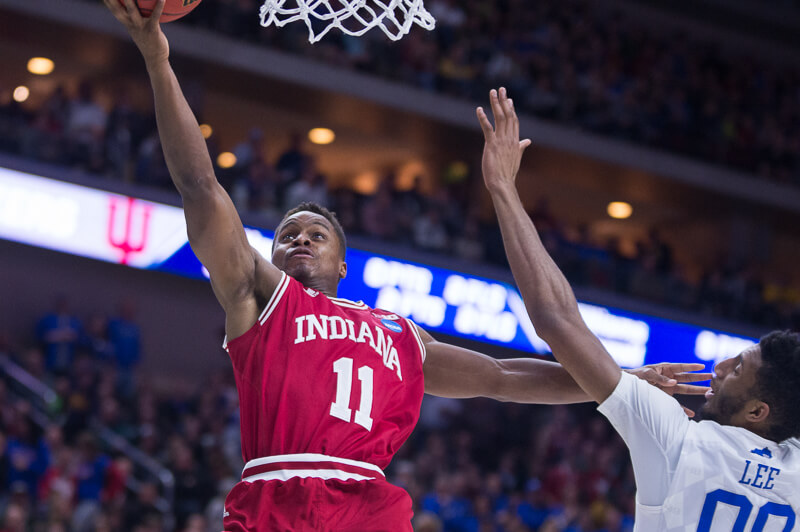 PHILADELPHIA — After last week's win against rival Kentucky, Indiana was rewarded with a trip to Philadelphia for the Sweet 16 – and a date with No. 1 seed North Carolina.
IU versus UNC is expected to be the most watched game of the weekend, just like IU-UK was last weekend.
"It's a great challenge, because I mean they don't put anybody out on the court that can't defend at a high level or score at a high level," Tom Crean said. "I think one of the things that separates this Carolina team so much is the way they pass the ball. So it all starts with your transition, because they get out and run."
The Tar Heels are full of long, athletic forwards that can run – something the Hoosiers haven't seen much of this season. Crean says the only other team in the Big Ten that can compare with the speed and transition game that UNC has is Iowa.
"Carolina just keeps putting more forwards out that continue to get out – they do such a great job with their first three steps of getting out on the break in every area and throwing the ball ahead. So you have to get back," Crean said. "You can't be in the middle of the court. You can't be wondering who you have. You can't be thinking about who is going to get to the rim. If you're first, you've got to get to the rim."
The Tar Heels have won seven straight games – all of which came against teams that made the NCAA tournament. Four of those teams made the Sweet 16 – Syracuse, Duke, Notre Dame and Virginia.
"They're a great team," Nick Zeisloft said. "They're a No. 1 seed for a reason. They play well and play fast. And they're very athletic and talented. I mean, it adds some motivation to go out and get them and prove what we're about. But we just have to stick to playing their guys and doing what we do out there on the court."
The two position battles to keep an eye on are at point guard and in the post. Yogi Ferrell will be matched up with Marcus Paige, another senior, who is counted on to distribute the ball to the plethora of playmakers UNC has. He averaged 12 points and 3.7 assists in the regular season.
"We can't let him catch the ball," Ferrell said. "When he catches the ball, anything can happen for his team. He can dish it off to anybody. Score at will. Can shoot it from NBA range. So the main thing with him is you limit a guy's touches, you limit a guy's attempts."
On the inside, Thomas Bryant – along with Max Bielfeldt, Juwan Morgan and OG Anunoby, will have the task of guarding Brice Johnson, one of the best players in the country.
Johnson averages a double-double per game, and has several talented forwards around him in Justin Jackson, Isaiah Hicks and Kennedy Meeks. Anunoby said he will likely have some time against Johnson.
"It feels great to finally go against them," Bryant said. "Brice Johnson is a great athlete, gets out there in transition and carves out space in the low block. So does Meeks. This is a great team with great post players. We've just got to stay disciplined and go out there with a mindset of trying to win the game out there."
Filed to: 2016 NCAA tournament, North Carolina Tar Heels