Indiana faces North Carolina at NCAA tournament crossroads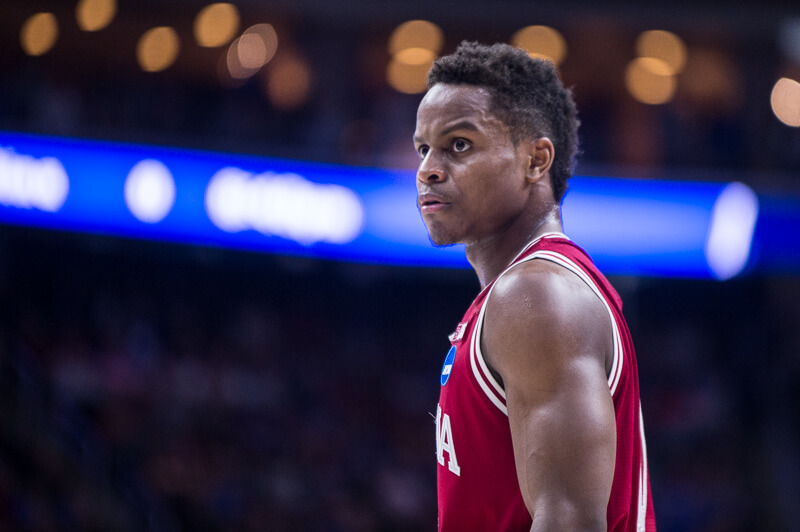 PHILADELPHIA – Max Bielfeldt has been in this position before.
In 2013, he was a member of a Michigan team that was the No. 4 seed in the South Region faced with the task of taking down the top seed, Kansas.
The Wolverines did that – and advanced all the way to the national championship game – but needed to overcome a 14-point second half deficit and use overtime to get past the Jayhawks.
Now Bielfeldt will try to help Indiana navigate through a similar situation and one that the Hoosiers have yet to get past in the NCAA tournament under Tom Crean: the Sweet Sixteen.
Indiana has been here twice under Crean, in 2012 and 2013. In 2012, no one expected the Hoosiers to win, and they didn't, but they gave eventual national champion Kentucky a stiff test in Atlanta. The 2013 appearance was a different story as the top seeded Hoosiers were stunned by Syracuse in Washington D.C., a loss that current IU point guard Yogi Ferrell was a part of.
Which route will the Hoosiers take? Bielfeldt said Thursday that he views the Sweet Sixteen as the crossroads of the tournament.
"I'd say the Sweet Sixteen is the point of the tournament where a team is at the crossroads," he explained. "It's either lose and you're done or if you win that game, you really get momentum to go deeper in the tournament.
"I think with the way it is set up right now with us playing the No. 1 seed in our region, it would be a huge win for us to propel us. We're at that crossroads where we've got to make a decision. We've got to start playing our best basketball right now or the season is going to be over."
For North Carolina, their veterans Brice Johnson and Marcus Paige are viewing tonight's game in a similar light.
Paige and Johnson bowed out in the second round their first two seasons at North Carolina before advancing to the Sweet Sixteen as juniors to face eventual national runner-up Wisconsin.
Paige said Thursday that he was just excited to be in the second weekend of the tournament a year ago, but is approaching it with a different mindset this time around.
"We expect to get to Houston. This is another thing in the way of preventing us from getting there," he said. "We've got to take care of our business. I think we've earned the right to have that mentality as a one seed, but that's not going to win the game tomorrow."
So what is going to win the game?
For North Carolina, it's getting the ball inside. Paige said the Tar Heels will be trying to get the ball as close to the basket as possible on every possession. That means the Hoosiers are going to need to be extra sharp defensively, particularly in transition where North Carolina is most dangerous.
Indiana knows it must play one of its best games of the season to move on, which means the Hoosiers must take care of the ball and move it around for the best shot possible.
"These games are set to where if you don't come in prepared and you get away from what you've done that's made you successful, you lose," Collin Hartman said Thursday.
"We just want to beat them to the punch," Troy Williams added. "We've got to get out and run with them. Transition defense is going to be key for us and we've got to make the right plays on offense."
As well as Indiana's season has gone to this point – and it has gone very well with an outright regular season Big Ten championship and a win over Kentucky in the round of 32 – taking the next step would be a major accomplishment for the program.
"There's a little more energy around it," Bielfeldt said. "This is where it gets down to a dog fight. Every team wants it bad. They've all made it this far and have won two big games. To continue to win games, you have to keep that mentality and be razor sharp."
Filed to: 2016 NCAA tournament, North Carolina Tar Heels