Morgan, Hartman set to play against UNC, Johnson hopeful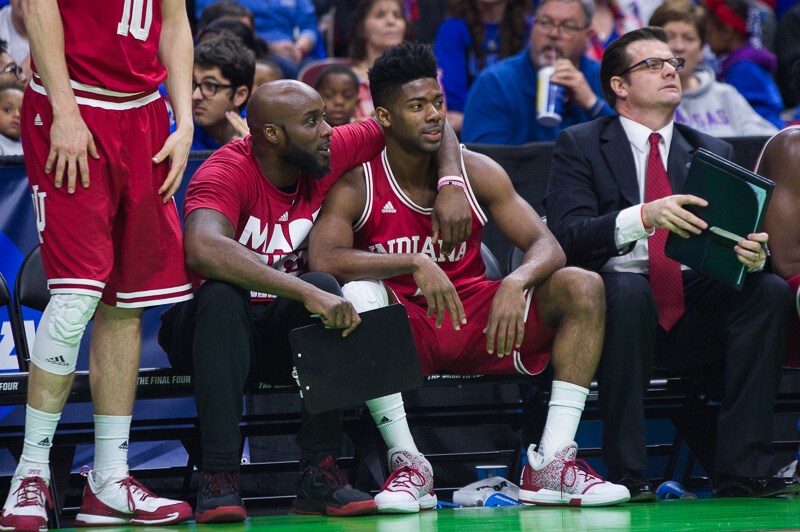 PHILADELPHIA – If the decision is left up to him, Robert Johnson is ready to give it a go on Friday when Indiana tips off against North Carolina in the Sweet Sixteen.
Johnson's left ankle injury, which he re-aggravated in IU's second round NCAA tournament win over Kentucky in Des Moines, slowed him down in practice this week.
On Thursday, Johnson said he rehabbed 2-3 times a day this week, and was limited in practice to certain drills. He stayed out of live action for precautionary reasons.
"If it is up to me I am definitely going to play," Johnson said. "But I think it'll be a game-time decision based on how the coaches and the trainers feel."
The trainers don't want to rush Johnson back just to have him further damage the ankle.
"They know how I feel as far as the risk of things," Johnson said.
Johnson said the ankle has been a lingering issue since the Duke game on Dec. 2, and has never gone fully away. It's been nagging at him, but it hasn't hurt his game too much.
"I'm not 100 percent, but then again I haven't been 100 percent for a lot of the year," Johnson said. "If it was up to me I'd be out there."
During Indiana's open practice today, Johnson was on the floor wearing a brace on his ankle. He didn't do much running, but did partake in shooting drills – mostly from long distance. It's safe to say the ankle hasn't disrupted his shooting ability after watching Johnson hit a bevy of 3s.
Juwan Morgan says he will play
Juwan Morgan says the shoulder injury he has been battling won't keep him out of the Sweet 16 and that he will be playing.
He said he doesn't think about the injury during games, and doesn't let it dictate his play, which is why he probably keeps re-injuring it.  The freshman forward also had stitches in between his eyes that he needed from getting banged up in practice.
Hartman's wrist improving 
The wrist injury that Collin Hartman suffered against Michigan in Indianapolis has improved greatly, Hartman said on Thursday afternoon at the Wells Fargo Center.
"It's good," Hartman said. "Taking it day-by-day, getting more and more treatment. Staying on top of things and keeping it moving."
Hartman joked that the team doctors don't get much sleep with all the injuries the team has sustained in recent weeks.
"They have their hands full definitely," Hartman said. "They're doing a great job keeping us going."
Hartman said he's looking forward to the matchup against North Carolina, and noted how the chemistry of the team has really helped keep them pushing forward for each other.
"We're all excited for the Sweet Sixteen," Hartman said. "It's another chance to play, another day to practice and another chance to be with each other. All these guys love each other, we're a really, really tight knit group and just having the opportunity to play another game is a gift to us."
He also said IU has handled the win over Kentucky well, and is looking forward to being able to play another power program in UNC.
"If you keep dwelling on a loss, or stay too high on a victory than it can bite you the next game," Hartman said. "You have to learn from the loss or victory, but the next game is the next game. You can't take it any less or any more serious than the previous game."
Filed to: 2016 NCAA tournament, Collin Hartman, Juwan Morgan, Robert Johnson