Notebook: Ferrell-Paige matchup, injury updates and more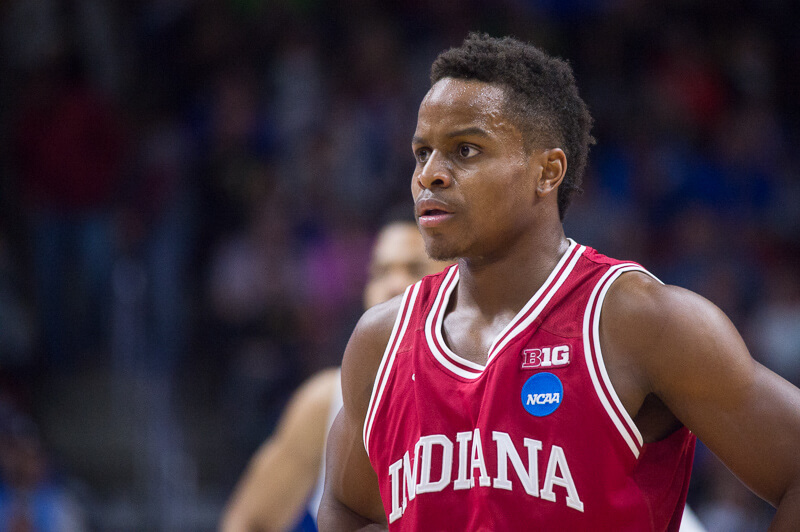 For a second straight game, Indiana will face a powerful blue-blood program in the NCAA tournament when it tips off with North Carolina late Friday night in Philadelphia.
Yogi Ferrell will once again lead his team, and also will have another high profile position battle with Marcus Paige, another four-year player.
"He's been a guy that's stayed all four years like I have in that program," Ferrell said. "The way he's impacted that program with his presence of play, being able to shoot it from deep, being able to pass it, being a crafty point guard."
Paige averaged 12 points and 3.7 assists per game during the regular season for the Tar Heels.
Ferrell said he also played Paige back in high school on the AAU circuit, and that he's about the same player – just far more polished and refined at his game.
Tom Crean said that while he isn't in the UNC locker room, he knows that team has good leadership, just like IU does. He also doesn't want to make the Paige versus Ferrell match-up the focus, just like how he viewed Ferrell against Tyler Ulis.
"It's not about matchups as much as it's about tendencies, like what they want to do," Crean said. "He's a tremendously quick shooter, he's a veteran, very quick, very good on ball defender, runs his team, plays with great speed, change of direction is really good. It's not so much about Yogi and Marcus Paige, it's about what does Marcus Paige do really well that we have to take away."
Injury updates
Crean described the status of Robert Johnson for Friday's game as "iffy" after the sophomore guard re-injured his left ankle in the first half of Saturday's win over Kentucky.
Johnson missed four straight games before returning for IU's NCAA tournament against Chattanooga last Thurday.
"We're just going to have to see," Crean said.
As for Juwan Morgan, who also left the Kentucky win early with another shoulder injury, he's been practicing this week and making progress, but had to get stitches for a head injury.
"Juwan's getting better," Crean noted on Tuesday. "He had some stitches to his head today in practice, so he was out there."
Bryant looks to avoid foul trouble
In recent games, Thomas Bryant has collected two early fouls and been forced to ride the bench for long stretches of the first half.
It's important to break this trend against the Tar Heels, as Bryant will be faced with the tall task of guarding Brice Johnson – who has posted 20 double-doubles this season, and averages 16.8 points and 10.5 rebounds per contest.
Despite not agreeing with the fouls called on Bryant against Kentucky, Crean said it's difficult to focus too much on not fouling, especially against a team as quick as UNC.
"The more we talk about don't foul, the easier it is to foul," Crean said. "This is going to be a very big personnel game for us."
With Morgan banged up, and Collin Hartman also not 100 percent, both Bryant and Max Bielfeldt will be called on to defend Johnson, as could OG Anunoby.
Bryant does feel like he can do something to avoid those early fouls.
"Mostly just moving better," Bryant said. "Being in spots faster, talking more out there and being in a position where the refs don't have to make those iffy calls."
Zeisloft steps up on defense
With Robert Johnson missing time due to an ankle injury, Nick Zeisloft has stepped forward to fill Johnson's shoes – especially on defense.
His teammates have taken notice of the extra work he is putting in.
"Nick's taking a lot more pride in defense I feel like," Ferrell said. "He's been doing a lot of extra stuff, even playing 1-on-1 against some of the guys. He's getting film on guys he could possibly be guarding to know what they like to do. He's just wanting to go out there and get a stop."
In practice, Zeisloft has been playing against Josh Newkirk, a speedy guard that played in the ACC last year and knows what the Tar Heels are all about.
"Him and Josh have been going at it," Bielfeldt said. "Josh isn't exactly the slowest person on the perimeter so it's nice for him to move his feet against a quick guy like him."
Filed to: 2016 NCAA tournament