Roundup: National writers weigh-in on IU's Sweet Sixteen chances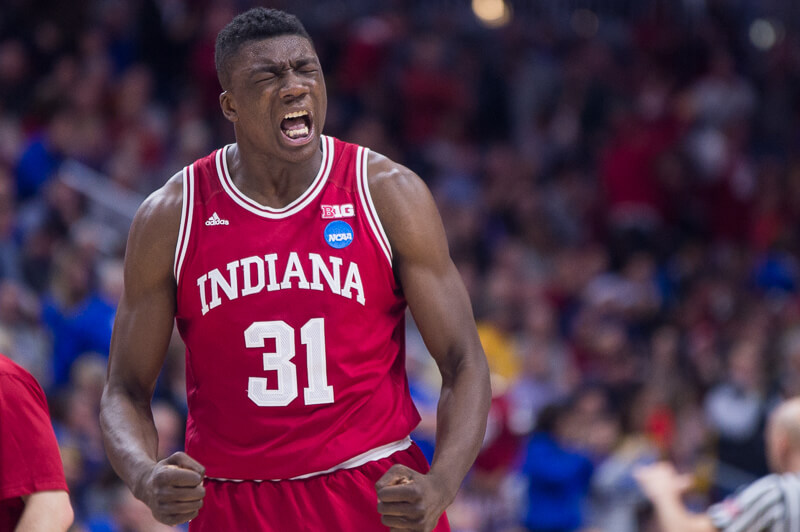 After beating Chattanooga and Kentucky in Des Moines in the 2016 NCAA tournament first and second rounds, Indiana is moving on to Philadelphia this weekend for a meeting with top-seeded North Carolina. The Hoosiers and Tar Heels will tip off at approximately 9:57 p.m. ET at the Wells Fargo Center.
Here's a roundup of what writers from around the country are saying about IU's chances in the Sweet Sixteen:
· Mike DeCourcy of The Sporting News ranks the 16 remaining teams in order of their chances to win the national championship:
3. Indiana

The Hoosiers survived perhaps the most difficult second-round game of any team left on the board. That's not to say they played the closest game, but rather they had to beat the best team to stay alive. Kentucky was a monstrous challenge for IU, and here comes one bigger. Indiana has become a far better defensive team; the last time they played an opponent with a true double-post game, they managed a four-point home win over Purdue, but when they faced a similar attack against Michigan State on the road they were beaten by 19.
· Jeff Eisenberg of Yahoo! Sports performs that same exercise, but is less bullish on the Hoosiers:
7. Indiana
How it got here: Defeated Chattanooga (12), Kentucky (4)
Up next: North Carolina (1)
Outlook: What was so impressive about Indiana's second-round victory over Kentucky wasn't merely the outcome. It was that the high-scoring Hoosiers did it with defense, holding the Wildcats to just 0.94 points per possession, silencing their talented but erratic frontcourt and forcing Jamal Murray to take 18 shots to get his 16 points. Indiana has the firepower to contend for a national title if it can continue to defend at that level, but the Big Ten champs do not have an easy path. Up next for the Hoosiers: a showdown with ACC champion North Carolina.
· On ESPN Insider, John Gasaway has the most important number to know for each Sweet 16 team:
Indiana

Number to know: 0.94
At the risk of oversimplifying, Indiana is in the Sweet 16 because it held Kentucky to 0.94 points per possession. The remarkable improvement charted by the Hoosiers' defense has received its fair share of notice, but IU recording this kind of performance in the NCAA tournament against an excellent Wildcats offense is frankly something I never could have imagined in November. UK went just 4-of-16 on its 3s, and even if it's true that the Wildcats' struggles can be attributed to simply not hitting shots, it's also true that Kentucky made less than half of its 2s and gave the ball away on 22 percent of its possessions. It was something of a riveting and tense rock fight, really, and Indiana emerged as the survivor.
· The Worldwide Leader also has this handy "chances to advance chart" for each region and gives the Hoosiers a 22 percent chance of moving on to Houston:

· Thomas Bryant is the player to watch in the East Regional, according to Sports Illustrated:
Yogi Ferrell routinely steals the show for the Hoosiers, but Thomas Bryant might have been the biggest reason this program got past Kentucky in the second round. Bryant, a skilled 6'10'' freshman center, scored 15 of his team-high 19 points in the final eight minutes of Indiana's 73–67 win over the No. 4 Wildcats. Watching Bryant match up against the likes of Carolina's Brice Johnson in the Sweet 16 could be a sight to behold.
· Five Thirty Eight has updated its March Madness predictions and gives IU just a 27 percent shot to beat North Carolina:

· Yogi Ferrell is one of the 10 most valuable Sweet Sixteen players, according to USA Today:
The 6-1 guard has an Isiah Thomas flavor about him, playing with an edge to fuel a team.

The Hoosiers wouldn't be Big Ten regular-season champs or in the Sweet 16 without him, that's for sure. In Indiana's program-lifting win against rival Kentucky, Ferrell scored 18 points and hit several clutch shots.

He had 20 points and 10 assists in the first-round win against Chattanooga.
Filed to: 2016 NCAA tournament