First look: North Carolina Tar Heels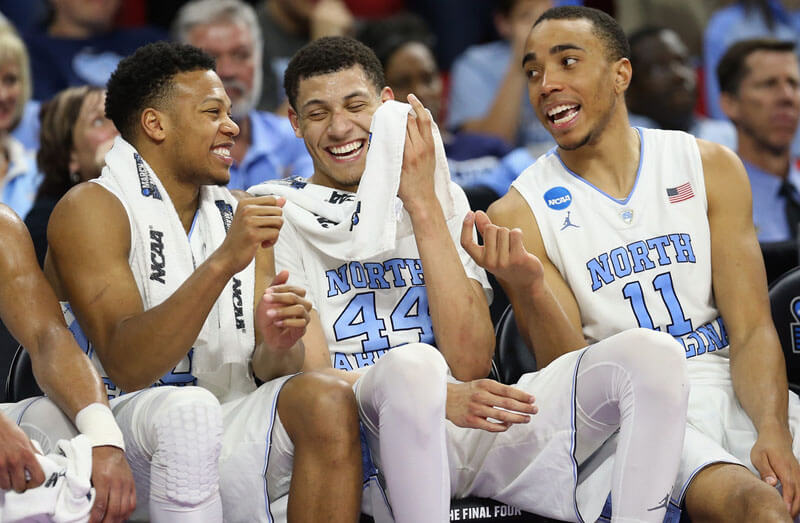 Indiana will face North Carolina in the NCAA tournament East Regional semifinal on Friday at the Wells Fargo Center in Philadelphia, Pennsylvania. We'll have our in-depth What To Expect preview later in the week, but here's a first look at the top-seeded Tar Heels.
North Carolina already has two national championships under Roy Williams and many believe this could be the year the Tar Heels capture a third under his leadership.
The ACC regular season and tournament champions, North Carolina is playing arguably its best stretch of basketball of the season at just the right time. After a tough first half against Florida Gulf Coast, the Tar Heels came alive to win their first round game comfortably, 83-67. That performance was followed up by a blowout win over Providence, 85-66, in the second round in Raleigh.
When looking at its resume, there aren't many holes for North Carolina. Each of its six losses have come by six or fewer points and five came in true road games. In neutral site games, North Carolina is 9-0 this season with two of those wins coming over Virginia and Notre Dame, both Sweet Sixteen teams.
The Tar Heels finished the regular season 25-6 and with a very good win over Maryland at home early in the season in the Big Ten-ACC Challenge. The two common opponents for Indiana and North Carolina are the Terps, the Fighting Irish, Northwestern and Wake Forest. Indiana went 3-2 against those teams (loss to Wake in Maui and at Duke) while North Carolina went 5-2, losing to the Fighting Irish in South Bend and to Duke at home.
With a top ten offense and defense nationally according to KenPom, the challenges North Carolina presents are significant.
"In our mind, the best transition in our league is Iowa and Michigan," Tom Crean said on Monday. "I know ours is good, but I always think Iowa and Michigan. And a lot of times, Michigan State's transition especially when they run after a made basket.
"North Carolina is at another level from that because they have so many forwards that can run. They're five to six deep at the four and five positions and they can all get out and run. There's a quickness level there. We can't get caught up in matchups in this game, we've got to get caught up in making sure that the ball is in front of us."
There are several things that stand out when looking at North Carolina's profile on both sides of the ball.
Offensively, the Heels play one of the nation's fastest tempos, but take care of the ball. Only 47 teams in the country average more possessions per game than North Carolina, yet the Tar Heels rank 25th in the country at taking care of the ball (15.4 turnover percent). That's significantly better than Indiana, which ranks 273rd in the country at turnover percentage at 19.6. Indiana, of course, had a similar disadvantage on paper against Kentucky entering that matchup in the round of 32, but flipped the script and took care of the ball while turning the Wildcats over thanks to six offensive fouls drawn.
Both teams are elite on the offensive glass with North Carolina ranking fourth in the country in offensive rebounding percentage (39.9) and Indiana not far behind at 15th nationally (37.1 percent). North Carolina is somewhat vulnerable on the defensive glass and if Indiana isn't hitting perimeter shots, second chance points are likely to loom large.
North Carolina's fifth ranked offense is built on taking care of the ball, hitting the offensive boards and finishing 2s at an elite level (53.8 percent). The Heels aren't a great 3-point shooting team as they're hitting just 31.4 percent of their shots from distance, which ranks 308th in the country.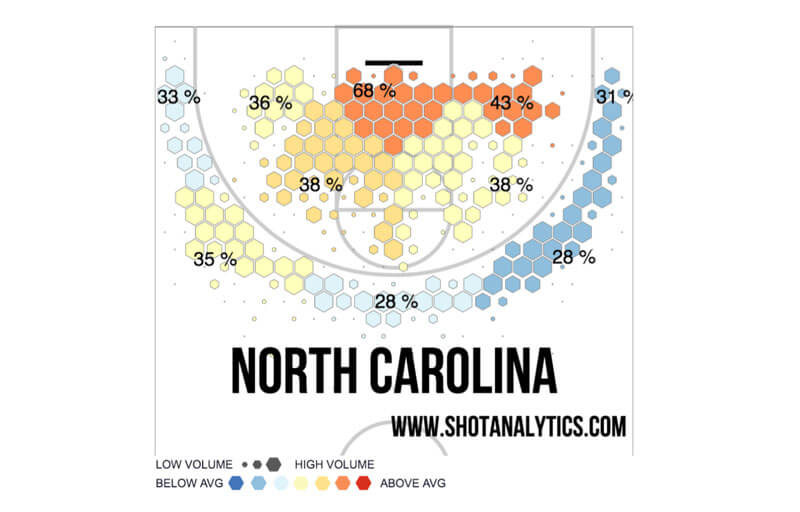 Defensively, North Carolina is very good at defending the paint and around the basket, but it does struggle to guard the 3-point line, ranking just 223rd in the country in 3-point field goal percentage defense.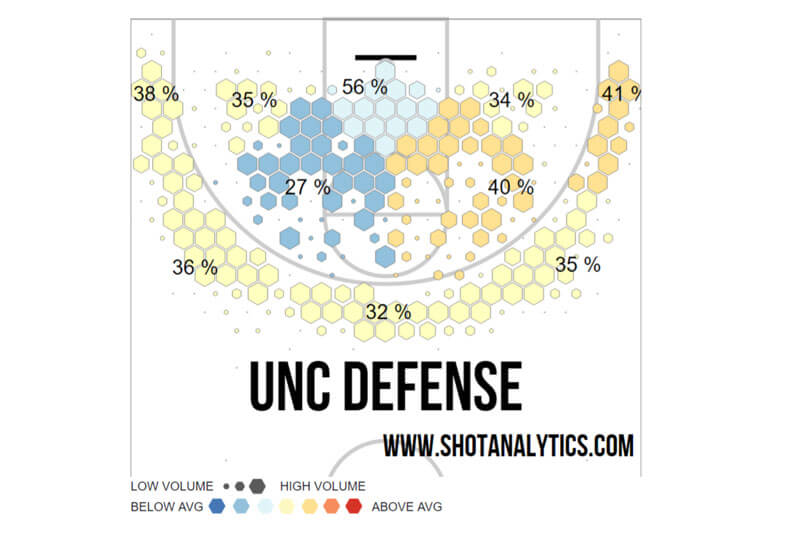 We'll dig into the remainder of the roster much more later in the week in What To Expect as North Carolina is a deep and talented group, but the matchup that will probably loom largest is Brice Johnson.
The 6-foot-10 senior currently ranks second in KenPom's player of the year rankings. He's finishing close to 62 percent of his 2s, hitting 77.8 percent of his free throws and is one of the 15 best defensive rebounders in the country.
Johnson leads the Tar Heels in scoring (16.8 points per game) and rebounding (10.5). And with help alongside him in Kennedy Meeks and Isaiah Hicks, Johnson can afford to be aggressive at all times.
The line for Friday's game opened at North Carolina by six late Saturday night after the Tar Heels beat Providence has moved down to 5.5 in the days since. KenPom likes the Heels by five in his projections and gives the Hoosiers a 34 percent chance to pull the upset. FiveThirtyEight is less bullish on IU as its odds currently give the Hoosiers just a 22 percent chance to advance to the regional final on Sunday.
(Photo credit: Streeter Lecka/Getty Images North America)
Filed to: 2016 NCAA tournament, North Carolina Tar Heels