Indiana overcomes injuries to defeat Kentucky, advances to Sweet Sixteen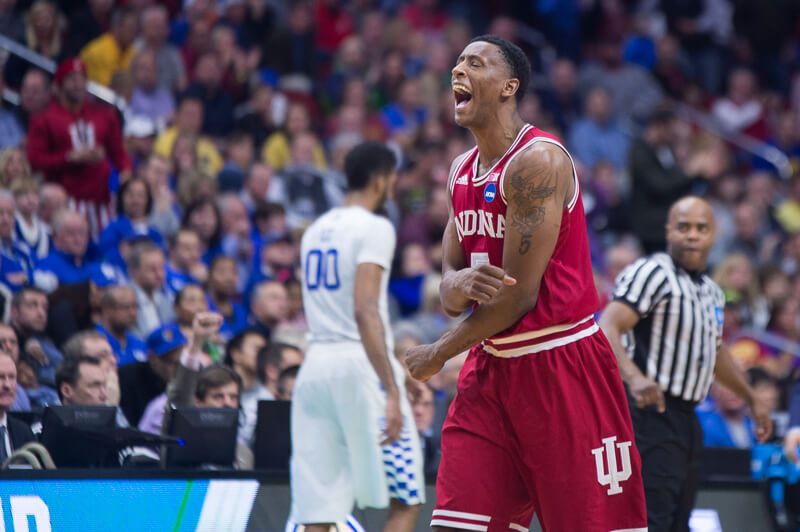 DES MOINES, Iowa — It came down to mental toughness.
That's what Thomas Bryant called it, when talking about making 4-of-6 free throws with less than a minute to play to keep his team ahead against Kentucky.
Bryant hit two free throws in a row with 10.4 seconds remaining to seal the win over the Wildcats 73-67 in Wells Fargo Arena. The victory sends Indiana into the Sweet Sixteen for the third time under Tom Crean, where it will play the winner of No. 1 seed North Carolina and No. 9 seed Providence in Philadelphia.
"Being an incoming freshman you always dream about these games and helping your team win a game in March Madness," Bryant said. "I was ready for it."
Bryant shot 70 percent from the free throw line during the regular season, and his teammates had no doubt the big man would produce at the line.
"The funny thing is, on our first day on campus, Thomas and I had a free-throw contest," Nick Zeisloft said. "We said 'alright best of 20' and we were tied at 19 of 20. We said 'alright overtime, next one to miss (loses)'. We didn't miss for the next 30 shots. I ended up beating him. He's going to make free throws. He's a heck of a free throw shooter, so we're going to have all the confidence in the world in him."
Physical, injury filled game
Instead of a high paced, high scoring affair that many figured it would be, IU and UK battled in a physical game that saw 46 fouls between the two teams.
Tyler Ulis, Kentucky's star guard had the upper-hand in the point guard match-up, but it was Yogi Ferrell that took over in the second half. Ulis was the game's high scorer with 27 points. Ferrell finished with 18 points, four assists, five rebounds and the win.
"We knew it was going to be tough having to defend Kentucky, so we just tried to stick to our keys on defense, take away what they wanted, and I felt like when we got those multiple stops in a row, that's when our break happens and good things happen with that," Ferrell said. "I feel like we shared the ball really well in the second half, and, you know, Nick hit a three and we were just driving to the rim playing inside out. We're unstoppable."
It was the first game against Kentucky for every player on IU's roster.
"I'm 1-0 against Kentucky now," Ferrell said. "I get to go out as a senior with that win."
The game also left the Hoosiers beaten up. Robert Johnson re-injured his ankle in the first half and did not return to the game. In the second half, OG Anunoby tweaked his ankle, but was able to return, and Juwan Morgan re-injured his shoulder and did not return.
Crean said he hopes both Morgan and Johnson will be able to play Friday, and both players said they will do whatever they can to be able to go.
"It was just a re-aggravation," Morgan said. "On the rebound, I went up with two hands and then I felt someone on my back, and once our arms got intertwined I just felt it come out. Hitting the ground didn't make it any better, it just pushed it out further."
Rivalry renewed?
Kentucky had more length than any team IU had faced this season. In high rebound situations, the difference in length and height was quite noticeable. Indiana's big men were able to keep that advantage at bay enough to pull out enough rebounds – especially late in the second half.
Kentucky Coach John Calipari said he thought his team didn't play at the level it had in the previous few games and wasn't sure if that was more because of what Indiana was doing, or themselves.
"We missed a ton of open shots we normally don't miss," Calipari said. "Normally this would be 15 assists and 10 turnovers. This is 8 assists and 15 turnovers, but let me remind you, six of those were offensive fouls. Tyler had a few that he normally doesn't get, Isaiah had a couple that he was a little bit out of control, but…"
Calipari went on to say he thinks Kentucky is fine in the big picture because he has what might be his best group of recruits coming in next year. When asked about if this game merited the rivalry being brought back to the regular season, his only response was "in Indianapolis."
IU Athletic Director Fred Glass was also asked about the series after the game.
"I really want to renew the series regardless of what happened today," Glass said. "I'm hopeful that we can get that back on because we just should play."
Filed to: 2016 NCAA tournament, John Calipari, Thomas Bryant, Tyler Ulis, Yogi Ferrell