Indiana looking to reheat rivalry with Kentucky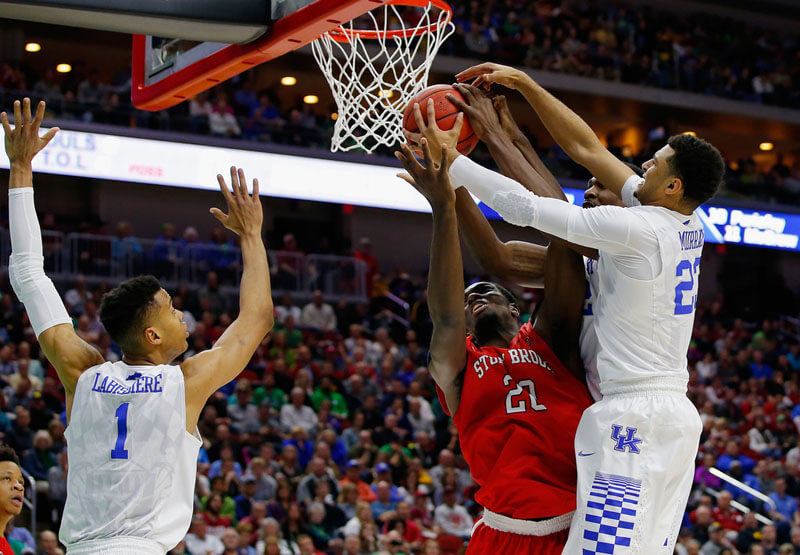 DES MOINES, Iowa — To each fan base, the rivalry still has meaning.
The Hoosier faithful and Big Blue Nation will clash off the court, but will it be the same from the teams on the court?
The two teams haven't played in four years, when Kentucky beat Indiana in the Sweet 16, and the normal bitterness between rivals just isn't there with the current rosters.
Kentucky's Skal Labissiere said UK doesn't really even care about the rivalry. Isaiah Briscoe said he isn't familiar at all with Yogi Ferrell. Tyler Ulis said he didn't know a whole lot about the the history between the schools since he hasn't played IU. Coach John Calipari was the only one in blue that had much to say about it.
"The fans on both sides will be into it and it should be good," Calipari said.
When the two historically powerful teams meet Saturday at 5:15 p.m. EST at Wells Fargo Arena, it'll be a chance for the classic rivalry to be reheated again. Two teams that are too good to be playing against each other in second round. Two teams that will dominate the conversation in the college basketball world no matter the result.
"This is just us versus them now," Ferrell said. "We're not going to treat them any different than Chattanooga."
Hoosiers want to push the tempo
All season long, IU has been pushing the tempo on offense. It wants to do the same against the Wildcats.
The match-up to watch is Ferrell and Ulis, two of the best point guards in the entire country. Ulis averages 17 points and 7.1 assists per game compared to Ferrell's 17.1 points and 5.7 assists a contest. In a rare occurrence, Ferrell will hold the height advantage – as Ulis is only 5-foot-9.
Despite the high profile match-up, Ferrell said he doesn't usually get up for individual stuff.
"This is a team effort," Ferrell said. "5-on-5, it's not 1-on-1, 5-on-1, this is 5 versus 5. I don't get too hyped up in the match-up, go out, play the same we would have played all year, stick to our strengths, not try to do anything fancy, just try to go out there and get the win."
Both teams like to push the pace, and it could result in a high scoring affair.
"The key is always stay in movement," Ferrell said. "We always like to preach on moving the ball, and I feel like against a team such as Kentucky since they play such great defense you've gotta move the ball, wear 'em down a little bit, try and get those bigs out, penetrate the ball into the lane, kick it out and just find a way. You especially can't go in there and drive in on those bigs."
Johnson recalls first meeting with Murray
Kentucky freshman guard Jamal Murray will likely be a lottery pick in June's NBA draft, but this isn't the first time Indiana sophomore guard Robert Johnson will go head-to-head with one of the nation's top scorers.
The two met on Jan. 14, 2014 as Murray and Athlete Institute traveled to Richmond, Virginia, to face Johnson and Benedictine College Preparatory Academy.
At the time, as Johnson recalls, Murray wasn't a household name nationally, but the head-to-head matchup produced big numbers for both players.
"When he blew up, I was surprised because I didn't really remember a lot," Johnson recalls. "He's a talented scorer, he's gotten a lot better and you get excited to play against the backcourt they have."
Murray scored 24 points on 8-of-11 shooting from the field, but had five turnovers as Benedictine beat Athlete Institute, 77-58.
Johnson, meanwhile, had 21 points, five assists, four rebounds and just one turnover in that contest.
"I was sick and thinking about not playing," Johnson added. "I thought it was going to be a really big game, I thought it was going to be one of those really hard games, but I don't remember it being that close."
(Photo credit: Kevin C. Cox/Getty Images North America)
Filed to: 2016 NCAA tournament