Five takeaways from Indiana's win over Chattanooga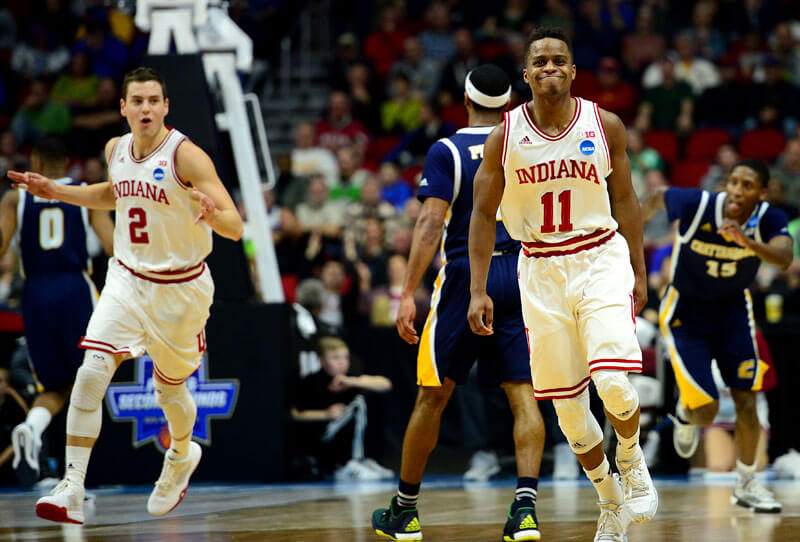 DES MOINES, Iowa – Indiana advanced to the second round of the NCAA tournament with a 99-74 blowout win over Chattanooga on Thursday night at Wells Fargo Arena.
The win sets up a Saturday matchup between the fifth-seeded Hoosiers and No. 4 seed Kentucky. Here's a look at five takeaways from the win over the Mocs:
· Ferrell commands the floor on the big stage: As hard as it is to believe, Thursday's 20-point, 10-assist performance from Yogi Ferrell was his first career double-double in an Indiana uniform.
"Amazing, every time I watch Yogi, I just get amazed," freshman Juwan Morgan said postgame of the performance. "The stepbacks he does, the passes he makes, how he finds and see defenses, it just amazes me."
Ferrell did a little bit of everything in IU's win.
He hit six of his 13 shots from the field, including 4-of-7 from behind the 3-point line and also hit all four of his free throw attempts. He committed just two turnovers in 36 minutes.
"He was really focused in tonight," Max Bielfeldt said. "He and all of the other seniors, we really want this. It's our last go round, so you've got to make the most of it. He did an incredible job with film study and seeing what was there and just executing."
· Freshmen shine in NCAA tournament debuts: If Indiana's three freshmen were nervous in their first NCAA tournament appearances, it didn't show on the floor.
OG Anunoby made an impact early with a steal and a 360-dunk on a fast break. Thomas Bryant had two early fouls, but settled down and was once again efficient in finishing plays at the rim. And Juwan Morgan once again did the little things – he had two blocks and two steals – and showed no signs of being held back by his left shoulder injuries.
Both Anunoby (14 points) and Bryant (13 points) were major reasons why the Hoosiers shot an efficient 27-of-41 on 2-point field goals.
"They played with a lot of confidence," Ferrell said. "That was the main thing I told them, 'don't go out there and play timid. Play free, confident and go onto the next play if it's a bad play that happens.'
"I feel like they've stepped up all season. They're not freshman anymore. They're veterans just like everybody else on this team. They've played like that all year."
· A healthy Johnson at the right time: Indiana's decision to be cautious with the return of Robert Johnson from a high ankle sprain and a bone bruise in his foot was the correct one.
The sophomore guard looked fresh and was a major contributor on Thursday. He finished with seven points, six assists and no turnovers and more importantly, appeared to be close to or at 100 percent.
Moving forward, having Johnson at or near full strength could be a significant factor for the Hoosiers.
"It was very important (to get him back)," Bryant said. "We were really happy to have him back. He's a defensive threat, a pure shooter, is always talking and always wants us to get better. He's a downright dog out there."
· Defensive concerns: If there was a downside to Indiana's performance against Chattanooga, it was the defense.
The Hoosiers allowed the Mocs to score 1.03 points per possession, which qualifies as a below average defensive performance for this group.
Indiana allowed far too much dribble penetration against the Mocs, which is something that will need to be cleaned up prior to Saturday's showdown with No. 4 seed Kentucky.
· Indiana, Kentucky wins sets up terrific Saturday theater: If the NCAA tournament selection committee was aiming for a Saturday showdown between two of the greatest programs in the history of the sport, they got their wish.
After the Hoosiers dismantled the Mocs and the Wildcats crushed Stony Brook, the matchup is set. Indiana and Kentucky will play for the first time since 2012, when the Wildcats beat the Hoosiers 102-90 in the Sweet 16 in Atlanta.
We all know the history since then between the two programs and their inability to work out an agreement to continue a storied rivalry. But by virtue of the selection committee under-seeding both teams, they'll play arguably the most intriguing matchup of the opening weekend of the tournament.
(Photo credit: Jeffrey Becker-USA TODAY Sports)
Filed to: 2016 NCAA tournament, Juwan Morgan, O.G. Anunoby, Robert Johnson, Thomas Bryant, Yogi Ferrell