Ferrell pushes Indiana into second round with first career double-double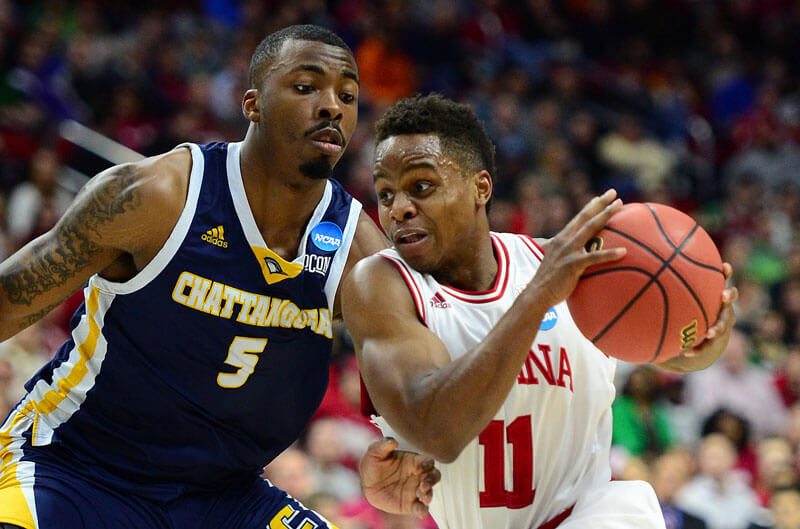 DES MOINES, Iowa — After two No. 5 seeds went down earlier in the day, Indiana was determined not to be the third.
Yogi Ferrell recorded his first career double-double with 20 points and 10 assists. OG Anunoby came off the bench to score a career high 14 points on 6-of-7 shooting – including several highlight dunks to pace Indiana to a 99-74 win over No. 12 seed Chattanooga at Wells Fargo Arena.
"I'm going to go out there and give it my all for all 40 plus minutes," Ferrell said. "I finally got that double-double, I had a bunch of times where I had nine assists, but I got that 10th one and it's a result of my team and I like sharing the rock with them."
With the win, Indiana advances to the second round and will play No. 4 seed Kentucky, who beat Stony Brook 85-57 in the nightcap.
"What impressed me the most was the way we rallied together after that first half," Ferrell said. "We started off very slow, our defensive coverages were pretty poor. Throughout the game we were making different changes to our defense, and I felt like we did a great job adapting to those changes."
The Hoosiers struggled to pull away early, and held a nine-point lead at the half. It was the early stages of the second half that saw the team break away, putting the game out of reach for the Mocs.
Indiana easily handled the pressure Chattanooga put on it, and seemed to foil the game plan Matt McCall and his team thought up by continuing to play at such a fast pace.
"We are extremely excited to be moving on and I thought our guys have done a tremendous job focusing all week on the task at hand which was a very good Chattanooga team," Crean said. "They are exactly what we thought they would be. They're aggressive. They can shoot it. They can play inside out. They have great pressure and our guys played with tremendous urgency."
Robert Johnson returns to action
Robert Johnson didn't start the game for Indiana, but he did come off the bench and play for the first time since Feb. 20. He recorded seven points and six assists.
"I'm pretty much getting there (to 100 percent), I'm getting better every day," Johnson said. "Obviously with injuries like that it's going to be nagging, but I'm definitely getting stronger every day."
He said he was going to do whatever he needed to do to make sure he was able to go in time for this week's games, and will be good to go on Saturday.
Human highlight reel
Anunoby didn't just set his career high in points with 14, he also did it with a few explosive dunks that riled up the crowd in Des Moines.
The one that caught the most attention was his break away 360 slam following a steal.
"It definitely brings the level of intensity up," Ferrell said. "When we see OG do a dunk like that we just want to see it again. We see it in practice all the time, so we're not surprised to see it, but that's just us going out there and having fun, playing together as a unit and when we can do that we can do very well."
After the game, Crean didn't want to hear about comparisons to Victor Oladipo, saying it was far too early to make that kind of statement. He was, however, very complimentary of his freshman.
"OG has a lot of potential and if he continues because of that size, length, his ability to move his feet — he's going to be an outstanding player in his own right," Crean said. "What's also helped is his offense has gotten significantly better and I think so much of that comes because of his defense."
(Photo credit: Jeffrey Becker-USA TODAY Sports)
Filed to: 2016 NCAA tournament, Chattanooga Mocs, O.G. Anunoby, Yogi Ferrell