Underdog Chattanooga looking to upset IU with defensive pressure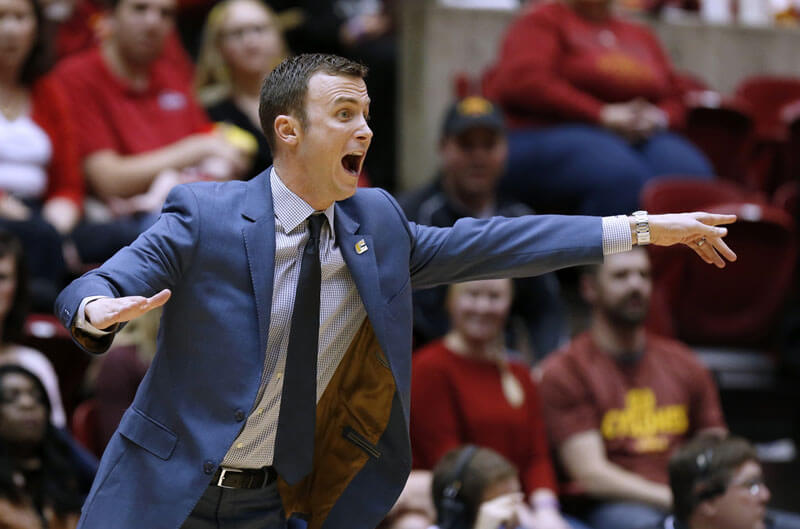 DES MOINES, Iowa – Chattanooga isn't afraid of Indiana.
The No. 12 seed from the Southern Conference only lost five games during the regular season, and was able to do that in part because of its persistent defensive pressure.
"That's the way we play," Chattanooga forward Justin Tuoyo said. "We do it all forty minutes and it's just not full court. We press in half court, and then the way we play on offense everybody on our team can score. So the whole game we're going to give it to you. That's our style of play and that's what works for us."
Tuoyo is a two-time SoCon defensive player of the year, joining Tre' McLean, Eric Robertson and Greg Pryor as the core of the Mocs team. McLean is the leading scorer for the Mocs at 12.3 points per game while Robertson and Pryor hold down the backcourt.
"Indiana, they're a great team," Tre' McLean said. "They're very talented and they have one of the best point guards in the country. It's all about, I feel like, getting transition stops, guarding the 3-point line and rebounding. They're a good 3-point shooting team and they push in transition, and they also have some very good 3-point shooters. So I feel like if we can perform in those three categories then we will be all right."
Chattanooga will be looking to pull off one of the famed 12 over 5 upsets that are so common in the NCAA tournament – but didn't happen at all last season.
"They're very long," Crean said. "This is probably – haven't seen them in person yet, but this is going to be one of the longer teams we will have faced, and you can really see it when they get up into their zone and press full court. But they have an outstanding zone they can go into and we haven't seen a team that is that big in the zone the way that they are."
Yogi Ferrell will be counted on to break the Mocs press and turn it into transition points, something Indiana has been good at this season. However, IU hasn't faced much full court press this season.
"The key to that press is you can't be timid," Ferrell said. "They're a great team when they press. They're definitely one of the longer teams we have played all year, haven't played a Big Ten team as long as them, just across the board. So with that press you've got to make great passes, pass fakes, but you can't be timid, make sure of your passes because their press is pretty good."
Chattanooga coach Matt McCall said he thinks Ferrell is the best point guard he's seen play and is also worried about Ferrell's ability to break the press quickly.
"Pressing is what's gotten us to this point, but we're going to do whatever we have to do in the game to be successful," McCall said. "We're not bound to it. We're not doing it just because we're set in our ways. We're going to do whatever we have to do to be successful. It's difficult to get in the press when you have a guy like Yogi who can get the ball up the floor so fast."
Indiana-Chattanooga will tip off tonight's second session of games in Des Moines at 7:10 p.m. at Wells Fargo Arena.
Chattanooga is the underdog hoping to become a Cinderella – and the Mocs like it that way.
"Honestly, we love it," Eric Robertson said. "It takes the pressure off us and puts the pressure on other teams. Coming in as an underdog, a lot of times when people are watching games they like to root for the underdog and it just seems like the underdog is able to play free and is not kind of back on their heels at all because, you know, they're just giving it all they got. I think this underdog role is great for us."
(Photo credit: David Purdy/Getty Images North America)
Filed to: 2016 NCAA tournament, Chattanooga Mocs