James Blackmon Jr. says he's ahead of schedule in rehab from knee injury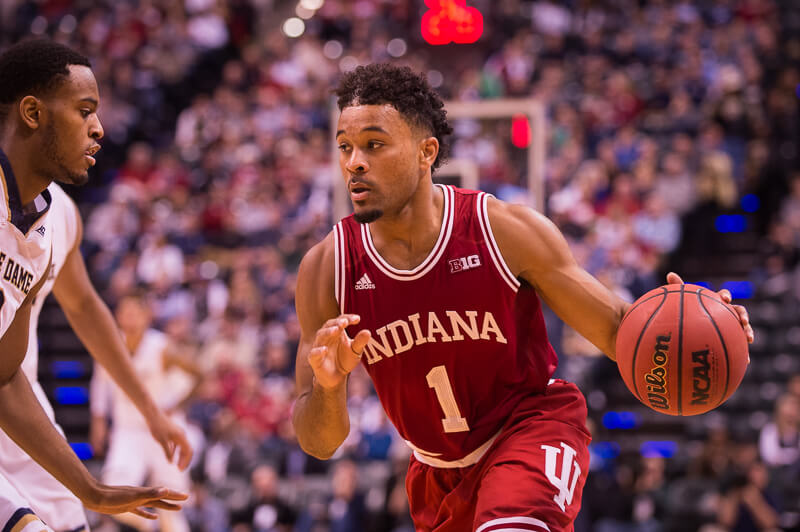 DES MOINES, Iowa – Speaking to the media for the first time since suffering a torn ACL in late December, Indiana sophomore guard James Blackmon Jr. said Wednesday that of the multiple injuries he's suffered in his career, this one has hit him the hardest.
The Marion product averaged 15.8 points in 13 games and shot 46.3 percent from behind the 3-point line before suffering a season-ending knee injury on Dec. 28.
"It's just hit me the hardest because it's my college career," Blackmon Jr. said. "Sophomore season, trying to have a big year. So it's probably the hardest one for me."
Blackmon Jr. was injured in practice on the Monday before Indiana's Big Ten opener at Rutgers. When the injury occurred, he didn't realize how significant it was going to be.
"I hopped right back up," he said. "I thought I was good to go, but it just didn't feel right."
From there, Blackmon Jr. underwent tests and it was ultimately determined that he needed surgery to repair a ACL damage in his right knee.
The preseason All-Big Ten guard said Wednesday he's doing extra rehab and trying to return to full strength as possible.
"I'm ahead of schedule, just like I was like last time," Blackmon Jr. said. "Right now I'm going with the protocol and doing extra, whatever I have to do to get back as fast as possible."
Last weekend, rumors began circulating that Blackmon Jr. would seek a transfer after the season, which prompted Indiana to release a statement on his behalf on Sunday afternoon.
In that statement, Blackmon Jr. said he would "be an Indiana Hoosier" moving forward.
On Wednesday, the IU sophomore reiterated that he has no plans to leave the program.
"I was hearing about it and a lot of people kept texting me and asking about what was going on," he explained. "I've never really said anything about that and I haven't even thought about that. We're trying to win a championship and that's what I've been trying to push our guys towards so I didn't even really know that was out there."
Filed to: James Blackmon Jr.