What to Expect: Chattanooga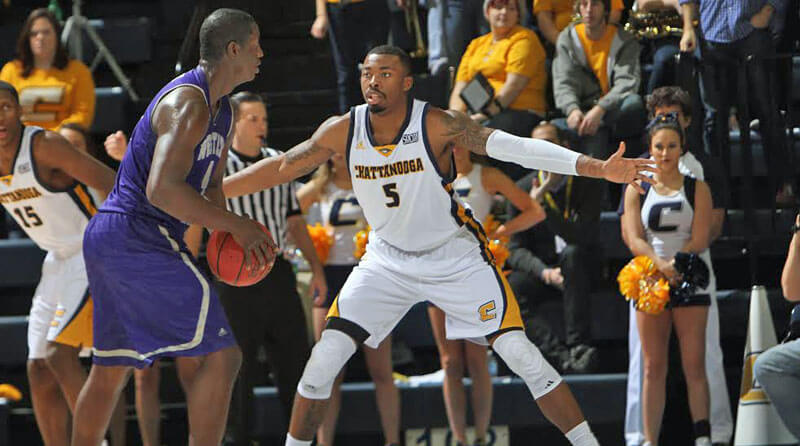 With six days off between games, Indiana will take the floor on Thursday night in the NCAA tournament as the No. 5 seed in the East Region. The Hoosiers (25-7) will face No. 12 seed Chattanooga, the champion of the Southern Conference, at Wells Fargo Arena in Des Moines.
The Mocs (29-5), winners of five straight games, won three close games in their conference tournament to punch their ticket to the tournament. Thursday's tip time is scheduled for 7:10 p.m. ET on CBS with Jim Nantz, Bill Raftery, Grant Hill and Tracy Wolfson on the call:
DES MOINES, Iowa – When the NCAA tournament bracket was announced on Sunday evening, a potential Indiana-Kentucky game in the round of 32 was one of the major takeaways from the bracket nationally.
But the Hoosiers can't afford to look ahead to what could be on Saturday.
Placed in the dangerous 5-12 game after losing to Michigan in the Big Ten tournament quarterfinals, Indiana enters the NCAA tournament with something to prove. Perhaps it will be a blessing in disguise for the Hoosiers, who have played their best basketball of the season when faced with doubt. Disrespected by the selection committee, the Hoosiers again have a chance to go out and prove the skeptics wrong with their play.
MEET THE MOCS
First-year head coach Matt McCall, a Florida grad and member of the Billy Donovan coaching tree, inherited a solid roster from Will Wade, who took over at VCU for Shaka Smart.
The Mocs are playing an eight-man rotation with two All-SoCon players and the league's defensive player of the year. McCall lost his best backcourt player, Casey Jones, early in the season. Jones, the SoCon preseason player of the year, dislocated his ankle and is out for the season.
Just two Chattanooga players are averaging in double figures in scoring – junior forwards Tre' McLean and Justin Tuoyo.
The 6-foot-5 McLean is the team's leading scorer (12.3 ppg) and rebounder (6.4 rpg). McLean is a solid 53.1 percent on 2s, 36.9 percent on 3s and 78.3 percent from the free throw line.
According to Synergy Sports, the majority of McLean's offensive possessions come in spot up or transition situations. 115 of his 401 offensive touches this year have been spot ups where he's scoring .97 points per possession. That ranks in the 64th percentile nationally. He's had 98 transition possessions, where he's scoring 1.04 points per possession, which ranks in the 51st percentile in the country.
The 6-foot-10 Tuoyo, who played his first season at VCU before transferring, was the SoCon defensive player of the year. Tuoyo is an elite shot blocker with a block percentage of 10.3, which ranks 20th in the country. He's also very good on the offensive glass (10.4 OR%) and finishes 53.9 percent of his 2s. One of Tuoyo's major strengths is drawing fouls and getting to the line. He's drawing 5.4 fouls per 40 minutes and has a free throw rate (FTA/FGA) that ranks in the top 100 nationally.
He is a solid, but not great, post up player. In 128 post-up possessions, he's scored 106 points according to Synergy, which ranks in the 54th percentile nationally. He's most effective off of cuts, where he's scoring 1.59 points per possession in 70 possessions. That ranks in the 98th percentile nationally.
Another junior, 6-foot-7 Chuck Ester, starts in the frontcourt with McLean and Tuoyo. Ester is turnover prone (23.8 turnover percentage), but is solid on the defensive boards (18.5 DR%). He can also step out and hit the occasional 3 as he's hit 14-of-34 from distance on the season. In late game situations, he's a good candidate to foul as he's hitting just 59.4 percent of his free throws. Ester averages 7.7 points and 4.9 rebounds per game.
Duke Ethridge, a 6-foot-6 senior, comes off the bench and hits 51 percent of his 2s and 33.3 percent of his 3s. He's tied for sixth on the team in scoring at 7.3 point per game, which speaks to the balance of the Mocs offensively.
Junior point guard Greg Pryor is a decent distributor (22.2 assist rate), but is also turnover prone (19.9 turnover percentage). He's attempted the second most 3s of any player on the team (123), but is hitting just 31.7 percent from distance. Pryor excels at getting to the foul line and converting. He's taken a team-high 143 free throws and is making 78.3 percent.
Senior guard Eric Robertson starts alongside Pryor in the backcourt and owns the best offensive rating on the team. However, he's only using 14.3 percent of Chattanooga's offensive possessions while on the floor. Robertson is hitting 40.3 percent of his 3s and has taken 191 shots from distance compared to just 39 2s. He's a player that must be accounted for on the perimeter.
Johnathan Burroughs-Cook, a 6-foot-2 junior and Dee Oldham, a 6-foot-4 senior, earn the majority of the reserve minutes in the backcourt.
Burroughs-Cook is a poor offensive player who shoots just 47.2 on 2s and 28.6 percent on 3s. Oldham is a capable 3-point shooter as he's hitting 37.9 percent from distance. He's also a strong defensive rebounder (22.1 DR%) and has a very good steal percentage (2.6).
TEMPO-FREE PREVIEW

Indiana's primary concerns on Thursday are going to be taking care of the ball and keeping Chattanooga off of the foul line. The Hoosiers are at their best offensively when they're not turning it over, but the Mocs thrive off of turning their opponents over.
Chattanooga opponents are turning it over on 20.3 percent of their possessions this season, which ranks 54th in the country. Indiana, however, has also been solid at turning teams over and Chattanooga has just been average at taking care of the ball.
Not only does Chattanooga rank in the top 60 in the country in terms of getting to the foul line, they're also in the top 60 at keeping their opponents off the foul line. Indiana does an excellent job of keeping teams off the line (29.3 percent opponent free throw rate), but doesn't get to the line particularly well. The Hoosiers can't afford to let the Mocs outscore them by much from the line.
The big question for Chattanooga: Can they slow down one of the nation's most potent offenses? The Mocs have played some good teams this season, but the only comparable offense they've faced is Iowa State. In November, the Cyclones beat Chattanooga by 20 and scored 1.15 points per possession. The best offense Chattanooga played in conference play was East Tennessee State, which scored over 1.05 points per possession in two of their three meetings this season.
WHAT IT COMES DOWN TO
KenPom projects Indiana to win by nine and gives the Hoosiers an 82 percent chance of advancing to the round of 32. Sagarin likes Indiana by 13 and the Vegas line currently sits at Indiana by 12.
In terms of a draw for a No. 5 seed, Indiana drew the weakest according to Pomeroy. The Mocs are ranked behind every other 12 seed, every 13 seed, two 14 seeds and a 15 seed in KenPom.
For Indiana to win and do so comfortably as expected, the Hoosiers need to be healthy and there are significant questions there with Robert Johnson, Collin Hartman and Juwan Morgan all banged up.
The six days off should help the Hoosiers in that regard and this group should be hungry to prove something once again after falling early in the Big Ten tournament and dropping to a No. 5 seed. March Madness is here. Indiana is dancing. Can the Hoosiers make some noise?
(Photo credit: GoMocs.com)
Filed to: 2016 NCAA tournament, Chattanooga Mocs