Hoosiers hope to be at full strength for NCAA tournament opener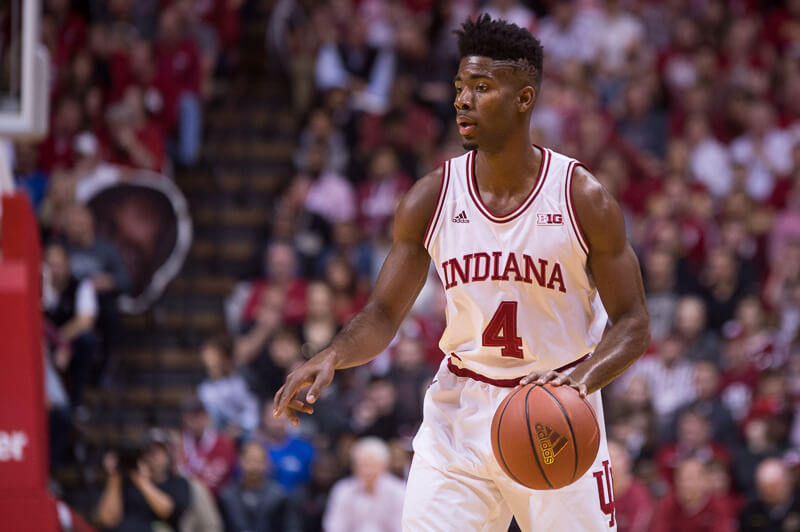 DES MOINES, Iowa – Just how healthy Indiana is when it tips off the 2016 NCAA tournament on Thursday night at Wells Fargo Arena may play a significant factor in how far the Hoosiers can advance in the East region.
Three IU players – Robert Johnson, Juwan Morgan and Collin Hartman – continue to rehab from injuries, but each player expects to be available when the Hoosiers take the floor against Chattanoooga.
Johnson, who hasn't played since Indiana's win over Purdue on Feb. 20, said his injury was officially diagnosed as a high ankle sprain and a bone bruise to his left foot. Indiana considered playing Johnson, who is averaging 8.2 points per game and is shooting 43.6 percent on 3-pointers, against Michigan in the Big Ten tournament.
But after completing warmups, a decision was made to rest him another week in preparation for the NCAA tournament. Johnson said he was "definitely thinking about" playing in the loss to the Wolverines at Bankers Life Fieldhouse.
"Robert is doing more," Tom Crean said Wednesday. "I would say right now he is definitely probable as long as things continue to move in the direction that they're moving right now."
Johnson said the extra rest has not only benefited him in terms of getting his foot completely healthy, but has also helped his legs become fresher.
"Yesterday and today, I went the whole time and it didn't feel any more sore than it usually is after I do my conditioning or things like that," Johnson said. "So that's definitely a good sign."
Morgan, meanwhile, played just six minutes in IU's Big Ten tournament loss to Michigan, but said that his lack of minutes in that game weren't due to his injury.
After being forced to leave IU's win at Iowa and a win over Maryland at home, Morgan bounced back both times and expects to be ready to go on Thursday.
"Really all it's been explained to me as is a shoulder injury," he said. "I really don't know how I bounce back so fast. That's the mentality that I have, really, is just be tough no matter what."
Crean said Morgan has practiced all week.
Hartman appeared to suffer a right wrist injury in IU's loss to Michigan in the Big Ten tournament and was wearing a brace in a team picture posted before the team departed for Des Moines on Tuesday.
In Wednesday's open practice at the Wells Fargo, Hartman didn't take any jump shots from the perimeter, but participated in the rest of the team's drills.
Crean said that Hartman has some "lingering effects" from the fall he took last Friday, but has been available to practice this week.
"I've been getting treatment and stuff. Feels good and ready to go," Hartman said on Wednesday. "Timmy G (Garl) is working his magic. Just gotta keep it loose and things of that nature, but it feels good."
Filed to: 2016 NCAA tournament, Collin Hartman, Juwan Morgan, Robert Johnson