Bielfeldt, Ferrell leading the way for IU with prior tournament experience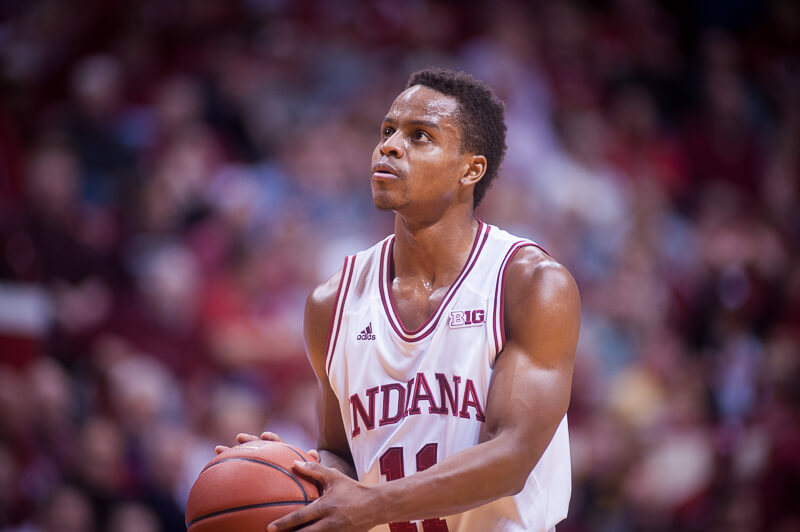 DES MOINES, Iowa – Yogi Ferrell and Max Bielfeldt have been to a combined five NCAA tournaments before this season, experience at the top of Indiana's roster that not many teams can claim.
Bielfeldt, who made three trips to the tournament with Michigan, including a national championship game appearance and an Elite Eight, knows what it takes to win in this tournament. He's played with superstars, he's played with seniors who have made an impact on a program – and now it's his turn.
Along with Ferrell, the two players have been prepping IU's younger players for what the tournament stage is like.
"I just told these guys just to play free," Ferrell said. "You can't play with any jitter bugs, you've got to go out there and play the game just like it's any other game. Our coaches say the game is imperfect, so people are going to turn the ball over and you have to get on to the next play."
Indiana, the No. 5 seed in the East Region, will play No. 12 seed Chattanooga at 7:10 p.m. EST on Thursday at Wells Fargo Arena in Des Moines, Iowa.
The Mocs enter the game at 29-5 overall, and are led by a several of juniors and seniors. They are the 4th most experienced team in the tournament according to KenPom.com.
Bielfeldt says it's important to understand what you're up against in these tournament games.
"The biggest thing is the amount of passion the teams you play against play with, especially a team like Chattanooga that is filled with juniors and seniors who may never get this chance again," Bielfeldt explained. "They're going to give everything they've got. Just the outside pressure that this tournament brings, it's such a huge event with so much publicity and hype around it, you just have to understand at the end of the day it's still basketball."
Only four times in the last 30 years has a No. 12 seed not beaten a No. 5 seed. Last year was one of those years. In the two years prior, 2012 and 2013, No. 12 seeds won 6 of 8 match-ups with No. 5's.
The Hoosiers are obviously hoping to avoid one of these dreaded first round upsets.
"I think we have the talent on this team to win games and get some momentum rolling and get a little win streak going," Bielfeldt said.
IU is expected to have guard Robert Johnson back which will be a boost, but Collin Hartman will not be at 100 percent. He seemed limited in the open practice the team held at the arena Wednesday afternoon. Juwan Morgan has been available all week, according to Crean.
"Everybody has been available this week," Crean said. "Robert is doing more, I would say right now he is definitely probable as long as things continue to move in the direction that they're moving right now."
Multiple players continued to talk about taking it one game at a time – just like they did during the season. A potential second round meeting with Kentucky won't be discussed unless it actually materializes.
"The fact of the matter is if we don't play an outstanding game there is no next game for us," Crean said. "It's not just because it's one and done, it's not just because it's March Madness, it's because Chattanooga is really good."
Filed to: 2016 NCAA tournament, Max Bielfeldt, Yogi Ferrell