Michigan stuns Indiana with buzzer-beater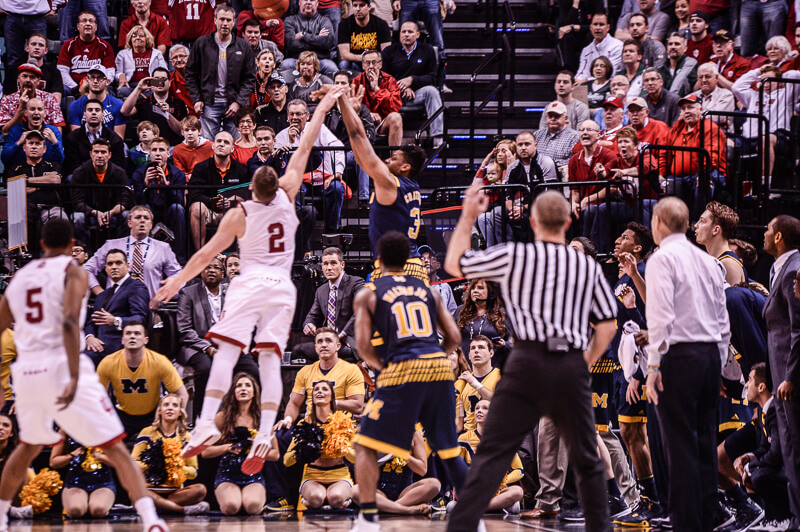 INDIANAPOLIS – It was a heart-breaker.
Up by five with 2:36 to play, Indiana looked like it was going to pull out a sloppy win against Michigan – a team fighting for its NCAA tournament hopes. However, the Wolverines hit two 3-pointers in the final minute – including a buzzer beater with 0.2 seconds remaining by Kameron Chatman, to come out with a 72-69 win over the Hoosiers.
The 3-pointer was just the eighth one that Chatman has made this season. He hesitated, then put up the shot from the deep right corner over Nick Zeisloft. A mob of maize and blue followed and the Bankers Life Fieldhouse crowd, which was mostly in red, was silenced.
Tom Crean said he didn't feel like Michigan was playing desperate.
"I thought we played extremely hard," Crean said. "I'm not sure desperation makes the ball go in. I think you got a good shooter that was wide open at the end of the game because we came off the coverage. And he is a good shooter. And that's one of the keys of this. If there's three keys playing Michigan, it's don't come off the corners. And we hadn't, really, all game until that very end."
It was a game where IU missed what Robert Johnson normally brings – someone who can defend and help jumpstart offense in the backcourt besides Yogi Ferrell. Ferrell finished with 14 points and eight assists, but was contained by Michigan, especially from behind the 3-point line.
IU struggled as a whole from behind the arc, making just 4-of-17 attempts for the game. Only one of those makes came in the second half.
"(Michigan is) basically in the same situation as we were last year with having to get as many wins as we could to get into the NCAA Tournament," Ferrell said. "We knew how they wanted to go out there and play desperate, play hard, play physical. We could feel it out there, and they outplayed us today."
Troy Williams and OG Anunoby both played well, scoring 16 and 13 points, but it wasn't enough. The offensive flow seemed slow, especially in the beginning of the first half and middle of the second half.
"We had some turnovers that were costly," Crean said. "We didn't get the ball in the post. Well, we got the ball in the post. We didn't go quick enough in the post. Like, we're sitting there and waiting and we had a couple of turns, just turn and go. That was a big part of our plan there."
On the inside, Thomas Bryant had 13 points and grabbed seven rebounds. Indiana did grab 15 offensive rebounds, but managed just 10 second chance points.
"We just need to execute our passing better," Crean said. "We need to get better with our quicker ball movement."
What's next?
Now Indiana awaits its seeding in the NCAA tournament. The selection show is Sunday night at 5:30 p.m. EST on CBS.
IU has been projected as a 3-seed in most mock brackets, but the loss to Michigan could bump the Hoosiers down to the 4-line. The Big Ten has six teams that are considered locks, and Michigan could have found its way in as a seventh with its win over IU. Crean repeatedly said after the game he believes Michigan belongs in.
"Michigan is a good team," Crean said. "They have won a lot of games this year. They have a lot firepower. They don't put a guy on the court that can't make shots. So all of the credit goes to them and deservedly so. Hope they do well when they get to the tournament."
IU's next game will be either Thursday or Friday and the break will give the team an extra few days for Johnson, Juwan Morgan and even Collin Hartman, who got roughed up in Friday's game, to be healthy.
"We will get ourselves better," Crean said. "We look forward to seeing what happens Sunday night and get ready to go again."
Filed to: 2016 Big Ten tournament