Five takeaways from Indiana's loss to Michigan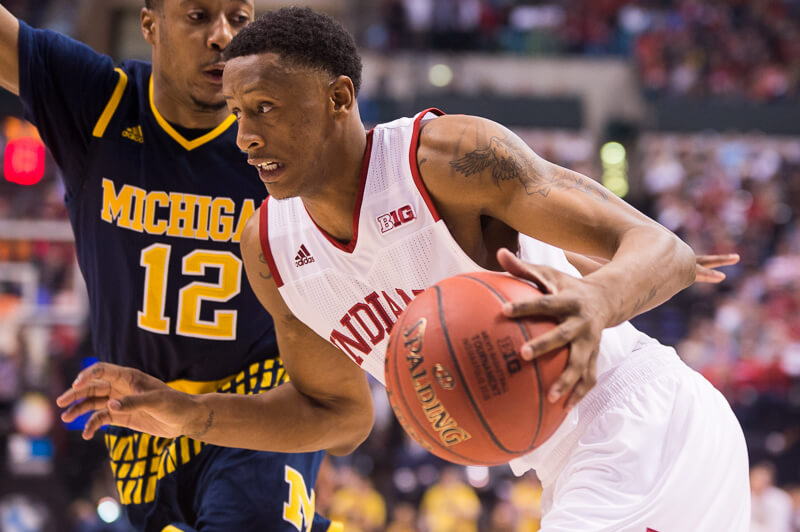 INDIANAPOLIS – Indiana suffered a disappointing quarterfinal exit in the 2016 Big Ten tournament, falling to Michigan 72-69 on Friday afternoon at Bankers Life Fieldhouse.
Here's a look at five takeaways from the loss to the Wolverines:
· Turnovers, poor outside shooting slow down offense: When Indiana is hitting on all cylinders offensively, the Hoosiers are doing three things well: hitting perimeter shots, crashing the offensive boards and taking care of the ball.
On an afternoon where Indiana failed to take care of the ball and shot an effective field goal percentage of less than 50, the Hoosiers let Michigan hang around all afternoon and eventually lost as a result.
Start with the turnovers: Indiana coughed up the ball 15 times for a turnover percentage of 23.5, its highest mark since an overtime loss at Wisconsin back in January. Those 15 mishaps turned into 22 points for Michigan.
The 3-point shooting was also a major issue as Indiana hit just 4-of-17 from distance and finished with an effective field goal percentage lower than 50 for the first time since the Michigan State loss. Indiana still managed to score 1.08 points per possession, but this was a below average offensive performance for the Hoosiers in the facets of the game it needs most to succeed.
· Michigan hit a very difficult shot to win the game: Indiana should have done a much better job closing out the game when it had a five-point lead with 2:36 to play, but credit Michigan for making a great play that potentially saved its season.
Indiana left the door open and Michigan capitalized on the opportunity.
Kameron Chatman, who had made just seven 3-pointers all season and wouldn't have even been in the game had Muhammad-Ali Abdur-Rahkman not fouled out, splashed in a contested 3 over Nick Zeisloft to give the Wolverines the victory.
"I'll have to check out the film, but I thought I was there on it," Zeisloft said. "He hit a tough shot."
· Indiana needs to get healthy in a hurry: Perhaps the extended break will be beneficial for the Hoosiers, but this group is extremely banged up as it leaves Indianapolis.
Robert Johnson missed his fourth straight game with an ankle sprain. Juwan Morgan was ineffective and logged just six minutes as he continues to battle a left shoulder injury. And Collin Hartman suffered what appeared to be a right arm injury in the loss.
Hartman didn't elaborate much on what the issue is, but did say he's going to "need a lot of treatment." Johnson warmed up, but never got off the bench. And Morgan took just one shot and didn't appear to be himself when on the floor.
If Indiana is going to make a run in the NCAA tournament, it's going to need Johnson back and will also need more from Hartman and Morgan, who combined to go scoreless on Friday.
· Williams plays well again: One bright spot for Indiana was the play of Troy Williams, who once again was aggressive attacking the rim and finished with a team-high 16 points in 29 minutes.
The 6-foot-7 forward was 5-of-12 from the field and 5-of-7 from the field and also had four rebounds, three assists, two blocks, two steals and two turnovers on the afternoon.
That's the fifth time Williams has scored in double figures in the last six games and his woeful performance at Michigan State seems forgotten at this point.
· A new season begins now: Just as Indiana couldn't afford to be too high on itself following its strong finish to the regular season and Big Ten championship, the Hoosiers can't hang their heads after losing early in the conference tournament.
"Our goal is still right there in front of us," Thomas Bryant said postgame. "We've still got full confidence in one another to get there, too. We just lost one game. That's all it is. We just lost one game. He hit a tough shot. That's it."
That's the mindset Indiana absolutely needs to have moving forward as it begins the final phase of the season. The Hoosiers could afford to lose on Friday, but the next loss will be the end of the road for this group.
"Come Sunday, we figure out who we're playing and focus up," Max Bielfeldt said. We're blessed to be in the tournament. Just have to keep things in perspective and go at it."
Filed to: 2016 Big Ten tournament, Troy Williams