What to Expect: Michigan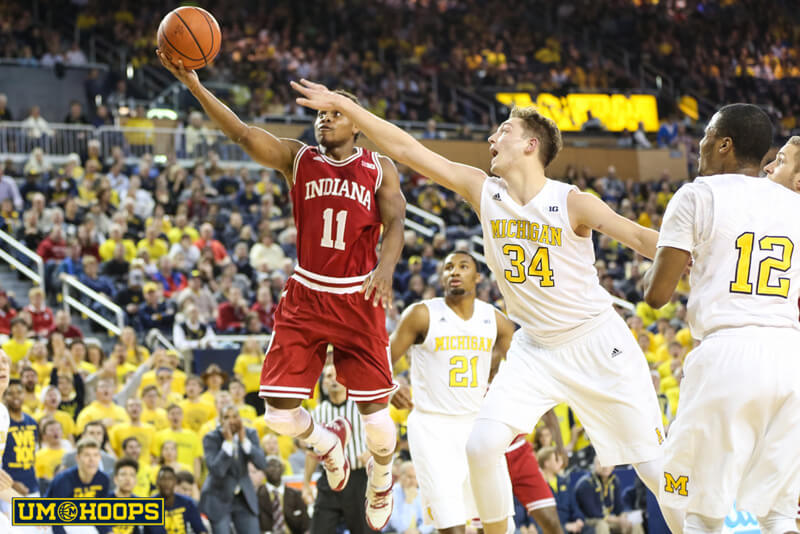 Indiana begins postseason play on Friday afternoon in the Big Ten tournament at Bankers Life Fieldhouse. The top-seeded Hoosiers will open against Michigan, which beat Northwestern 72-70 in overtime on Thursday. Indiana won the only regular season meeting between the two teams, 80-67, on Feb. 2 in Ann Arbor.
The game will be broadcast at 12:00 p.m. ET on ESPN with Mike Tirico, Dan Dakich and Quint Kessenich on the call:
Indiana won the 2015-2016 Big Ten regular season title outright by two games, but the Hoosiers must put that accomplishment in the past as the season shifts to postseason play.
The Big Ten tournament, in its 19th season, is an event that Indiana has never won and the Hoosiers are just 11-18 all-time in the event. As the No. 1 seed, Indiana gets the slight advantage of the earliest time slot in the quarterfinals, but the Hoosiers must contend with a desperate Michigan team that needs a win to stay in the NCAA tournament conversation.
With four days off since crushing Maryland 80-62 on Sunday, Indiana should be well rested and ready to go on Friday in front of what should be a very pro-Hoosier crowd in Indianapolis.
MEET THE WOLVERINES (stats are for conference games only unless otherwise noted)
Michigan's ceiling this season has been lowered significantly due to loss of Caris LeVert, but the Wolverines still managed to put together a solid 10-8 record in Big Ten play with home wins over Maryland and Purdue.
But a lack of top 100 wins (just three) has Michigan currently on the outside of the NCAA tournament conversation. They'll hope to boost their position against Indiana less than 24 hours after grinding out an overtime win against Northwestern.
With LeVert out, Michigan relies on four perimeter players for a significant chunk of its offensive production.
Junior point guard Derrick Walton plays the second most minutes of any Big Ten player and ranks 15th in the conference in assist rate, hits nearly 84 percent of his free throws and is one of the best rebounding guards in the league. Walton's efficiency hasn't been great against Big Ten competition (34 percent on 2s and 35.8 percent on 3s) and Indiana must do a good job at keeping him off of the foul line.
Another junior, Zak Irvin, hit the game-winner on Thursday against Northwestern, but hit just six of his 16 shots from the field. Irvin is making just 42.3 percent of his 2s in league games and is the team's second best 3-point shooter at 37.4 percent. Irvin struggled in the first meeting to find his offense because of the length of OG Anunoby.
Sophomore guard Muhammad-Ali Abdur-Rahkman is a terrific finisher (54.3 percent on 2s) who rarely turns it over (10.3 turnover percentage). He can also hit the occasional 3 as he's 18-of-52 from deep in conference games.
Sophomore wing Duncan Robinson was one of the best stories in the Big Ten early in season after arriving as a Division III transfer, but has watched his efficiency numbers dip significantly as the season moves along. Robinson is hitting under 37 percent of his 3s against league foes, but did pour in 21 points against Northwestern on Thursday.
Sophomores Aubrey Dawkins and Kameron Chatman are likely to see some minutes off the bench and Dawkins is capable of coming in and knocking down the outside shot. He's 26-of-54 on 3s in Big Ten games.
Up front, 6-foot-9 sophomore Mark Donnal plays the majority of the minutes in the post and is one of the best offensive rebounders in the conference. His offensive rebounding percentage of 11.7 is ninth in the league and his block percentage of 4.6 ranks 12th in the conference. Donnal is making 62.9 percent of his 2s in conference play, which is good for fourth best in the league.
Another sophomore Ricky Doyle, plays the majority of the backup minutes behind Donnal, but is a pedestrian rebounder who is limited offensively.
TEMPO-FREE PREVIEW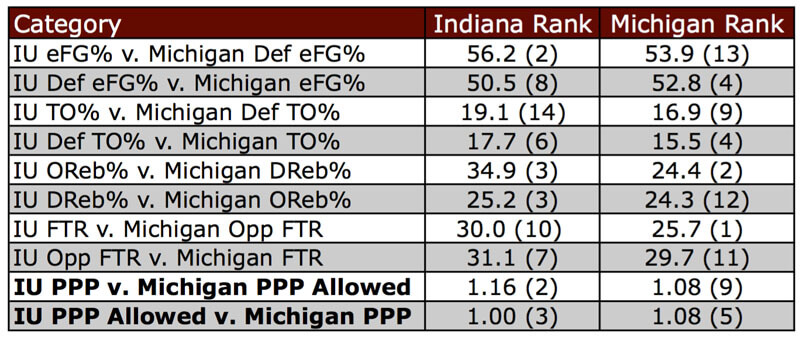 Indiana dominated the first meeting between the teams in Ann Arbor as the Hoosiers scored 1.16 points per possession and led by as many as 27 in the second half. Some points in garbage time by the Wolverines made it look respectable (80-67), but make no mistake, Indiana ran Michigan out of the gym by way of a 28-0 run.
Michigan is capable of putting together very good performances offensively, but often goes through lulls that teams simply cannot afford to have against Indiana. It happened frequently on Thursday against Northwestern as the Wolverines built decent leads all afternoon only to let the Wildcats come storming right back.
The keys for Indiana are taking care of the ball and pounding the offensive glass. Indiana had a turnover percentage of just 17 in the first meeting and rebounded 38 percent of its missed shots. Michigan isn't a team that typically gives up a lot of offensive boards, but Indiana has proven that it can score second chance points against just about any team.
For Michigan, the Wolverines are going to need to shoot much better than they did in the first contest. Neither team shot better than 31 percent on 3s and Michigan barely eclipsed 50 percent on 2s as Indiana shot nearly 64 percent on 2s.
WHAT IT COMES DOWN TO
Indiana opened as a 6-point favorite in Vegas and the KenPom prediction is the Hoosiers by 7 with a 73 percent chance of victory. The Sagarin ratings, as of Thursday before Michigan played Northwestern, favor Indiana by six.
While the Hoosiers are going to the NCAA tournament with a strong seed regardless of what happens in Indianapolis, the weekend presents an opportunity to strengthen position. Teams close to the Hoosiers on the NCAA tournament S-curve will lose this weekend, so a deep run in the Big Ten tournament could either solidify a 3-seed or perhaps even move Indiana up a line. A loss to Michigan, however, could bump Indiana down to a four.
The stakes couldn't be higher for Michigan as a win against Indiana keeps the Wolverines in the hunt and a loss likely seals an NIT bid. Indiana is as hot as any team in the league not named Michigan State and with the regular season crown already in the bag, are the Hoosiers hungry for more in Indianapolis?
(Photo credit: Dustin Johnson/UMHoops.com)
Filed to: 2016 Big Ten tournament, Michigan Wolverines