Top-seeded Indiana to meet Michigan or Northwestern in Big Ten tournament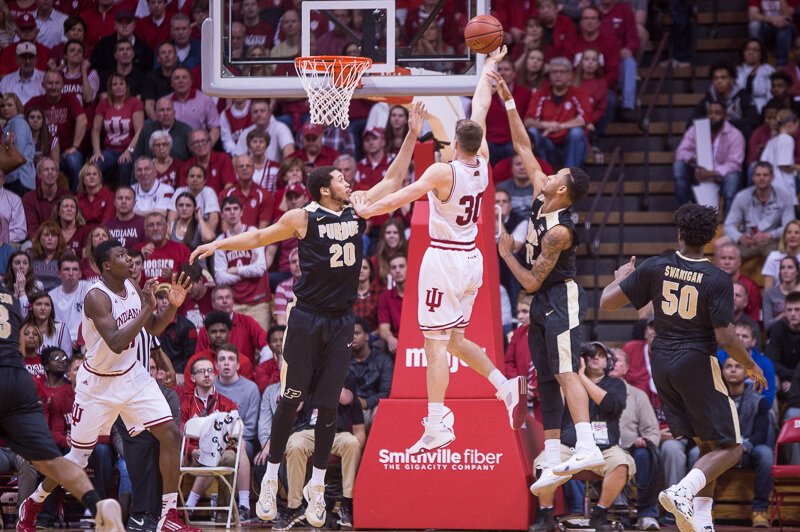 As the top seed with a double bye into Friday's quarterfinals in the 2016 Big Ten tournament at Bankers Life Fieldhouse, Indiana won't have much time to focus on its next opponent.
The Hoosiers will meet the winner of Michigan-Northwestern on Friday at 12 p.m. ET, but won't know which team they'll face until roughly 2 p.m. on Thursday afternoon.
Tom Crean said Wednesday that his team is prepared for either outcome and cited the maturity of his team as a major reason why.
"These guys are really mature. We do it (prepare) on one end and then we go on the other," Crean said. "Rob's (Judson) got Northwestern and Tim's (Buckley) got Michigan and we go."
Indiana played both teams just once in the regular season. The Hoosiers crushed Northwestern, 89-57, on Jan. 23 at Assembly Hall and then beat Michigan handily, 80-67, on Feb. 2 in Ann Arbor.
The Wolverines have stumbled down the stretch and are squarely on the NCAA tournament bubble with losses in four of their last five games. The Wildcats, meanwhile, are playing for a NIT bid and have won five of their last eight games.
"It doesn't matter, it doesn't matter at all (who we play)," Collin Hartman said Wednesday. "We're going to come out with the same mindset, we're going to prepare the same way. There's probably a few minor detail changes here and there for different teams, but we're going to come out the same way, with the same mindset and be the same team."
Johnson, Morgan continue to make progress
The Hoosiers remain banged up entering tournament play as freshman forward Juwan Morgan continues to recover from a left shoulder injury and sophomore guard Robert Johnson, who hasn't played in 19 days, is still rehabbing from a high left ankle sprain.
Crean said Wednesday that Morgan's injury in the Maryland game was non-contact and he's bounced back quickly, but IU is being cautious in bringing him along.
"He's doing pretty much every thing we're doing," Crean said of Morgan, who was also injured in the IU's Big Ten clinching win over Iowa on March 2. "And we fully expect that not to change."
Johnson, meanwhile, has missed three straight games after injuring his left ankle in a 77-73 win over Purdue on Feb. 20. Nick Zeisloft has filled in well in Johnson's absence by hitting nine of his 16 3-point attempts in the last three contests.
While his tone was optimistic in regards to Johnson, the Richmond, Virginia native sounds like he'll be a game-time decision on Friday.
"Rob Johnson is making strides, but I can't predict where it's going to be," Crean explained. "It's still too early for that. There's no question that he's making strides."
Hoosiers look for first Big Ten tournament title
The Big Ten tournament, which is being played in Indianapolis for the last time until 2020, hasn't been kind to Indiana in its 18-year history.
The Hoosiers have never won the Big Ten tournament, are 11-18 all-time in the event and just 3-7 under Crean.
Perhaps playing as the top seed, however, will pay dividends for the Hoosiers. Eight of the 18 Big Ten tournament championships have come from the top seed and the top seed has reached the final in 11 of 18 years.
Crean was asked on Wednesday if he had to refocus his team this week after Sunday's regular season finale against Maryland to avoid this group feeling any sense of closure.
"Not at all, not one bit. They follow the routine and it changes some, but not at all," Crean said. "We don't slice the season up, either. I've done that before, but you just keep moving forward.
"And every day when you've got a good path like these guys are on, you're going to have some really good things in the day, you're going to have some things you're going to want to correct in the day, but at the end of the day, did you stay consistent in getting better? And they've been really good at that, so there's no reason to change what we're doing in that sense."
Filed to: 2016 Big Ten tournament