Five takeaways from Indiana's win over Maryland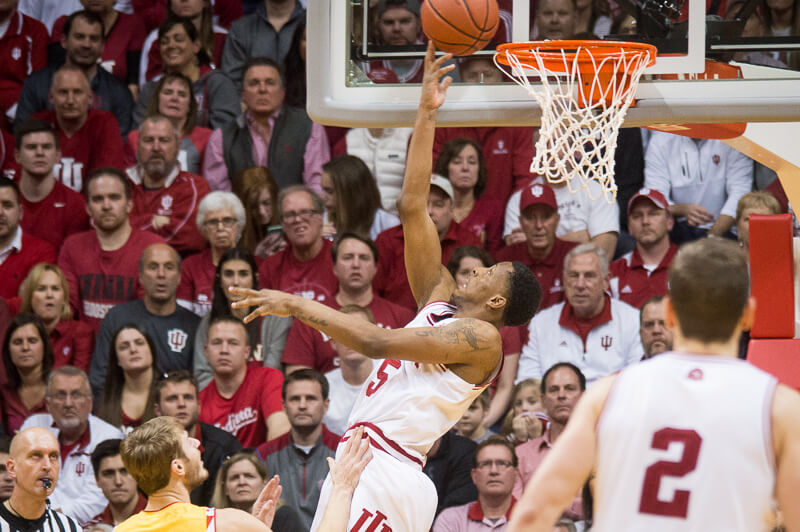 Indiana closed out the regular season in convincing fashion on Sunday afternoon with an 80-62 win over Maryland at Assembly Hall. The win completed a 17-0 season on Branch McCracken Court and moved the Hoosiers to 25-6.
Here's a look at five takeaways from the win over the Terrapins:
· Williams continues his ascent: Indiana junior wing Troy Williams was justifiably criticized for his poor performance in a loss on Feb. 14 at Michigan State, but rather than letting the game hang over him, he's responded in resounding fashion.
Williams was once again brilliant on Sunday afternoon in scoring a game-high 23 points, including an impressive stretch to open the second half where Maryland simply could not keep him out of the lane.
"Troy played like he was shot out of a cannon. He really did," Tom Crean said. "And he did it under control. A couple mistakes here and there, but he plays fast. He was aggressive. The way he started the second half was tremendous going to the basket. Made great reads. The ball was put out front. He's getting better. He works really hard at it. He's constantly getting better. Really proud of the way that he has responded since the Michigan State game."
Just how good has Williams been since the Michigan State loss? In five games, he's averaging 16.4 points on 58.8 shooting from the field. He's also averaging 4.6 rebounds, two assists and just 1.6 turnovers per game.
"I'm still learning about myself," Williams said yesterday. "I have somewhat of an identity, but I still haven't found that true identity yet."
· Ferrell writes perfect ending for his career at Assembly Hall: There is still plenty of basketball to be played, but in terms of going out the right way in front of a home crowd, it's hard to top what Yogi Ferrell did on Sunday.
Ferrell, who has played major minutes all season, seemed to get stronger as the afternoon went along and fed off the energy of the home crowd. In 38 minutes, he finished with 17 points, four rebounds and four assists.
He made one of the best passes of the season to Nick Zeisloft in the first half for an open 3. "I didn't even have to move my hands," Zeisloft said postgame.
The senior also caught Maryland's Melo Trimble and Jake Layman napping in the second half and dove on the floor to force a jump ball. It's the kind of hustle play that Ferrell has made all season. His legacy as one of the all-time great guards to play at Indiana is cemented.
· Freshmen frontcourt again brings energy: The biggest difference between Indiana in November and December and the Indiana team that has ripped off five straight going into the conference tournament is its freshman frontcourt.
Thomas Bryant, OG Anunoby and Juwan Morgan each bring something a little different, but are contributing to winning in a major way.
Bryant outplayed Diamond Stone on Sunday because he wanted it more. As Stone jogged the floor at times, Bryant sprinted. He battled for position, fought for rebounds and even knocked down a 3-pointer.
Anunoby, as usual, found his way to the rim for a dunk and was a pest on defense. And Morgan, fighting through a left shoulder injury, was diving on the floor for loose balls, grabbing rebounds and battling like he was 100 percent. The defensive impact of Anunoby and Morgan on IU's Big Ten title cannot be overstated. Both guys helped transform IU from a pedestrian defensive team to one that can be very good.
· IU takes care of the ball, thrives on offense: Maryland came into Sunday's game with the Big Ten's best defense, but the Terps left searching for answers after being carved up all afternoon.
Indiana turned it over just nine times (14.2 turnover percentage) and when that happens, there's no stopping this group. The Hoosiers were a crazy efficient 18-of-30 on 2s and hit 8-of-21 on their 3s for 1.26 points per possession.
"I watched a lot of film and that's who they are, they make great plays," Maryland coach Mark Turgeon said. "Yogi Ferrell is terrific, he makes guys around him better and they have two starters out, think about that. They play with toughness, make great plays, hustle, play hard. Troy Williams, the plays he makes. The last layup we gave them on the baseline, they had nothing going and we just let them drive around and shoot a layup. They just make dynamic plays."
· This group doesn't seem satisfied: It's impossible to predict what will happen in the Big Ten tournament and beyond, but as far as mindset goes, this Indiana team seems to be prepared for what lies ahead.
The Hoosiers were certainly worthy of celebrating a terrific regular season accomplishment in front of their home crowd, but there was not much talk in the aftermath about anything other than getting ready for the next phase of the season.
It was a much different feeling than senior day in 2013, when Indiana lost to Ohio State and had a trophy presentation and net cutting ceremony that was met with criticism.
This group seems to be loose, confident and continuing to improve at the right time of the season. Can the Hoosiers carry the momentum into Indianapolis and beyond? The mindset appears to be there, which is more than half of the battle.
Filed to: Maryland Terrapins, Troy Williams, Yogi Ferrell