Seniors look to complete undefeated home season against Maryland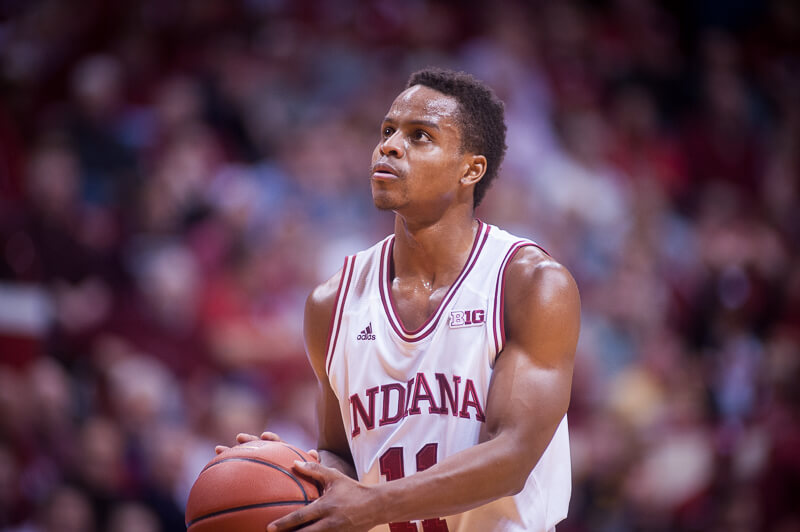 Yogi Ferrell cemented his place among the IU basketball greats after hitting the game clinching 3-pointer at Iowa that gave the Hoosiers an outright Big Ten championship.
Now a winner of two conference titles, holder of the assist record and the clear leader of this year's squad, Ferrell will look to finish out an undefeated season at Assembly Hall.
The No. 12 Hoosiers (24-6, 14-3) have a lot on the line today, despite already locking up the top seed in the Big Ten tournament.
To start, it's senior day. Ferrell, Max Bielfeldt, Nick Zeisloft, Ryan Burton and manager turned walk-on Jackson Tharp will all play in Assembly Hall for the final time.
"I just want to be remembered as a winner," Ferrell said. "A guy who went out there and played hard every possession … Being a part of two Big Ten championships, hopefully that helps my case."
After the victory against Iowa, an emotional Tom Crean, who was near tears, declared this team would not lose on senior day.
It won't be an easy task. No. 14 Maryland (24-6, 12-5) presents a tough final exam. Arguably the most talented team in the conference, the Terrapins have five players that average double-figures each game.
"(Maryland) presents every problem imaginable because they're deep," Crean said. "That was one of the things that in the beginning of the year was so imperative for them and I think they've developed those guys. They don't put anybody out on the court that can't make plays."
Sophomore point guard Melo Trimble leads the Terps at 14.3 points per contest and freshman big man Diamond Stone is adding 12.7 per game.
This will be a game that tests the depth of Indiana – especially if it is without Robert Johnson who continues to deal with a high ankle sprain. He is not expected to play, which would likely result in Nick Zeisloft getting another start at the shooting guard spot.
"The best thing (Maryland) does is protect the paint," Crean said. "They create a lot of shot-blocks, they create some shot alters. We're going to have to really, really move the ball."
Juwan Morgan, who injured his shoulder in the final minutes at Iowa, is progressing and Crean says there's a better chance he is able to play, but wouldn't say for certain.
Ferrell said he caught himself thinking back to his freshman year and how he is so much more confident now. He's been a different player and also appears to be a different person off the court.
That different level of motivation, the extra drive to win. He's said it's there, his teammates have noticed and it's been validated with a conference title. His leadership has played such a large role that Zeisloft believe it makes him league MVP.
"We see it every day in him because he's a leader," Zeisloft said. "Whether it's on the court or off the court … We think he's the most valuable guy in the Big Ten for sure just because of what he does as a leader and as a person, not just a basketball player."
Filed to: Maryland Terrapins, Nick Zeisloft, Yogi Ferrell