In Big Ten championship season, Crean deserves the credit for major turnaround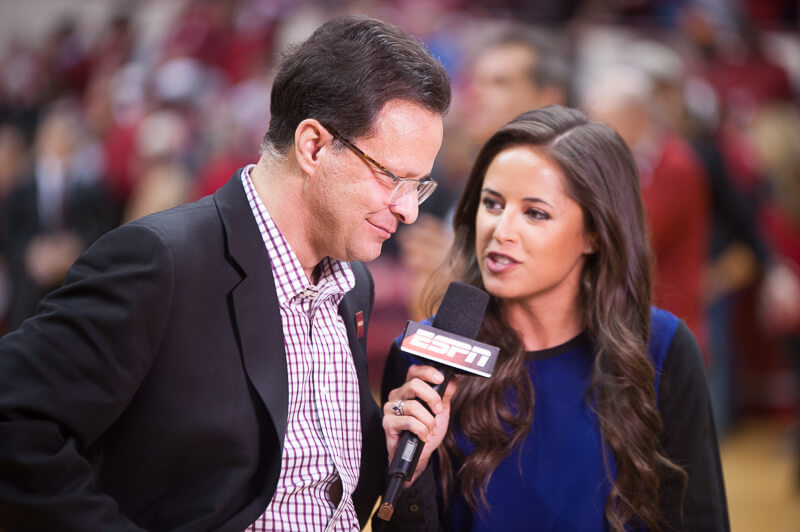 Just six coaches had won multiple outright Big Ten regular season championships in the last 30 years when Indiana took the floor on Tuesday night in Iowa City.
By the time the final buzzer sounded and the Hoosiers celebrated an 81-78 win at Carver Hawkeye Arena, a seventh name was added to the list: Tom Crean.
With his second outright league title in four years, Crean joined a group that includes arguably the two most successful coaches in league history in Bob Knight and Tom Izzo. He also continued to silence those, including plenty of Indiana fans, who thought this team was done after early season debacles in Maui and at Cameron Indoor Stadium versus Duke.
When Crean sat in the press conference after the Duke loss, he was visibly irked by his team's performance, but he didn't budge on his belief that he, his coaching staff and players would be able to figure things out.
"It's eight games in," Crean said on Dec. 2. "I think we'll get better. That's the bottom line."
This program, under Crean's leadership and the terrific play of senior point guard Yogi Ferrell, has done more than just get better in the three months since the Duke loss.
The Hoosiers have won 19 of 22 games, including six Big Ten road games and a win over Notre Dame at Bankers Life Fieldhouse that required a comeback from a 16-point second half deficit.
A quick start in the Big Ten was dismissed by national media because of a schedule that appeared to be backloaded. But as we sit here a little more than 72 hours from the regular season finale against Maryland at Assembly Hall, Indiana seems to be hitting the gas pedal while some other league foes, like Iowa, go in the tank.
The knock on Crean teams in previous seasons has been that they fade in February when the games begin to really matter. Indiana finished this February with a 5-2 record.
Not only did Indiana win the Big Ten regular season championship outright, the Hoosiers did it with plenty of moving pieces that had the potential to knock things well off course.
The grumbling and uncertainty about Crean's future was as loud as ever as conference play tipped off in late December, but things got even more challenging. On the Monday before a Wednesday contest at Rutgers, Indiana lost its second leading scorer James Blackmon Jr. to a knee injury.
While it's not totally fair to say that Indiana is a better team without Blackmon Jr., it is fair to say that this team has evolved and grown in his absence.
The defense, which had plenty of subpar performances all of last season and in non-conference play this season, is the fourth best in the conference. Roles are more defined as young players like OG Anunoby, Harrison Niego and Juwan Morgan, who were brought along slowly early on, are providing depth that doesn't lead to dropoffs in production when Indiana goes to the bench.
Troy Williams, who had been awful in plenty of road games, just went for 15 points and seven rebounds at Iowa and might be playing his best stretch of basketball this season. Thomas Bryant continues to finish with amazing efficiency in the paint with a field goal percentage over 70. Seniors Max Bielfeldt and Nick Zeisloft and junior Collin Hartman are making veteran plays and providing leadership. Before he went down with an ankle injury, Rob Johnson was playing his best basketball of the season.
And of course there's Ferrell, who has grown into the leader that Crean has been searching for since Jordan Hulls, Christian Watford, Derek Elston, Victor Oladipo and Cody Zeller left the program in the spring of 2013.
Crean challenged Ferrell in August to step up and lead and he's done more than that. He's squarely in the race for Big Ten player of the year after winning his second outright league title in four years.
The constant in all of this, of course, is Crean.
As much as he's been second guessed for roster management the past two seasons, credit him for putting together this cohesive group. In the spring, he landed Bryant, who solidified the paint on a team that had been too perimeter oriented last season. The three other freshman, who no one was writing much about in the preseason, have all exceeded expectations. And when three players had to be dismissed in the offseason for poor decisions, he went out and brought in Bielfeldt, a major contributor to the Big Ten title run.
"He never gave up on us. He kept believing in us," Ferrell said on Tuesday. "And what he wanted to do especially was prove the doubters wrong. We basically were following his lead. The way he goes out there and his calmness in those huddles, he never got worried and when we look into his eyes, we see that he believes that we can win and when we see that, all of us believe that we can win."
Now as the season hits its most critical stretch, it's clear that Crean and his players aren't satisfied just being Big Ten champions.
There's little talk about the accomplishment of a league title and in the immediate aftermath of the win, an emotional Crean was already looking ahead to the next game.
"We've got one more regular-season game and there is absolutely no way, there is no way," Crean said with his voice breaking. "There is no way, there is no way that we're not walking out of that place Sunday with our seniors with their heads held extremely high. There is no way, there is no way that this group, that this group is not going to walk out that way, and that's what our focus is going to be."
Filed to: Tom Crean