Tourney Watch: Hoosiers still playing for seeding in regular season's final week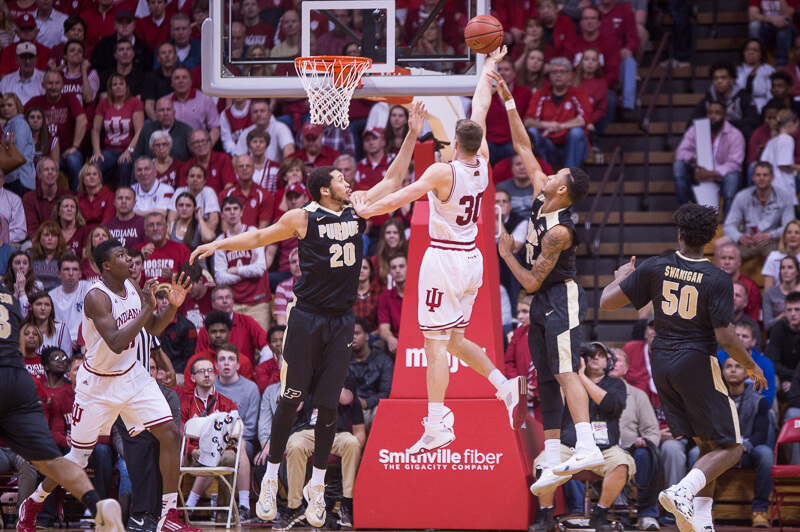 We're back for our sixth installment of "Tourney Watch" as Indiana gets set for a Tuesday primetime tilt against Iowa in Iowa City before closing out the regular season at home on Sunday against Maryland.
In our weekly feature that will continue up until Selection Sunday on March 13, we take a look at IU's current nitty gritty profile, updated bracket projections and much more.
Overview
At 23-6, Indiana played just once last week and it was a win that didn't move the needle too much in terms of NCAA tournament seeding. The Hoosiers crushed Illinois 74-47 in Champaign. This week, IU has two chances at wins that could provide a major RPI boost with Iowa and Maryland on the slate.
Nitty Gritty Profile
· Record: 23-6 (12-3 Big Ten)
· RPI: 27
· SOS: 92 (via CBS)
· Home Record: 16-0
· Away Record: 5-4
· Neutral Court Record: 2-2
· vs. RPI Top 50: 4-3 (via Crashing the Dance)
· vs. RPI Top 51-100: 4-1 (via Crashing the Dance)
Indiana rose two spots in the RPI since our last update, but still has just four top 50 RPI wins which is probably holding them back somewhat right now for seeding purposes.
Current Projections
· Assembly Call (Andy Bottoms): 5 seed in South Region vs. San Diego State in Spokane (Updated 3/1)
· ESPN Bracketology (Joe Lunardi): 5 seed in East Region vs. Arkansas-Little Rock in Denver (Updated 2/29)
· CBS Sports (Jerry Palm): 5 seed in West Region vs. Arkansas-Little Rock in Oklahoma City (Updated 2/29)
· Crashing the Dance: No. 19 overall seed
· Bracket Matrix: Last No. 5 seed
Indiana rose two spots in the last week in the Crashing the Dance seeding list and moved up three spots in the Bracket Matrix from the third No. 6 seed to the final No. 5 seed. At least a split this week would probably guarantee Indiana no lower than a five seed.
Final record projections
The Hoosiers remain projected to finish 24-7 and 14-4 by KenPom, which would give the Hoosiers an outright Big Ten regular season title. RPIForecast.com gives the Hoosiers a 53.3% chance to finish 24-7, a 28.5% chance to finish 25-6 and an 18.6% chance to end up 23-8. In its weekly conference roundup, The Only Colors gives Indiana a 77% chance to earn an outright Big Ten title.
Around the Big Ten
Locks
· Maryland (23-6, RPI 10): Maryland lost at Purdue last week, but remains the highest ranked Big Ten team in the RPI. The Terps, however, have lost three of their last four and still have a road trip to Indiana looming.
· Michigan State (24-5, RPI 14): If Michigan State wins out in the regular season, which seems a near certainty, and then wins the Big Ten tournament, the Spartans will be in the conversation for a No. 1 seed.
· Purdue (22-7, RPI 18): The Boilermakers got a huge win last weekend at home over Maryland, which probably put them in good shape for a five seed or higher if they can beat Nebraska and Wisconsin this week.
· Iowa (20-8, RPI 21): The Hawkeyes were being discussed as a potential No. 1 seed in early February, but losses in four of their last five games has caused a bit of a free fall in several projections. There's no doubt that Iowa needs a win over Indiana this week to right the ship before traveling to Michigan to close out the regular season.
· Wisconsin (19-10, RPI 33): The Badgers remain one of the Big Ten's hottest teams and did Indiana a huge favor last week by winning at Iowa. The Badgers should have no problem with Minnesota this week and a game on Sunday at Purdue gives them another shot at improving their resume.
Bubble In
· Michigan (20-10, RPI 59): Michigan announced that it will be without Caris LeVert for the rest of the season and is right on the fringe in most projections. That keeps the Wolverines in the "bubble in" category this week, but a win against Iowa on Saturday at home is basically a must at this point.
Bubble Out
· Ohio State (19-10, RPI 74): The Buckeyes, who are without Jae'Sean Tate, lost to Michigan State last week and then beat Iowa for their 11th conference win. However, the unbalanced schedule is going to really hurt this group as they are evaluated by the tournament selection committee. Ohio State could get in with a win at Michigan State this week and a win in the Big Ten tournament, but that's a tough ask given how well the Spartans are playing right now.
2016 Tournament Sites
· First Four: Dayton
· First, second rounds: Brooklyn, Denver, Des Moines, Oklahoma City, Providence, Raleigh, Spokane, St. Louis
· Regional: Anaheim, Chicago, Louisville, Philadelphia
· Final Four: Houston
Filed to: 2016 NCAA tournament