What to Expect: Iowa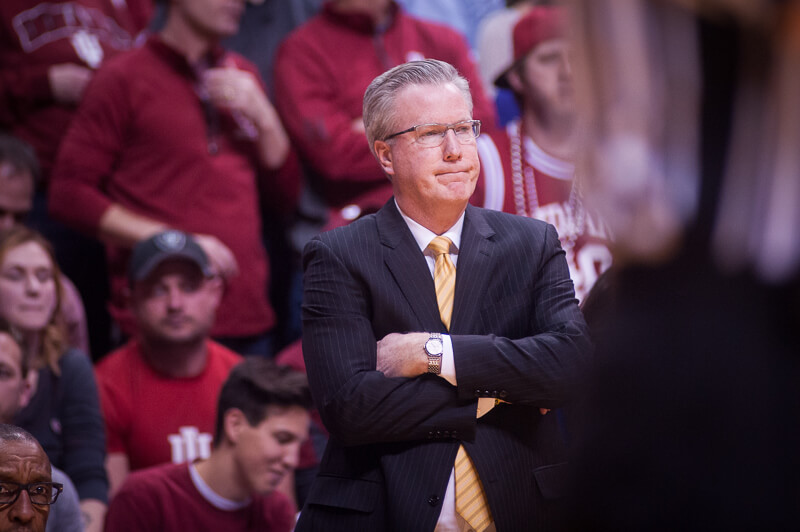 With a share of the Big Ten title already secured, Indiana will look to win it outright on Tuesday night in Iowa City when it takes on Iowa at Carver Hawkeye Arena. The Hawkeyes are 20-8 overall and 11-5 in the Big Ten, but have lost four of their last five.
The game will be broadcast on ESPN at 9 p.m. ET with Mike Tirico, Dan Dakich and Allison Williams on the call:
Indiana clinched a share of the Big Ten regular season title, the 22nd in program history, over the weekend without even lifting a finger. Maryland's loss at Purdue on Saturday paired with Iowa's setback on Sunday at Ohio State put the Hoosiers ahead of four other teams by two games in the loss column, which secured at least a share of the league championship.
Now Indiana will get a shot to win it outright over the next six days as it first travels to Iowa and then wraps up the regular season on Sunday against Maryland. A win in either game would mean an outright title for the Hoosiers.
It won't be easy, though, as Indiana will be met by a desperate Iowa team on Tuesday looking to reverse a late season collapse on its senior night.
MEET THE HAWKEYES (all statistics are for conference games only)
Iowa came to Assembly Hall on Feb. 11 with a 10-1 Big Ten record and a chance to take a commanding lead in the conference race with seven games to play. The Hawkeyes left Bloomington with an 85-78 loss and have won just once since, a 75-71 squeaker over Minnesota in Iowa City.
So what has happened to Fran McCaffery's team?
Iowa's bench isn't producing much as of late and with its starters forced to play heavy minutes every night, the margin for error is slim when somebody has an off shooting night. The defense has also regressed as five straight Big Ten opponents have scored better than a point per possession on the Hawkeyes and three of those teams scored better than 1.1 points per trip.
Still, this is a capable team with experience that is capable of a run if it can reverse course and ride two of the best players in the league in Jarrod Uthoff and Peter Jok.
The 6-foot-9 Uthoff is still a lock for first team All-Big Ten honors, but his shot at the league's player of the year award is likely gone due to his team's recent struggles. The forward averages a team-best 18.6 points in Big Ten play and is shooting 39.9 percent on 3s, 47.3 on 2s and 81 percent on free throws.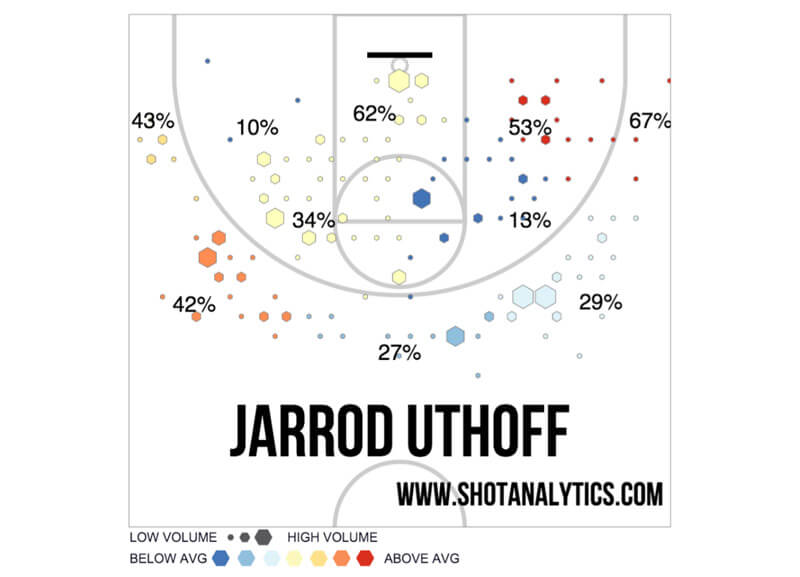 Jok, a 6-foot-6 junior, battled foul trouble in Iowa's loss at Ohio State, which is something the Hawkeyes simply cannot afford to have happen to one of the league's best scorers. He's second on Iowa in scoring (18.4 ppg) and has the seventh best offensive rating in the conference according to KenPom.com. Jok is making 48.1 percent of his 2s and 44.3 percent of his 3s in league games and had an intense battle with Yogi Ferrell in the first meeting between IU and Iowa.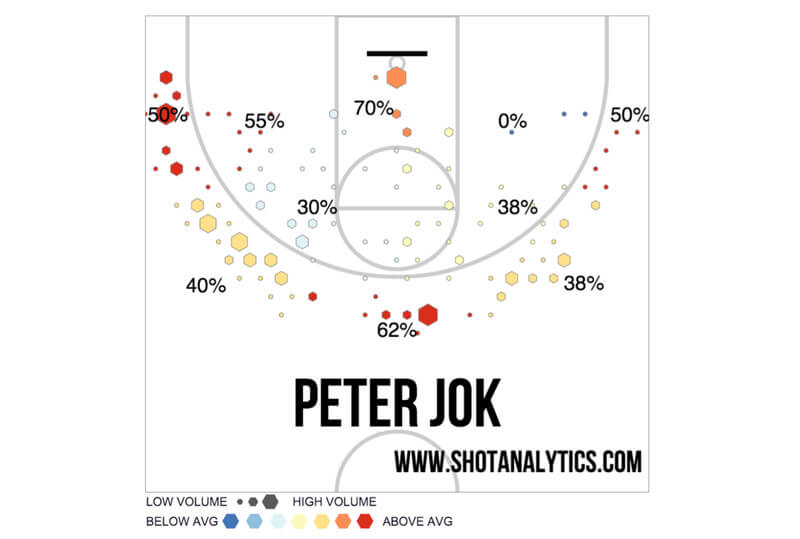 Beyond Uthoff and Jok is where McCaffery really needs a boost to resurrect the season. Senior guards Anthony Clemmons and Mike Gesell remain starters in the backcourt, but both have their strengths and flaws.
Clemmons ranks in the top 20 in 2-point field goal percentage in the conference at 54.7 percent and has a solid assist rate of 19.9 percent, but is hitting just 31 percent of his 3s. He's also doing a very good job of getting to the foul line (41.9 percent free throw rate), but has struggled converting there with just a 57.1 free throw percentage.
Gesell is great at getting to the foul line as well (53.3 percent free throw rate), but is making just 40 percent of his 2s and 30 percent of his 3s in Big Ten games. His strength is acting as a distributor as his assist rate of 31.5 is fifth best in the league.
Backup minutes on the wing are going primarily to freshman Ahmad Wagner, but he's scored just a total of four points in the last five games.
Up front, 7-foot-1 Adam Woodbury is one of the Big Ten's best rebounders. His offensive rebounding percentage 14.2 is second in the league and his defensive rebounding percentage is third at 25.9. He's also an above average finisher who is making 57 percent of his 2s against Big Ten opponents.
Sophomore Dom Uhl was 14-of-27 on 3s through Iowa's first 11 Big Ten games, but is just 1-of-3 from deep since. In three of Iowa's last five games, he hasn't even attempted a 3. Freshman walk-on Nicolas Baer, a 6-foot-7 frontcourt contributor, is playing just over 14 minutes per game and is making 72.2 percent of his 2s.
TEMPO-FREE PREVIEW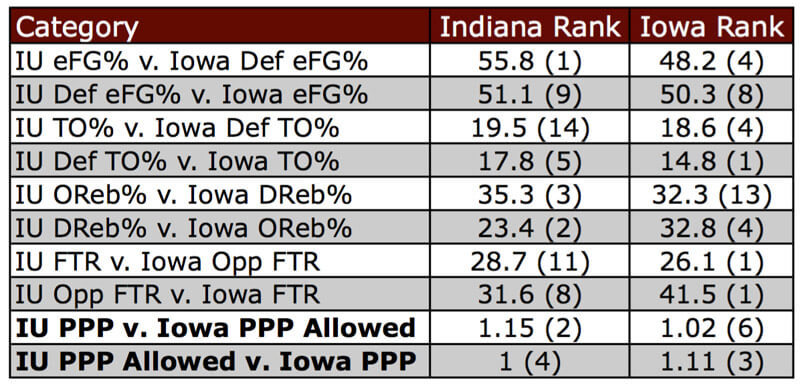 Indiana won the first meeting on the strength of a strong shooting game (53.2 eFG%, 1.32 points per possession) and a monster effort on the offensive glass (54.3 OR%).
But Iowa was no slouch offensively either as the Hawkeyes came into Assembly Hall and grabbed 48.7 percent of their missed shots and shot an effective field goal percentage of 51.6 on its way to 1.21 points per possession. That was third worst defensive effort of the season so far for Indiana behind the Duke and Michigan State games.
The good news for Indiana could be that Iowa, which will be playing on just a day of rest, hasn't come anywhere close to that sort of offensive production in recent weeks. In its last two games, Iowa scored .97 points per possession against Wisconsin followed by .94 on Sunday at Ohio State.
The key for Indiana, aside from shooting it well, is limiting turnovers and also attempting to keep the Hawkeyes off the foul line. Iowa has a Big Ten best 41.5 percent free throw rate (FTA/FGA) and if the Hawkeyes can get back to just average shooting from the field, such a significant advantage from the line can be a major difference maker.
WHAT IT COMES DOWN TO
The KenPom projection favors Iowa by four with just a 34 chance of an upset by the Hoosiers in Iowa City. The Sagarin ratings like Iowa by two when adjusted for home court. IU opened as a four-point underdog in Vegas as of late Monday morning.
Even though the Hoosiers have already wrapped up a share of the regular season title, there's still plenty to play for over the last week of the regular season. An outright Big Ten title can be IU's with just one more win, but more importantly, one more win will lock up a double-bye in the conference tournament, which still hasn't been secured. The Hoosiers can also continue to move up the NCAA tournament s-curve with a win or two this week.
For Iowa, the stakes are high as the Hawkeyes are not only sending off their seniors, but desperately need a win to stop their slide and give them a shot at a shared league title.
After a 5-2 month of February, March is here for Indiana. Are the Hoosiers ready to win an outright Big Ten title and continue their late season surge? That question will begin to be answered this week.
Filed to: Iowa Hawkeyes