Quotes: Crean, IU players on Big Ten title, Iowa and more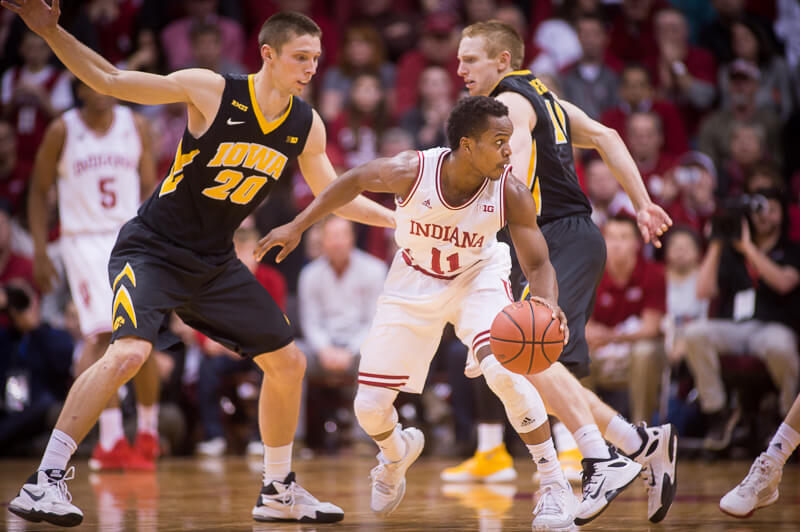 Per IU media relations, here are quotes from Indiana coach Tom Crean, senior Yogi Ferrell and junior Collin Hartman in advance of Tuesday's game at Iowa. The trio all address IU clinching a share of the Big Ten title, the matchup with the Hawkeyes and more:
Tom Crean
On Iowa:
"Fran (Mccaffery), his staff and his players have done as good a job as anyone in the country this season and we are well aware of their abilities.
On this week:
"We are excited. The trick is, everybody knows what is at stake and nobody is really talking about it. There is no difference in our level of work, it is as high as it has been. It's not higher and it's not lower. Our sense of urgency has been really high. I would be more concerned if we were really turned up right now or if we were a little flatlined. We are neither. We are on pace. Now, what will that bring us? Let's go find out.
"We are navigating injuries. All we can control is how much better we are getting and that's exactly what they have done the whole time. And I'm good with that. As long as we keep focused on that, that is all that matters."
On playing Iowa for a second time:
"Iowa is good. We are not going to look at it and say they haven't done this or they haven't done that. They are capable of doing anything they want. They are really, really good. They are deep, talented and as experienced as it gets. They are as well-coached as you can be. They have a lot of different ways to beat you – offense, defense, rebounding, pressure, mixing defenses, in the lane, 3-point shooting.
"We are going to have to play a lot better than what we did in the game here. We made too many mistakes. We won the game, but we made too many mistakes here. We had too many errors defensively. We should have switched this and we shouldn't have switched that and we have to be better at those things.
"We cannot let them run. It is Senior Night there. It's going to be like the Fourth of July, Christmas and New Year's all wrapped into one. We know that. That is what they have earned at Iowa and we are going to have to go in there and really, really handle that. I know our players are excited about the opportunity to play at Iowa."
On capturing a share of the Big Ten title:
"We are honored to have secured a share of the Big Ten Championship which means a great deal to the young men in our program and their families, our staff and their families, and to the many loyal Hoosier fans across the state of Indiana and the nation. Winning a championship is not easy and this accomplishment is a testament to the hard work, perseverance and character of our team. I know this means a lot right now, but it will mean even more later.
Yogi Ferrell
"We expect tomorrow night to be a typical big game Big Ten atmosphere. They are a great team with seniors who have played in a ton of big games and been to the NCAA Tournament. We have to maintain what we have been doing and that is to communicate and not try to make anything other than the simple plays."
"They like to play fast so our transition defense will have to be at its best. They have a lot of different weapons that can hurt you very quickly. We know how tough they are and respect them a lot."
"We are proud to have won a share of the (Big Ten) title but there is still so much more to play for. Our focus and mindset doesn't change. It gets better every day."
Collin Hartman
"Coach Crean keeps us focused on what's important for this team. We have a great group of guys. I think a culture is being built that anyone can make the big play or have a breakout game and it doesn't have to be the same guy every night."
"Our coaching staff does a great job of preparing us for each game. They are great teachers. Iowa is a tough team and we know Tuesday we will play in a hostile environment. I expect it to be a great college basketball game."
"I wasn't on the championship team in 2013, so I'm excited to be part of one this year. We are building something special together."
Filed to: Collin Hartman, Tom Crean, Yogi Ferrell