Yogi Ferrell shows leadership in win over Illinois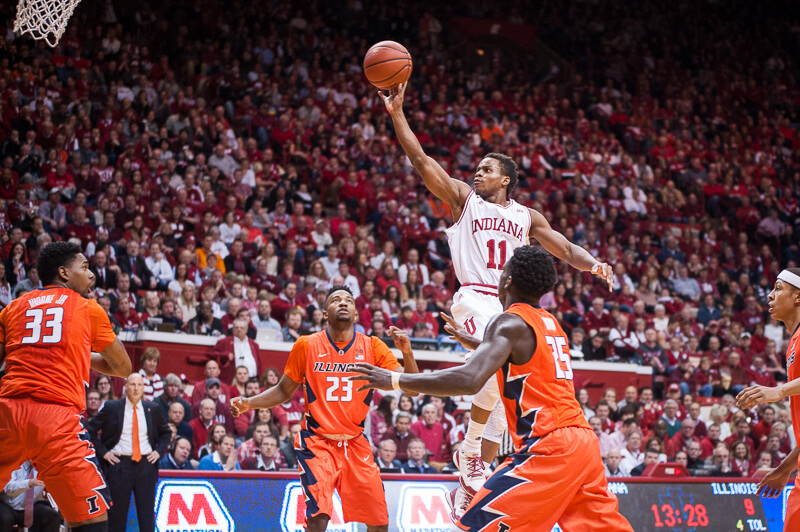 After a slow start that saw Indiana go down 10, the Hoosiers stormed back to dominate Illinois 74-47 on Thursday night at the State Farm Center.
It is the second time IU has blown out Illinois this season, this time doing it without Robert Johnson, who missed the game with a left ankle sprain.
IU, now 23-6 overall and 13-3 in the Big Ten and alone in first place, has an opportunity to clinch at least a share of the conference title with one more win this season.
Yogi Ferrell led the charge, scoring a game-high 27 points to go along with five assists and five rebounds.
"He works very hard," Tom Crean said. "From the day he walked in, he's been one of those guys that spends a ton of extra time in the gym. What he's gained now is the ability to study film. He's playing with a lot of confidence, and he brings a lot of confidence to his teammates."
It was the type of game needed from its senior leader in a late season road game.
"We were going to have to create our own energy so I was just out there talking to these guys all the time whether it was defense or offense, not letting those guys hang their heads and going on to the next play," Ferrell said. "That's all I try to do is just lead those guys."
Three Hoosiers reached double-figures, Ferrell, freshman big man Thomas Bryant and Nick Zeisloft who started in place of Johnson. Both Bryant and Zeisloft had 14 points.
IU didn't look good early and trailed 14-4 as it adjusted to the absence of Johnson. There were several plays where passes went straight out of bounds and some ill-advised post feeds that ended in turnovers. But slowly, the Hoosiers worked their way back into the game and took a lead after an 11-0 run. Indiana outscored Illinois 47-19 in the second half.
"We played much sharper in the second half in a sense of making sure the ball was going through the paint," Crean said. "When we went through the paint we were 14-of-20 but we were 3-of-17 when we didn't, and that's not a good recipe for us. Our recipe's got to be that we go through the paint. That doesn't mean we have to score in the paint, but the ball has to go through there."
Rebounding difference
Indiana dominated Illinois on the glass as the Hoosiers grabbed 40 percent of their missed shots and allowed the Fighting Illini to pull down just two offensive rebounds for two second chance points.
"Everybody that played eight minutes or more in this game got a rebound," Crean said. "And so when you out-rebound a team by 20, that's huge and it has to come from a lot of people."
Bryant was Indiana's leading rebounder with eight, and four IU players total had more rebounds than the Illini's top rebounder (Maverick Morgan and Kendrick Nunn each with 4).
Injury scare
Early in the second half, Troy Williams went down and limped off the court holding his leg after a collision with a couple of Illinois players. He went back to the locker room with trainer Tim Garl, but soon came back out and was cleared for play. Williams did return to action and finished with seven points and five rebounds.
Another injury to a core member of the rotation is obviously the last thing Crean and his team needs, especially with Iowa looming next week.
"A very important win, a valuable win against a team that's got some real fire power," Crean said. "We take this win very, very seriously. Illinois is very close."
Filed to: Illinois Fighting Illini, Yogi Ferrell