Five takeaways from Indiana's win over Illinois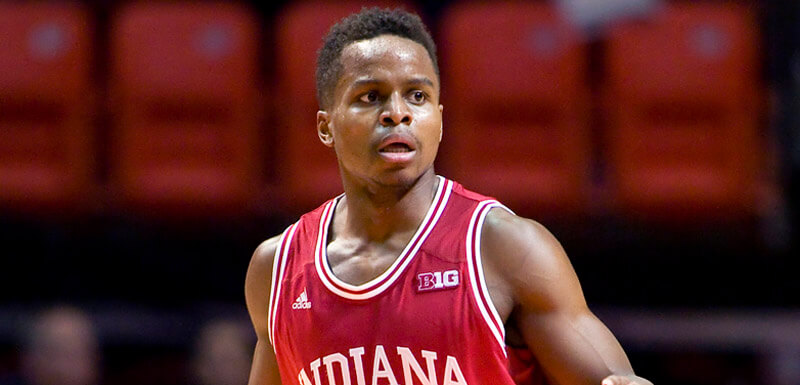 CHAMPAIGN, Ill. – Indiana moved another step closer to a Big Ten regular season title on Thursday night as the Hoosiers crushed Illinois, 74-47, at the State Farm Center.
It was the third straight win for the Hoosiers and 13th in conference play. A win on Tuesday in Iowa would clinch at least a share of the regular season title.
Here's a look at five takeaways from the win over the Fighting Illini:
· Ferrell puts his stamp on the game in second half: For 20 minutes, it looked like Indiana had a fight on its hands against Illinois. The Hoosiers offense was sputtering and its defense didn't start out well either as the Illini jumped out to a 14-4 lead.
But Indiana's senior point guard and leader, Yogi Ferrell, was not going to be denied in a game the Hoosiers needed to have. Ferrell locked up Kendrick Nunn defensively in the second half and held him to two points. And offensively, Ferrell couldn't be stopped by anyone on Illinois.
In 19 second half minutes, Ferrell had 19 points on 7-of-9 shooting and was the reliable floor leader we've seen nearly all of the Big Ten season.
"He impacted both ends of the court and was the senior leader that we needed to have," Nick Zeisloft said. "After the first half, we needed to step up and he definitely took the front of that. We were rolling behind him after that."
· Big night for Bryant: Freshman Thomas Bryant has played limited minutes in several Big Ten games due to fouls, but the lack of a true post scorer on the Illini limited their chances of forcing him to the bench.
As a result, the 6-foot-10 center put together another efficient performance on the offensive end. Bryant hit all five of his field goal attempts, including a 3-pointer and hit all of his free throws as well to finish with 14 points. In addition, his eight rebounds were a team-high.
"I just came in with the mindset to be assertive down there in the post," Bryant said afterward. "I saw that I could get some things down there that they gave me and I just tried to take full advantage of it."
· Hoosiers again own the glass: Rebounding has been an underrated part of Indiana's success all season and on Thursday, the Hoosiers were once again brilliant.
Indiana rebounded 40 percent of its missed shots and outscored Illinois 15-2 on second-chance points. Six different players grabbed an offensive rebound.
And on the other end of the floor, Indiana allowed Illinois to grab just two offensive rebounds for an offensive rebounding percentage of just 6.9. That's the best job the Hoosiers have done on the defensive glass, percentage wise, all season.
· This was Indiana's second best defensive efficiency performance of the season: Aside from the season opener against Eastern Illinois, this was Indiana's best defensive performance of the season.
Illinois scored just .77 points per possession, the lowest offensive output for a Big Ten opponent against Indiana this season. Through 16 league games, IU has the league's third best defense at just under one point per possession allowed.
"I felt like we turned around (in the second half) and got our defense set," Yogi Ferrell. "I felt like OG (Anunoby) and Juwan (Morgan) really brought that energy for us in stopping Malcolm Hill. That just transitioned into offense for us."
· Indiana has positioned itself to play for a share of the Big Ten title on Tuesday: At minimum, Indiana will play for a share of the Big Ten title on Tuesday in Iowa City.
At 13-3 and a game and a half ahead of Iowa and Maryland in the league standings, a win Tuesday would give Indiana at least a share of the regular season title. However, if Maryland loses at Purdue on Saturday, Indiana could be playing for the outright title on Tuesday against the Hawkeyes.
Regardless of the specific stakes, Indiana taking care of business against Illinois means that the Hoosiers still control their own destiny to win the Big Ten, which is something that would have been unthinkable when this team was 5-3 in early December following a lopsided loss at Duke.
(Mike Granse-USA TODAY Sports)
Filed to: Illinois Fighting Illini, Thomas Bryant, Yogi Ferrell