Tourney Watch: Win over Purdue boosts IU's profile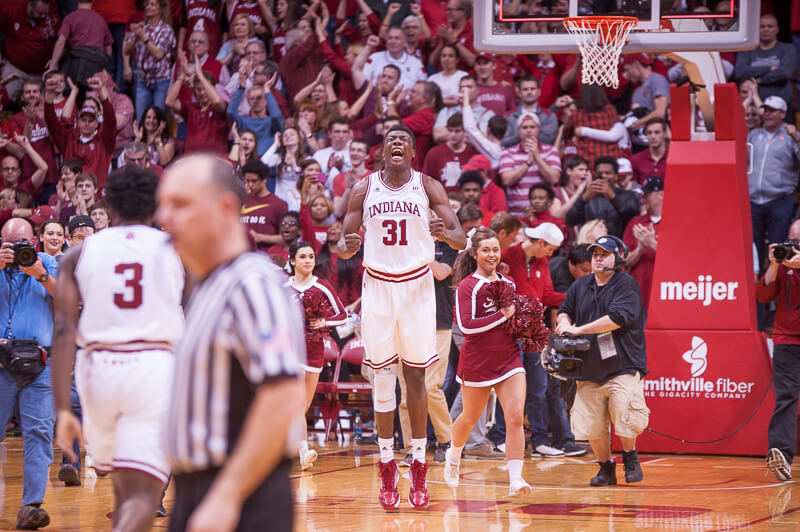 We're back for our fifth installment of "Tourney Watch" as Indiana gets set for a Thursday primetime tilt against Illinois in Champaign.
In our weekly feature that will continue up until Selection Sunday on March 13, we take a look at IU's current nitty gritty profile, updated bracket projections and much more.
Overview
At 22-6, Indiana picked up a pair of wins last week – a comfortable 80-64 decision over Nebraska at home followed by a four-point victory over Purdue on Saturday. The win over the Boilermakers was huge for Indiana's resume as the Hoosiers added another RPI top 50 win to the resume. IU still has two more chances for major wins with a roadtrip to Iowa next week followed by the home finale against Maryland.
Nitty Gritty Profile
· Record: 22-6 (12-3 Big Ten)
· RPI: 29
· SOS: 92 (via CBS)
· Home Record: 16-0
· Away Record: 4-4
· Neutral Court Record: 2-2
· vs. RPI Top 50: 4-3 (via Crashing the Dance)
· vs. RPI Top 51-100: 4-1 (via Crashing the Dance)
Indiana rose seven spots in the RPI since our last update and now has a total of eight wins against the RPI top 100, including four in the top 50 (Iowa, Purdue, Notre Dame and Wisconsin). Iowa and Maryland provide two more chances for RPI top 50 wins.
Current Projections
· Assembly Call (Andy Bottoms): 6 seed in Midwest Region vs. Monmouth in Denver (Updated 2/23)
· ESPN Bracketology (Joe Lunardi): 5 seed in South Region vs. Valparaiso in Oklahoma City (Updated 2/22)
· CBS Sports (Jerry Palm): 5 seed in South Region vs. St. Mary's in Denver (Updated 2/22)
· Crashing the Dance: No. 21 overall seed
· Bracket Matrix: Third No. 6 seed
Indiana rose three spots in the last week in the Crashing the Dance seeding list and moved up two spots in the Bracket Matrix from the top No. 7 seed to the third No. 6 seed. Assuming the Hoosiers can finish strong, they look like a strong bet to land as a six seed or higher.
Final record projections
The Hoosiers picked up a game in KenPom's projected final record moving from 23-8 overall and 13-5 in the league last week to 24-7 and 14-4. His model projects Indiana and Iowa to both finish the Big Ten with a 14-4 record. RPIForecast.com has moved a 24-7 finish for the Hoosiers up to the top of its list of projections from 32 percent last week to 48.2 percent currently. Other possibilities: 23-8 (28%), 25-6 (19.8%) and 22-9 (4%). The Only Colors gives Indiana a 98% chance at a top four finish (up from 83.8% last week), a 49 percent chance of a shared Big Ten title and a 21.6 percent chance for the Hoosiers to win it outright. A top four finish would be a double bye to Friday in the Big Ten tournament in Indianapolis.
Around the Big Ten
Locks
· Maryland (22-5, RPI 10): The computers still love Maryland, but the eye test right now suggests something isn't quite right with this team. The Terps lost at Minnesota last week and then survived at home to beat Michigan. The schedule to finish isn't easy, either, as Maryland still has to go to Purdue and Indiana.
· Iowa (20-6, RPI 15): The Hawkeyes slipped up last week in State College, but still are the favorites to win the Big Ten title. Most projections have Iowa as a No. 2 seed at the moment, but a strong finish and a run in the conference tournament could put them back in the conversation for a No. 1.
· Michigan State (22-5, RPI 16): The Spartans are rolling and are moving up in the projections after winning six of their last seven. Michigan State will be favored in its final four regular season games and is very likely to grab a double bye in the Big Ten tournament.
· Purdue (21-7, RPI 22): The Boilermakers remain a lock for the tournament, but need a strong finish to avoid slipping down to a six or seven seed. With home games against Maryland and Wisconsin and a road trip to Nebraska left, Purdue certainly has a chance to finish strong.
Bubble In
· Wisconsin (17-10, RPI 44): The Badgers finally dropped a game, but for now, Wisconsin is on the right side of the bubble in most projections. That could change quickly, however, as the Badgers still have to go to Iowa, Minnesota and Purdue. Wisconsin's final home game – this Sunday against Michigan – could have major bubble implications are both teams are jockeying for position.
· Michigan (18-9, RPI 54): Michigan is still in the field according to most projections, but the Wolverines could be sweating it out on Selection Sunday. The Wolverines are in a must-win situation on Wednesday as they host Northwestern and then go to Madison on Sunday for a huge game. If they can't win at the Kohl Center, a home game to close against Iowa will provide a chance for a major resume boost in a game that could also have Big Ten title implications.
Bubble Out
· Ohio State (18-10, RPI 73): The Buckeyes are a team to keep an eye on in the final two weeks of the regular season. This team does have 10 conference wins, but only one has come against a team in the current top eight of the league standings. But Ohio State's remaining schedule gives it a chance to get in as the Buckeyes play Michigan State twice and host Iowa in their final three games. Win two of those games and things could get very interesting in Columbus. One win in those three would probably require an accompanying Big Ten tournament run to get Ohio State in the dance.
2016 Tournament Sites 
· First Four: Dayton
· First, second rounds: Brooklyn, Denver, Des Moines, Oklahoma City, Providence, Raleigh, Spokane, St. Louis
· Regional: Anaheim, Chicago, Louisville, Philadelphia
· Final Four: Houston
Filed to: 2016 NCAA tournament