Big Ten Power Rankings: February 22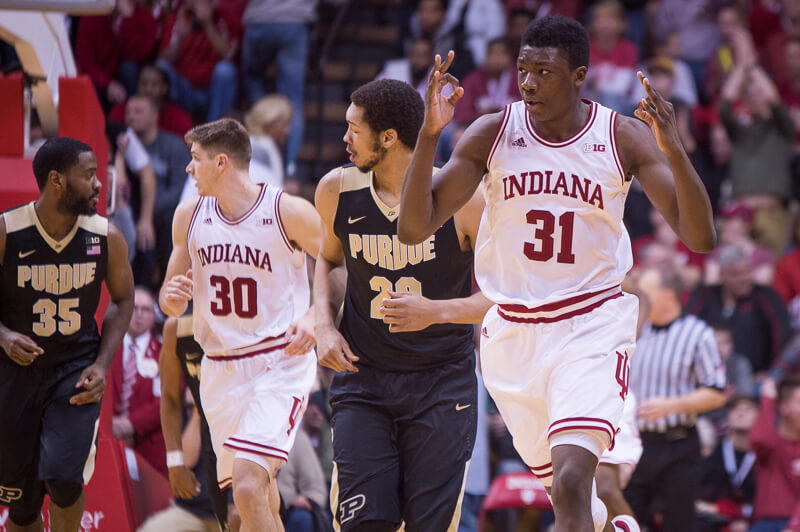 The Inside the Hall Big Ten Power Rankings are back following the eighth week of conference play and the field of contenders for the league crown is beginning to thin. Here's a look at where each team stands after the seventh week of Big Ten play (Note: Points per possession numbers in parenthesis are for conference games only):
14. Rutgers (6-21, 0-14, .91 points per possession, 1.20 points per possession allowed) … Still winless, still unwatchable. It's been five games since Rutgers lost by less than 10, when it lost by nine in triple overtime to Illinois. Road trips to Minnesota and Northwestern are up next for Eddie Jordan and company.
13. Minnesota (7-19, 1-13, .96 points per possession, 1.11 points per possession allowed) ... And the wait is over! Minnesota beat Maryland to pick up win number one in the Big Ten. Even better news for Minnesota, it gets to play Rutgers next.
12. Illinois (12-15, 4-10, .98 points per possession, 1.06 points per possession allowed) … Illinois picked up a win over lowly Rutgers, and then blew a 13-point lead and lost at Wisconsin. With a new athletic director in place, how much of a leash does John Groce have? The Illini play host to Indiana and Minnesota this week.
11. Northwestern (17-10, 5-9, 1 point per possession, 1.07 points per possession allowed) … At this point Northwestern is fighting for an NIT berth. Michigan and Rutgers will be the competition this week, before Penn State and Nebraska next week. So there are certainly opportunities for a few more wins. Beating Michigan in Ann Arbor would be a nice boost for Chris Collins and his squad.
10. Nebraska (14-14, 6-9, 1.09 points per possession, 1.08 points per possession allowed) … Nebraska dropped a winnable game at home to Ohio State in overtime and Shavon Shields missed his fourth straight game due to concussion symptoms. Without Shields, it'll tough for the Cornhuskers to win any games of consequence. They'll play Penn State this week.
9. Penn State (14-13, 5-9, .97 points per possession, 1.08 points per possession allowed) … Indiana fans breathed a sigh of relief as the Nittany Lions closed out another upset, this time over Iowa. Pat Chambers has done a nice job keeping his team engaged and not folding in the final stretch. Three of Penn State's final four games are very winnable as the Nittany Lions still host Nebraska, Illinois and Northwestern. The Cornhuskers and a road trip to Michigan State await the Lions this week. Surprisingly, I don't think the NIT is out of reach.
8. Ohio State (18-10, 10-5, 1.02 points per possession, 1 point per possession allowed) … Ohio State has quietly built up a strong conference record. The problem is it hasn't beaten anyone. The Buckeyes best win is over Michigan this past week in Columbus. It would take at least two wins against a brutal close to the regular season plus a strong showing in the Big Ten tournament to get on the right side of the bubble. Home games against Michigan State and Iowa are on the schedule this week before closing on the road in East Lansing.
7. Michigan (19-9, 9-6, 1.10 points per possession, 1.o8 points per possession allowed) … Michigan is in danger. Squarely on the bubble, the Wolverines couldn't pull off an upset at Maryland and will now likely have to win two of three to get in the big dance. The best chances for those wins come this week against Northwestern and Wisconsin, as Iowa looms to close out the regular season. There's been talk of Michigan shutting down Caris LeVert, which would be a huge blow to postseason success chances.
6. Purdue (21-7, 9-6, 1.10 points per possession, 1.02 points per possession allowed) … Purdue struggles on the road, and it showed as Indiana beat down its rival until a late run made it look close. The Boilermakers rely a lot on their big men, and when the inside scoring and presence defensively isn't there, they're going to struggle to shoot their way back into a game. Maryland comes to West Lafayette on Tuesday for a matchup that is huge for both teams.
5. Wisconsin (17-10, 9-5, 1.07 points per possession, 1.01 points per possession allowed) … The Badgers were not able to keep their winning streak alive at Michigan State, but got back on track with a win over Illinois. After looking like a team with no shot at the NCAA Tournament early in the year, Greg Gard has things figured out and many experts believe Wisconsin can sneak in. Iowa (road) and Michigan (home) await the Badgers this week.
4. Maryland (23-5, 11-4, 1.05 points per possession, .97 points per possession allowed) … Maryland flopped against Minnesota and it might cost the Terrapins a piece of the Big Ten regular season title. Michigan then gave Maryland a scare before the Terps were able to close it out 86-82. That loss to Minnesota is what keeps them down at four in these rankings, despite their great overall record. I haven't seen the consistency I'd like to out of a team with as much talent as Maryland.
3. Iowa (20-6, 11-3, 1.14 points per possession, 1.01 points per possession allowed) … Iowa hit a bit of a rough patch after losing to Indiana as the Hawkeyes narrowly beat Minnesota at home before falling to Penn State in State College. The road ahead isn't a whole lot easier with a home game against Wisconsin this week followed by a trip to Ohio State. Something Iowa does have going for itself is its home court advantage. The Hawkeyes haven't lost at home yet this season.
2. Indiana (22-6, 12-3, 1.15 points per possession, 1.01 points per possession allowed) … The Hoosiers shutdown Purdue in a game that posed some tough match-ups inside. Yogi Ferrell appears to be out of his shooting slump and Troy Williams could be the ultimate kick-starter if he plays like he did against Nebraska and Purdue the rest of the way. That's asking a lot, but if Robert Johnson misses any time, it will be needed. IU must get by Illinois this week.
1. Michigan State (22-5, 9-5, 1.15 points per possession, 1 point per possession allowed) … No one is hotter in the Big Ten right now than MSU. Denzel Valentine is cruising, and the Spartans easily took down Wisconsin in East Lansing – snapping the Badgers seven-game winning streak. Tom Izzo's team should finish the regular season with four more wins over Ohio State (x2), Rutgers and Penn State, and could be a No. 1 seed in the big dance without winning the conference.
Filed to: Big Ten Power Rankings