Ferrell, Williams push Indiana past Purdue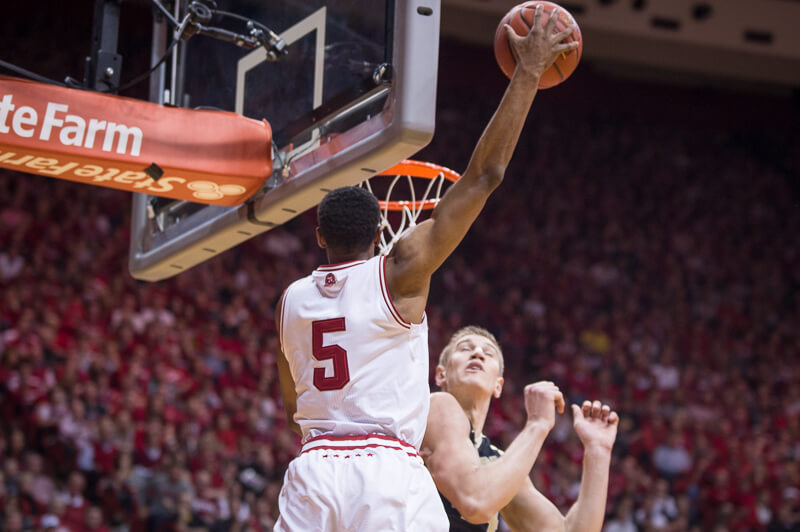 It was arguably Indiana's best performance of the season.
Behind a raucous Assembly Hall crowd, No. 22 IU beat No. 17 Purdue 77-73 to move to 22-6 overall and 12-3 in the Big Ten. IU is also 16-0 inside Assembly Hall. The Hoosiers were led by Troy Williams and Yogi Ferrell who scored 19 and 18 points respectively.
"Troy played a phenomenal game," Tom Crean said. "Troy's had an excellent week. Very locked in and focused. Troy was incredibly committed on the defensive end this week. It's amazing what happens to your offense. You try to get these guys to understand all the time, when you focus on the defense and the rebounding, making simple plays with the ball, it's amazing how well you play."
Williams now has scored 18 or more points in back-to-back games after not scoring against Michigan State.
"He kept his head up, he didn't force it when it wasn't there, went to the offensive glass, and he found shooters," Ferrell said. "When he's doing that, playing at such a high level, we feed off that energy."
The key for Indiana was limiting turnovers. IU had just one deep into the second half before finishing the game with four.
"We wanted to put pressure on the ball," Crean said. "When we did that, we did a good job. We created turnovers, which is rare to do against Purdue. We took care of the ball, which is also rare to do against Purdue."
Meanwhile, Purdue turned the ball over 13 times. It was something Vince Edwards said really hurt the Boilermakers chance of winning. You could see the disappointment from the Purdue players, who said their late game surge was due to them not wanting to "be blown out on national TV."
Ferrell, in his final regular season meeting with Purdue was dominant. He had four assists and three rebounds to go along with his points. He also scored the clinching bucket after a goaltend was called on A.J. Hammons in the final 10 seconds.
"We didn't force anything I feel like," Ferrell said. "We took the open shots, got it inside, our big guys were phenomenal down there trying to work against those big guys. I felt like we shared the ball. When we got into the paint, we basically got whatever we wanted."
Limiting inside damage
Purdue came into Saturday's game leading the Big Ten in offensive rebounds per game. It had just four against Indiana, picking up five second-chance points. Purdue out-rebounded IU overall 28-26, but the size advantage held by the Boilermakers didn't play as big of a role as it could have. Hammons was in foul trouble most of the game and played just 16 minutes, while backup Isaac Haas played 19 minutes. They combined for three rebounds. It was Caleb Swanigan (eight rebounds) who did the work on the boards.
"We just did our best out there guarding their big men," Thomas Bryant said. "Hammons and Haas are two big guys and they're very talented down there in the low post, and I just tried to do everything I could and so did Max."
Purdue had five players reach double-figures, but the issue was none were able to take over the game like Ferrell and Williams were able to do.
All five of Indiana's big men were able to hold their own down low despite nearly everyone being in foul trouble. Crean rotated the group well, and didn't play anyone too long inside.
Robert Johnson hurt
Late in the second half, Robert Johnson went down hard and had to be carried off the court. He didn't return to the game. After the game he was spotted wearing a walking boot and was on crutches. But Crean provided no update, saying he was still being evaluated.
He had six points, three rebounds and an assist in the victory.
"The only way Rob was coming out in that second half was the way he came out, unfortunately," Crean said. "So we'll deal with that. It's too early to tell what his status is right now."
Filed to: Purdue Boilermakers, Troy Williams, Yogi Ferrell