Indiana set to battle rival Purdue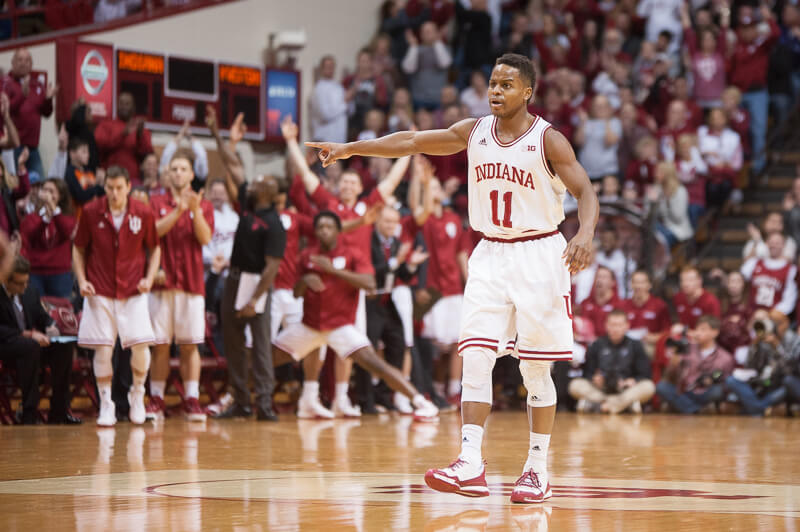 It's been eight years since Indiana and Purdue have met with both teams ranked in the Associated Press top 25. That will change today when the No. 22 Hoosiers and No. 17 Boilermakers battle in Assembly Hall in front of what is sure to be the liveliest crowd so far this season.
Purdue will pose a challenge that no other team in the Big Ten can present – two 7-footers and another solid big man at the power forward position. A.J. Hammons and Isaac Haas, who are 7-foot and 7-foot-2 respectively, can be dominant. Hammons has come on to lead the Boilermakers in scoring at 14.6 points a game, while freshman Caleb Swanigan leads the team in rebounding at 8.5 a game. Hammons himself is no slouch when it comes to rebounding either, averaging 8.2 per game.
"We're going to need everyone on our front-line tomorrow to play really good minutes," Tom Crean said. "It's good that Juwan is coming off such a strong game. OG could get inside and play. Collin has guarded bigger people before. Thomas and Max are going to have to do a great job for us. It's having numerous starters in my mind, which I think we do."
Built as a tall, defensive team, Purdue has one of the most imposing frontlines in all of college basketball. However, the Boilermakers have struggled at times offensively which has proven costly in their five conference losses.
KenPom.com ranks Purdue as the No. 7 defense and the No. 60 offense in the country. IU is ranked No. 14 on offense and No. 60 on defense.
Thomas Bryant, Max Bielfeldt, Collin Hartman, Juwan Morgan and OG Anunoby will be counted on heavily to hold their own in the post because of the significant size advantage Purdue will hold. A major key will be Bryant staying out of foul trouble.
In the backcourt, the matchup to watch will be the dual of senior leaders. Yogi Ferrell and Rapheal Davis, the reigning Big Ten defensive player of the year, will likely square off at times.
Earlier in the week, Davis, who is a friend of Ferrell and has worked out with him in the offseason, was asked what makes him so tough to guard. Davis wouldn't answer, saying he couldn't give Ferrell that kind of satisfaction.
"I think Indiana-Purdue, regardless if we're both 0-20, having that game is going to have enough juice for itself," Ferrell said. "Battle of the state obviously. That significance of that game whether we're both winning programs or losing programs, is still going to be very high level."
If IU is able to get its offense going, especially from the outside with Nick Zeisloft and Robert Johnson, it could help negate the advantage Purdue holds in the frontcourt.
Despite many fans saying beating Purdue is a requirement for a season to be considered a success, Crean says he doesn't really look at it like that.
"We want to get our 22nd win, it's a big game," Crean said. "I don't really look at it like checkmarks. Obviously you want to beat Purdue, they want to beat us, we want to beat Nebraska, we want to beat everybody we play."
Filed to: Purdue Boilermakers