Indiana looks for 11th Big Ten win as it hosts Nebraska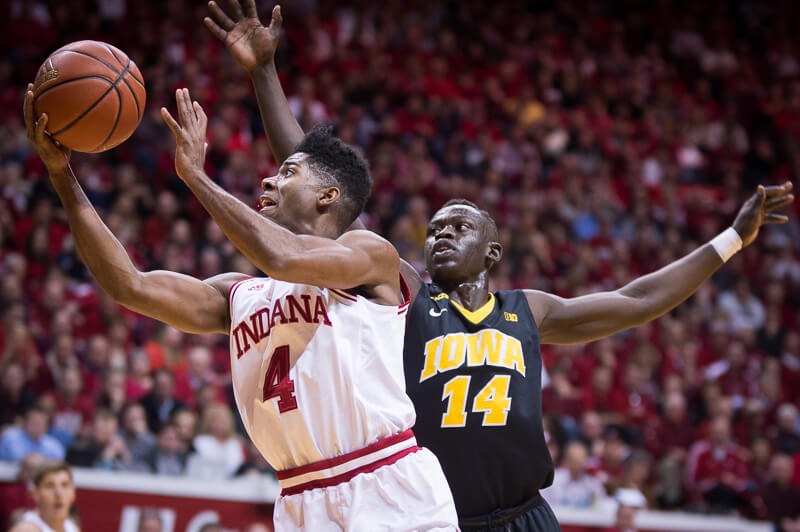 Indiana will take on Nebraska on Wednesday night at Assembly Hall in a game that is a must win should the Hoosiers want to keep hopes of a Big Ten title alive.
Tied with Maryland for second in the Big Ten at 10-3, IU still controls its destiny because of its remaining road game at Iowa, but has three games before it travels to Iowa City.
Nebraska (14-12, 6-7) has shown it is capable of beating a ranked team on the road after topping Michigan State in East Lansing. However, the task will be much tougher as second leading scorer Shavon Shields will not make the trip to Indiana as he continues to recover from a nasty fall in a win over Rutgers on Feb. 6.
"It's unfortunate when someone gets hurt like that, that's having the kind of year that he's having," Tom Crean said on Tuesday.
Shields is averaging more than 15 points per game and five boards a game.
With him out, the spotlight belongs to Andrew White, a junior who averages 17.6 points and 6.1 rebounds per contest. White scored 35 in Nebraska's win over Penn State.
"When you've got Andrew White out there with his capabilities, he makes the game easier for everyone else so we've got to do a great job on him," Crean said.
Nebraska is No. 90 in the KenPom.com rankings, with the No. 62 offense and No. 137 defense in the nation. Crean knows though that IU can't take the Cornhuskers lightly.
"We've spent probably as much time in the film room as we have on the practice court," Crean said. "The bottom line for us is to make sure we're learning from our success and mistakes, and seeing where we can make improvements, and this time of year it's important you get the mental part down as much as anything else, but also get your fundamentals."
Crean also said that freshman OG Anunoby was battling a sickness last week and it affected his stamina, but not his play. Anunoby has come on during Big Ten play and has outplayed what most people believed he could contribute in year one.
"I think it's confidence, I think it's repetition," Crean said. "I think it's the fact his teammates believe in him, I think he's getting more comfortable."
Crean said he doesn't have to explicitly talk to his team about where they are in the standings as everyone is well aware. He doesn't want players to lose sight of the goal of a Big Ten championship.
"The key is why are we in it," Crean said. "And what do we have to do to stay in it."
Indiana is fighting not just for a conference title, but also to remain in the top four of the Big Ten standings so it gets a double bye in the conference tournament.
"It's definitely exciting because we're still in a position now where we can control most of our destiny," Robert Johnson said. "We just have to take it day-by-day and play-by-play."
Filed to: Nebraska Cornhuskers