Valentine, Costello lead Michigan State past Indiana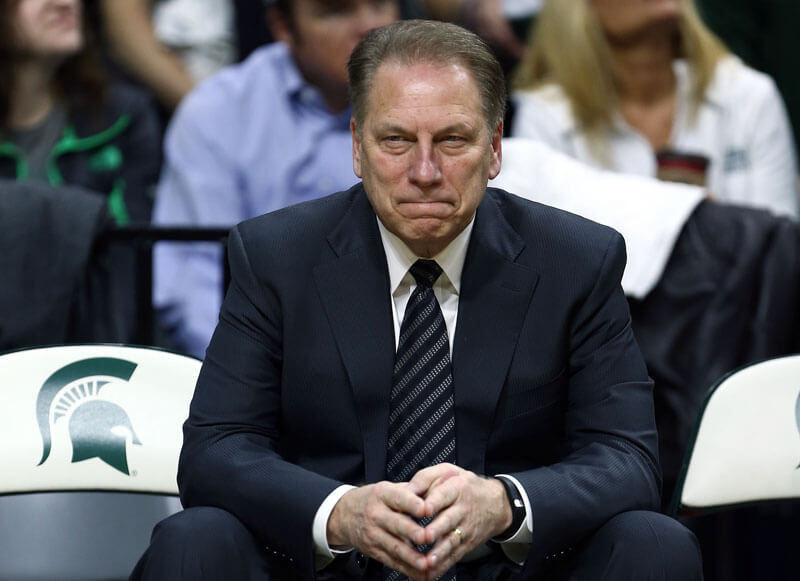 EAST LANSING, Mich. — Indiana was able to hang around for a half in East Lansing before crumbling to Michigan State and losing 88-69.
Denzel Valentine took it to the Hoosiers. He scored a game-high 30 points and Matt Costello scored a career high 22 to lead the way for the Spartans. Both players had double-doubles, as Valentine recorded 13 assists and Costello picked up 11 rebounds.
"We let their best players get comfortable," Tom Crean said. "They're pretty good when they aren't comfortable, but when you let them be comfortable with how they're playing and getting great looks and not taking things away from them, then that makes them that much better. . . They didn't need a lot of other guys today."
On the other side, Yogi Ferrell and Troy Williams both had off days, with Ferrell scoring nine points on 3 of 10 shooting, and Williams not scoring at all, missing all five of his shots and turning the ball over twice.
"(Williams has) got to understand how to impact the game more when they're taking things away," Crean said. "One thing Troy is obviously really good at is moving without the ball and getting to his corners, and I'll give Tom (Izzo) and his staff a lot of credit because they didn't lose sight of him. Troy didn't do a great job of impacting the game with the boards. He didn't do enough defensively. . . He's got to be better."
Crean also said he doesn't think Ferrell is in a slump.
"I think he pressed a little bit tonight," Crean said. "I think he pressed a little bit in the Iowa game, no question about it. It's just a matter of probably trying to make too many things happen."
IU only trailed by one at the half, and had control of the game up until the final minutes of that first half. However, the second half was a different story, as IU got outscored 47-29.
The Spartans had 42 points in the paint, 20 points off of IU's 11 turnovers, 15 second chance points and scored 22 points on the fast break.
"Their field goal percentage was outstanding because we gave up too many fast break baskets," Crean said. "The biggest problem (on transition defense) was we had two guys in the paint, you have to get one person in the paint and get the rim covered because they run so well, but then you have to get out. It's not as much about stopping the ball, as it is getting the wings covered, because they run to the wing and the corner so well. We've got to do a better job of that."
Max Bielfeldt carried the load for the Hoosiers, recording a double-double. He scored 15 points, knocking down three triples, and grabbed 10 rebounds.
"Max did a good job, he did a very good job," Crean said. "I've said all along I think we have numerous starters on this team."
Collin Hartman, Robert Johnson and Thomas Bryant were the other three Hoosiers that reached double-figures with 11, 11 and 10.
Road woes
The lopsided loss brings Indiana's road record to 4-4. The Hoosiers are also 2-2 in neutral court games. The only good road win IU has picked up this season was in Ann Arbor against Michigan two weeks ago. Luckily for IU, it only has two more true road games, both in the same week against Illinois and Iowa. Indiana does still control its own destiny in the Big Ten title race, as does Iowa. If both teams win out, it would come down to whichever team wins on March 1 in Iowa City.
"The game was physical," Crean said. "We didn't get enough finishing in on the offensive end against the physicality. We got to be better, we can be better, we were better a few nights ago."
Anunoby provides spark
As has happened quite frequently in recent weeks, OG Anunoby provided solid minutes (17) off the bench.
With Williams struggling, Anunoby came in and provided two highlight plays in the first half. The first was a drive and dunk right over Kenny Goins that silenced the Spartan crowd. A few minutes later he euro-stepped down the lane for a layup.
He finished with eight points, five rebounds, two blocks and a steal. He also didn't turn the ball over.
"What we have to have is what we had Thursday night, guys come in and they impact the game," Crean said. "Whether they're a starter or whether they are coming off the bench. It's not always with scoring."
Filed to: Iowa Hawkeyes