Hoosiers excited to play Hawkeyes at home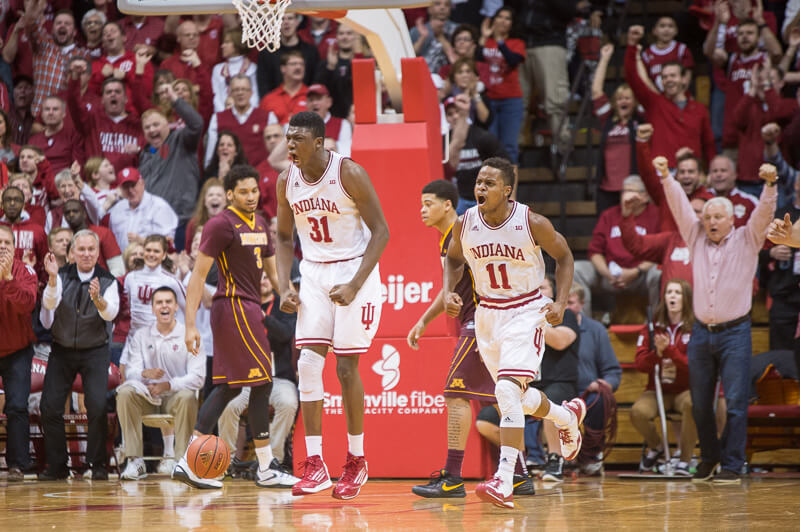 Assembly Hall should be electric Thursday night when No. 4 Iowa comes to Bloomington to take on Indiana in a game that will have big implications on the Big Ten title race.
The Hawkeyes (19-4, 10-1) have won three straight following their lone Big Ten loss at Maryland, and are led by senior Jarrod Uthoff, a 6-foot-9 forward that is averaging more than 18 points a game, 6.4 rebounds and 2.9 blocks per contest.
"Uthoff's got tremendous footwork. Very good, great range," Tom Crean said. "The only comparison I can come up with is Keith Van Horn when he played in college. In the modern day, with the footwork it's like Dirk Nowitzki. I'm not saying he's Dirk Nowitzki, but he's got that level of footwork. He doesn't get rattled, he's very patient."
Iowa is similar to IU in the fact that both run very fast offenses, but the Hawkeyes will also provide a challenge for the Hoosiers offense.
"Their length is really hard to deal with," Crean said. "They cover a lot of ground, they don't over-help, they can mix defenses. They don't gamble, they disrupt you in a big way and they're really good defensively."
Iowa often runs a press, something that IU has not seen much of this season.
"They're really tight in the middle, they really make it hard for you to get into the middle and because of their length they make it hard for you to skip (passes)," Crean said. "You've got to reverse the ball and have really good angles."
On his radio show Monday, Crean spoke highly of Iowa coach Fran McCaffrey, saying he would vote for him for Coach of the Year if he had a vote. He echoed that Wednesday.
"We have great respect for their program, Fran McCaffrey is certainly not only one of the best coaches in our league he's one of the best coaches in the country," Crean said. "He has been for a long time."
Alongside Uthoff has been Peter Jok, a 6-foot-6 guard that is averaging 15.5 points per game. His emergence has been part of the reason Iowa is so formidable. The Hawkeyes have a lot of depth across the board.
"We're talking about Peter Jok as much as we're talking about anyone else," Crean said. "You can't just get ready for one or two guys when you're playing one of the best teams in the league."
Something Crean said he wants to get back to is playing through the paint. He said there were too many times against Penn State where the ball didn't touch the post, and that's when the team is best.
On the defensive end, IU will have to stay focused, he said. Iowa's motion offense keeps everyone involved on each play.
"They do such a great job of what we call a gaggle, when there's three guys on one side," Crean said. "They do a good job of having two guys on one side and three moving on the other side and you've got to be aware of everybody."
Crean, Robert Johnson and Max Bielfeldt all said they were excited to be back home at Assembly Hall.
"If I was a student I'd be jacked up for this one," Bielfeldt said. "I'd be showing up early. I know there's a buzz here, there's a buzz all around, it's going to be a fun one.
"I think with the loss to Penn State, having Iowa coming in here the game after is kind of a blessing, we don't have to wait and not have a chance to play the people at the top and hope they lose. We have an opportunity right away to come off that loss. Last time I lost at Penn State we went to the Final Four."
Filed to: Iowa Hawkeyes, Max Bielfeldt, Tom Crean