News and notes from Tom Crean's radio show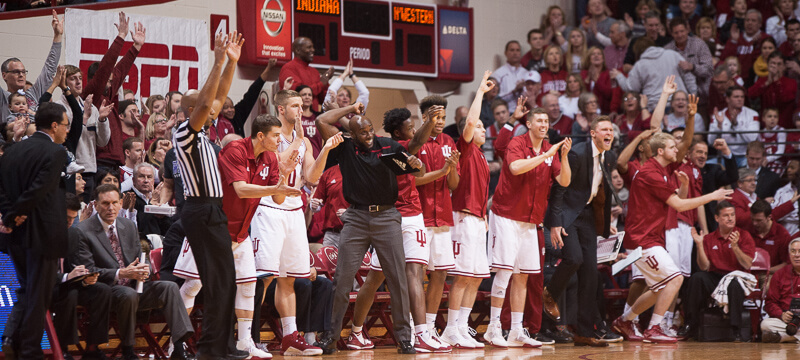 Tom Crean returned to his live radio show Monday night in Bloomington following Indiana's split in road games last week. Here are the highlights.
On the 28-0 run against Michigan
"Even though you would never expect to have a run like that, the way we came out inside of the game, gave us a lot of confidence," Crean said. "We have to play better at the beginning of games, there's no doubt about that, and we've got to execute better, but at the same time we were aggressive.
"The defense was keyed by the fact that we were adjusting quickly to the mistakes that we were making. We never got done mindset wise because we weren't making shots at the beginning and that's got so much to do with how you play."
On Yogi Ferrell
Against Michigan, Ferrell scored 17 points, had nine assists and turned it over just once.
"That's the way that he has to play," Crean said. "Certainly with the five turnovers the other night (against Penn State) we're not going to win."
Early in the game, Crean called a timeout to recollect his guys – and it paid off.
"It's two parts, it's one thing to see it and address it, and it's a whole other thing for the players to respond to it," Crean said. "A timeout was called because we made a real mistake coming off the corner to over-help in the lane.
"That's really the one time all night I got concerned because if we were going to lose our focus like that, with (Ferrell), then we were going to be in trouble. He responded quickly, he knew it was a mistake and things came together from there. We did a much better job of staying in front of the ball so we didn't have to over-help."
On Penn State
"I had a friend of mine in the league tell me that they played their best game," Crean said. "We knew they were pretty good. You can't play the records. You just can't. They've got Big Ten players just like everybody else.
"There was no difference in our approach to Michigan than we had at Penn State. We just didn't play with the same level of confidence when things weren't going our way. We got off of our coverages and then we started to over-help and they made shots that they hadn't been making."
Brandon Taylor hurt Indiana, scoring 24 points for the Nittany Lions.
"We weren't as aggressive and I should've subbed earlier," Crean said. "I could do a much better job of making sure we understand the time and score situation with where our strengths lie in that particular game.
"We have to understand what's there for us inside the game, and we didn't do a great job of that."
On practicing during the Super Bowl
"In all honesty I was going to practice (Sunday) anyways," Crean said. "This is the first time in four weeks we don't have a Tuesday game. We took Wednesday off this past week so we were going to practice Sunday. There's no question it was a little longer, and it was a lot more physical, a lot more scrimmaging. There's also a lot more teaching to it. There's an 8th grade aspect to this right now, that's exactly what we've got to do, is get back to making this game simple. Some of it was our post feeding, some of it was our decisions on the break, some of it was our spacing, some was pass faking, shot faking, things like that.
"We came in and played a half-court game, I got this idea from Will Perdue a week ago, where the scoring comes down to defensive rebounding. You don't score a point unless you get a defensive rebound or create a turnover. If you score, you get to go on defense. It was amazing how competitive it was."
Crean said he thought the practice went really well and built on some of the things they had been working on previously.
"Hopefully they have DVR so they could watch the Super Bowl later."
On Jim and John Harbaugh and how much he talks to them during the season
"I would say now that their seasons are over probably a bit more frequently," Crean said. "They watch a lot of games, John sees a lot of games. Obviously both were at the game at Michigan. John watches constantly, I think Jim does too even though he was in San Francisco for the Super Bowl. Sometimes we talk about the games, but a lot of times it's talk about the other things that go into it. The other night Jim and I were talking about recruiting, because the next day was signing day. So there's a lot of that, just different things. The biggest thing he knows is that as hard as they're working, they're going to have them for at least three years. That's the biggest thing. We may work the same level and only have him for one season. That's a huge difference there, but there are a lot of similarities, we share recruiting stories and behind the scenes stuff that'll someday go in a book but not right now."
On Iowa
"They have so many strengths, and the one thing they have always done against us is run in the transition game," Crean said. "Fran (McCaffery) is a fantastic coach. When people start to talk about National Coach of the Year and they mention him, I mean if I had a vote I'd give it to him. I think he does a fantastic job at utilizing his personnel. We're going to have to take care of the ball pure and simple."
Filed to: Tom Crean