News and notes from Tom Crean's radio show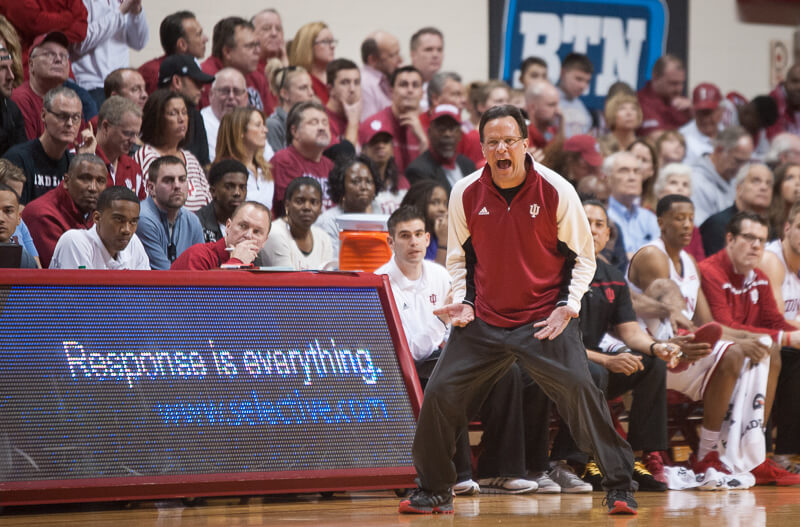 Tom Crean's weekly radio show was taped in advance again, as the Hoosiers were already on the road to Ann Arbor to take on Wolverines Tuesday night. During the shortened show, Crean touched on a few topics.
On Michigan
"There is no doubt they are a very good basketball team," Crean said. "They really shoot the ball. What they have been doing really well is defensive rebounding. They are right there or near the top of the league in defensive rebounding percentage and they are getting their break going.
"They are good. They run their offense. They have a lot of plays. They have great spacing but they are also looking to beat you off the dribble. Our on-ball defense and how we deal with screens and cuts is going to be very important. No over-helping on the weak side is going to be very important. But how we defend the dribble and block out is going to be extremely important. And then we have to keep spacing for ourselves on the offensive end."
Michigan's star player Caris LeVert has missed most of Big Ten play, but Michigan coach John Beilein said on Monday that it is possible he returns this week.
"We will prepare for him as if he is going to play," Crean said. "And then if he isn't out there, then he's not out there. They are good across the board because they have shot makers."
Crean also will of course be seeing family, as brother-in-law Jim Harbaugh is Michigan's football coach. Harbaugh himself is likely to be on the recruiting trail.
"It will be an incredible atmosphere," Crean said. "We will have family around and it will be good to see them and we are looking forward to it."
On Max Bielfeldt returning to Ann Arbor
"We are excited to bring Max in there," Crean said. "I know people there respect the fact that Max graduated from Michigan and Max was a big part of their program and he didn't get re-offered (as scholarship after last year). That's how we were able to get him. So I hope the respect level they have for him there as a former Michigan letterman that is an alum. We were able to end up getting him because they didn't re-offer him a scholarship or we would have never gotten him. That's what it is. But we are excited to take him back in there and take our team in there."
On officiating this season
"I think it's been pretty consistent. I know people are waiting for it to change in the month of February, I don't think that's going to happen," Crean said. "I think they are really strong on what they want to see as fouls. The only thing that remains the same is this: it's the 50/50 calls. Because there are quite a few of them. There are a lot more of them than people realize. The best referees to me, are the ones who get the 50/50 calls right the most. The bottom line is this, if you get 70 percent of the 50/50 balls in the game, you're going to probably win a lot of games. So if a referee is getting those calls right that majority of the time, they're going to be a really strong referee.
"The thing I like best about the officiating, and this has probably been 90 percent maybe even higher for me this year, is the communication with them. I try to ask a lot of questions. I know their job is hard. I'm not trying to be overbearing on any issue, but I'm trying to learn it. I do think the key is the adjustments you make in the game. The rules are the same, but every official is different. It doesn't matter what sport it is. I got brother-in-laws that coach college football and pro football and they're going to tell you the same thing."
He also went on to say he doesn't berate officials because he doesn't believe getting a technical helps the team. He would like to see Yogi Ferrell be able to get to the line more though.
Filed to: Tom Crean