Indiana looks to bounce back against Minnesota, Dave Rice with team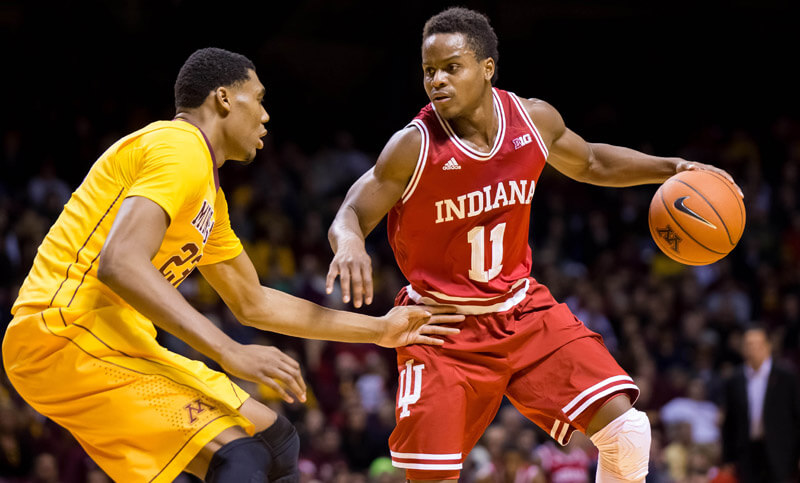 Indiana returned home from Wisconsin with its first loss in Big Ten play, falling in overtime to the Badgers by three. Now, the Hoosiers will look to pick up their second win of the season against Minnesota, which visits Assembly Hall Saturday.
The Golden Gophers have struggled in conference play and are yet to pick up a win (0-9). However, Tom Crean believes you can't just go by their poor record when looking at the Gophers.
"Minnesota is getting better, and again this is not a game where you play their record, you play what they're capable of," Crean said. "They're right there and they've been in, including ours, all of these games that they've played and they've come down to the wire or overtime or the last couple of possessions. I know our guys are locked in, and we'll need every bit of that."
Indiana (17-4, 7-1) is still tied atop the Big Ten standings following Iowa's loss to Maryland, but must get back on track. The Hoosiers are unbeaten at home this season (12-0).
At Assembly Hall, IU has been able to get off to fast starts, and has put several opponents away by halftime. Robert Johnson said the team's start in Minnesota wasn't good enough.
"We started off with five straight jump shots that didn't go through the paint, and that's something we talk about a lot," Johnson said. "There's nothing wrong with shooting jump shots, as long as they go through the paint first because that means we're getting the movement and the spacing that we want, so that's something we want to do this game."
Minnesota is ranked No. 196 according to KenPom, with the 200th best adjusted offensive efficiency and the 194th ranked defense. To contrast, IU is ranked No. 23 and is 18th in offense and 51st in defense.
Against Wisconsin, IU slipped into old ways, turning the ball over 19 times.
"We didn't make the simple play," Crean said. "We drove into the paint a little bit too much, we just didn't make as many simple plays, especially off the ball screen, as we could've made. There was a little fatigue and a little of their defensive pressure, but really when you look at the film it was more us. We're not a dribbling team, we're a driving team, a drive and kick team, a drive kick and reverse it team. And when we start over-dribbling we're not nearly as good."
The last time IU played Minnesota, Yogi Ferrell led the team with 20 points, and Thomas Bryant had 10 points and seven rebounds. Crean said that Bryant has continued to get more comfortable in conference play, especially after road games.
"He wants to play with emotion, we want him to play with emotion, but not emotionally," Crean said. "There's a difference, and we want to keep helping him understand that."
Dave Rice with Indiana this week
Former UNLV coach Dave Rice, whose team beat Indiana in Maui, will be working with the team for the next few days, Tom Crean said. His full statement follows:
"Obviously he's got a good view of this team from being at UNLV. I just like him. I think he's a great coach. I think he got a really bad deal, that's my opinion. I think he's an outstanding coach. He's one of the tougher coaches that I've prepared for. I've had a lot of respect for him since he was an assistant. I don't know him that well, but I have great respect for him, great admiration for him and know he's going to be a head coach again, hopefully soon. I feel for guys that go through tough situations like I think he did. I think everyone that pays attention to it knows he got a very raw deal at UNLV. So we bring him in for a couple days to keep him around the game, and have him be around us and learn some things for us, and we'll be that much better . . . I like having people around that really know what they're doing."
Earlier this week, Rice visited New Mexico's program.
Filed to: Dave Rice, Minnesota Golden Gophers