Bryant powers Indiana to home win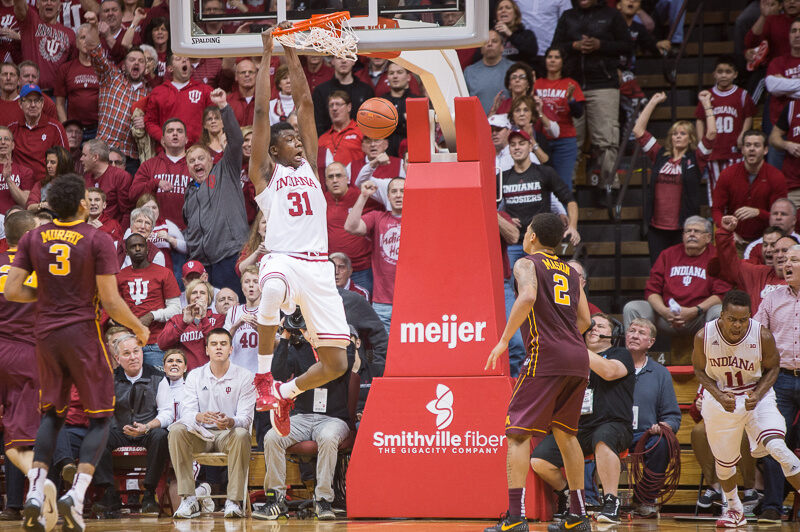 It wasn't pretty, but Indiana found its way back in the win column Saturday by knocking off Minnesota 74-68 in Assembly Hall.
The win moed the Hoosiers at 18-4 overall and 8-1 in Big Ten play, a half game in front of Iowa. Freshman Thomas Bryant was the star for IU, leading all scorers with 23 points and grabbing eight rebounds.
"It's challenging, especially when you're going a little undersized like we were a bit," Minnesota coach Richard Pitino said. "He really, really hurt us. I thought that Troy Williams really hurt us too with his speed. You can't simulate their speed. They're talented and they played hard, they cut fast, they're really tough."
It was an off day shooting for nearly everyone else. If you take out Bryant's 11-of-13 performance from the field, the Hoosiers shot just 34 percent (15-for-44). It was also one of worst 3-point shooting games IU has had this year, going 2-for-18.
"I think we let our lack of outside shooting at times affect us," Tom Crean said. "We didn't get back obviously as well, and they're very good on the ball screen, and we lost our awareness a little bit, lost our awareness on the weak-side."
Crean also said he felt the team didn't shoot enough 3s and isn't worried about the shooting moving forward
Bryant dominated the Golden Gophers on the inside all afternoon. He scored IU's final three baskets, including a dunk that sealed the win in the final minutes on a pass from Yogi Ferrell.
"That was a really weird play," Ferrell said. "I had no idea what they were doing. I felt like they thought we were going to call a timeout, and I see basically all four of them walking over to the sideline, and I just decided to push and luckily Thomas was down there for the dunk. It was definitely one of the weirdest plays I've ever seen playing in a basketball game."
Ferrell, who had been in the midst of his best stretch of play ever in an IU uniform, struggled for much of the game. He finished with 13 points, eight of which came on free throws. Williams was the only other Hoosier to finish in double-figures and also finished with 13 points.
Post defense slips in second half
Indiana gave up 48 points in the paint to Minnesota on Saturday, 30 of which came in the second half.
Without much of a post presence, that meant the Golden Gopher guards were getting in the lane for layups. Guards Nate Mason and Kevin Dorsey each had 21 points to lead the way for Minnesota. The Gophers also only turned the ball over four times in the game, and scored 16 fast-break points – all in the second half.
Pitino said he thought fatigue might have played a role at the end of the game, as he played mainly a seven-man rotation with only six players scoring.
"I know people mock our record, but I'm proud of these guys, they're battling," Pitino said. "You're really playing with seven scholarship guys. I thought what cost us the game was we made a couple of stops and we gave up offensive rebounds. Our guys were really tired and that's what happens when you have one less guy in the rotation."
Other Notes:
IU is 13-0 at Assembly Hall this season. The last time this happened was 2006-07, when IU went 15-0 at home.
Robert Johnson had a career-high eight rebounds.
Juwan Morgan matched a career-high with four rebounds.
Filed to: Minnesota Golden Gophers, Thomas Bryant