Fouls, free throws and turnovers doom Indiana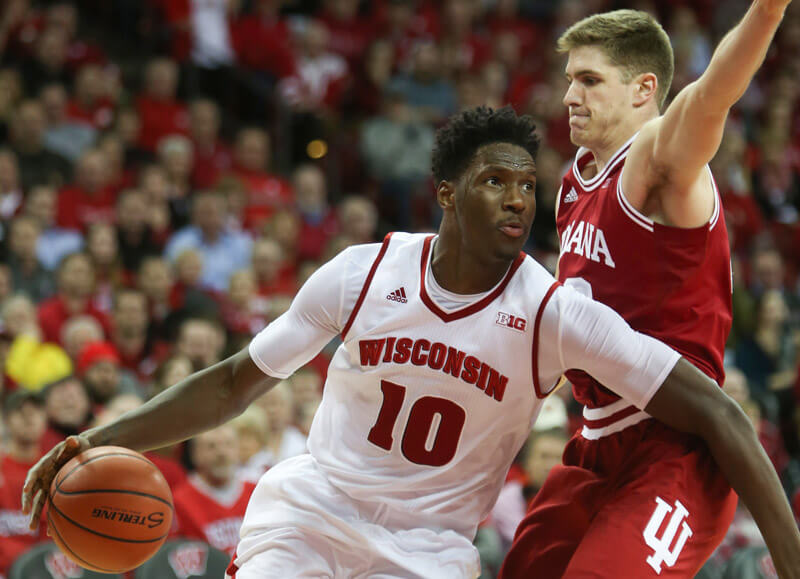 MADISON, Wisc. — Whistle. Foul. Nigel Hayes to the free throw line. Repeat.
That was the story of the game as Indiana dropped its first game in Big Ten play 82-79 to Wisconsin in overtime at the Kohl Center on Tuesday. The loss ended IU's 12-game winning stream and dropped the Hoosiers 17-4 overall and 7-1 in conference.
Wisconsin's front-court duo of Nigel Hayes and Ethan Happ combined for 56 points – 22 of which came from free throws. Hayes himself reached the foul line more than Indiana's entire team did, getting 22 shots to IU's 18.
"Hayes is one of the most incredibly gifted passers in college basketball," Tom Crean said. "He didn't need to do a lot of passing tonight with the time he was spending at the foul line, but the bottom line is he can really pass. If you come off too many areas, and the one guy he's got great synergy with right now is Happ. They do a really good job of finding him, and he does such a good job when he's in that block-wing area of finding the cutters. But he was getting a chance to be on the foul line tonight, so the passing game wasn't as important for them with him."
Wisconsin coach Greg Gard admitted after the game that at one point in the second half, the play call was literally give the ball to Hayes and get out of the way.
"He was rested, he got a chance to be on that foul line quite a bit," Crean said. "I would get a lot of confidence too if I was getting the chance to shoot a lot of free throws."
Crean said the referees told him Yogi Ferrell was initiating the contact, which was why he wasn't getting to the line.
"There were too many mistakes made for us to win the game," Crean said. "When you're on the road, you've got to really be able to put it away. Certainly the 19-free throw differential is a head-scratcher for me, and we've got to continue to look at how we create more contact."
The end game foul totals were 31 on Indiana and 17 on Wisconsin.
"They're playing at home, so we knew they were going to get the foul calls and we weren't," Ferrell said. "We had to find a way to overcome that, and we didn't."
Ferrell paces the offense
Ferrell kept the Hoosiers in the game with a team-high 30 points. With other guys not hitting shots, most of the offense wound up being left for him. Hoosiers not named Ferrell shot just 16 of 40.
Thomas Bryant (16 points) and Troy Williams (15) were the two other players who reached double-figures, but no other player had more than five.
After multiple games in a row with limited turnovers, IU wasn't able to hold on to the ball in the Kohl Center. The Hoosiers committed 19 turnovers for a turnover percentage of 25.3. Wisconsin scored 19 points off of those turnovers. The Badgers also struggled, turning the ball over 16 times, leading to 21 Indiana points.
"We had a lot of turnovers, and that's what kept them in the game up there, and that's what kept them in the game here too," Ferrell said. "We just have to eliminate those."
Late game possessions
In the final minutes of regulation, Ferrell hit a 3-pointer that gave the Hoosiers a two-point lead. It wasn't quite enough, but led to an opportunity to win the game with under 10 seconds left to play. Ferrell dribbled up to the left side of the basket and got up an off-balance shot that didn't fall.
"I had a good look at it," Ferrell said. "I should've put more on it to give it a chance, but we'll get back to the film and we'll watch it."
In overtime, Ferrell made another late three to give IU a chance, but an in-bounds pass by OG Anunoby with three seconds left was sloppy and resulted in a turnover, which sealed the victory for Wisconsin.
(Photo credit: Mary Langenfeld-USA TODAY Sports)
Filed to: Tom Crean, Wisconsin Badgers, Yogi Ferrell