Five takeaways from Indiana's loss to Wisconsin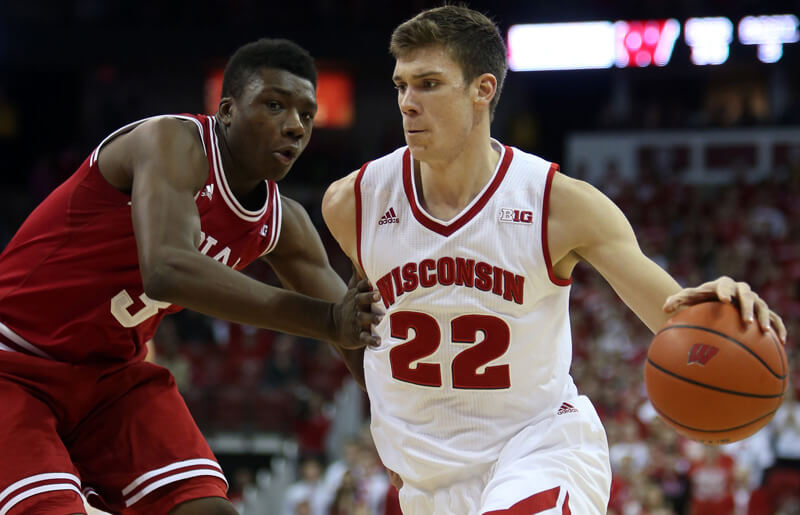 Indiana's 12-game winning streak is over. The Hoosiers fell to Wisconsin 82-79 in overtime on Tuesday night in Madison. They're now 17-4 overall and 7-1 in Big Ten play.
Here's a look at five takeaway from the loss to the Badgers:
· A loss? Yes. A bad loss? No. Once Indiana has a chance to go back and watch this game and dissect some of the mistakes that were made, the Hoosiers will surely want some of them back. That happens in any loss. And it's difficult to win any game in which you turn it over on 25.3 percent of your possessions, which is the number Indiana finished with on Tuesday.
Yes, this was Indiana's first conference loss and a game the Hoosiers definitely had chances to win. But just as folks weren't ready to anoint Indiana a great team after it won 12 in a row and seven straight to begin league play, this loss shouldn't be cause for major concern or panic.
Wisconsin has lost plenty of games already in the Kohl Center this season, but the Badgers have played just about every opponent tough in their building. Indiana played hard and played well in many stretches, but winning on the road against solid competition requires close to a complete 40-minute effort (or in this case, 45). Indiana didn't do enough to win on Tuesday, but this is still a team that is growing and improving. One loss in a venue where the Hoosiers haven't won since 1998 doesn't change that.
· Yogi Ferrell carried Indiana offensively: Another game, another solid performance from Yogi Ferrell. On a night where his teammates weren't making shots, Ferrell poured in a team-high 30 points. Indiana made a combined 32 3-pointers in wins over Illinois and Northwestern. Against Wisconsin, the Hoosiers made just seven 3s and Ferrell made five of them.
His 3-pointer late in regulation gave Indiana a chance to win if the Hoosiers would have been able to muster up a stop or keep Nigel Hayes off of the foul line. And even so, Ferrell gave Indiana a chance to win it in regulation, but missed a tough, awkward look after a drive down the left side of the lane.
But Ferrell did what a senior is expected to do in a tough road environment: He made tough shots and gave his team a shot to win. It's hard to ask for much more than that.
· Crean calls free throw discrepancy a "head scratcher": In his postgame comments, Indiana coach Tom Crean called the free throw discrepancy in the loss a "head scratcher." It's hard to disagree upon a closer examination of the numbers.
Wisconsin posted a season-high 77.1 free throw rate (FTA/FGA). The Badgers have now had three straight games in which their free throw rate has been over 70 percent, two of which came in the Kohl Center. The other was at Penn State, one of the worst teams in the league in terms of putting its opponents on the line.
Nigel Hayes attempted more free throws (22) than Indiana's entire team (18) and the Hoosiers were outscored by 12 at the foul line.
· Indiana had no answer for Ethan Happ: The current Big Ten freshman of the week, Ethan Happ, might be on his way to winning the award again.
As well as Thomas Bryant played offensively – 5-of-8 FG, 6-of-6 FT for 16 points – he couldn't contain Happ. Indiana didn't bring much help and let Bryant play Happ straight up. Wisconsin's redshirt freshman went off for 25 points.
"He's got to play defense with some confidence," Ferrell said of Bryant. "He's got to play defense like he has no help, like we're not going to come down and dig for him. He's got to do a better job of arm-baring, because you can do that now. Just got to do a better job of knowing what the offensive man is going to do and hold his ground and just play some defense."
· Unsung contributors step up for Badgers: On a night when Bronson Koenig shot 1-of-9 from the field and finished with just four points, Wisconsin had role players who came up big.
Vitto Brown, who was averaging just 4.7 points in Big Ten play, scored nine.
But the bigger factor was Jordan Hill, who entered Tuesday averaging 2.9 points on 30.8 percent shooting in conference play. Hill scored 13 points on 5-of-5 shooting from the field, including two difficult 3-pointers.
(Photo credit: Mary Langenfeld-USA TODAY Sports)
Filed to: Thomas Bryant, Wisconsin Badgers, Yogi Ferrell