Five takeaways from Indiana's win over Northwestern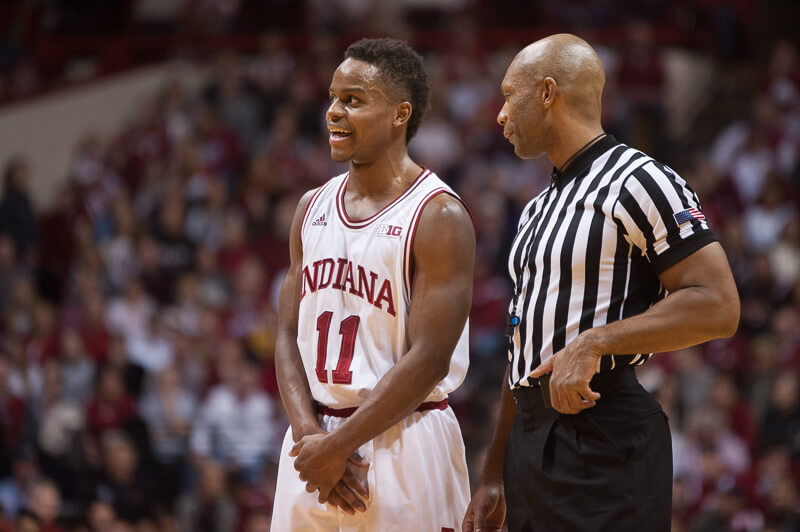 Indiana extended its winning streak to 12 games on Saturday with another blowout win. The latest victim? The Northwestern Wildcats, whom the Hoosiers crushed 89-57. Indiana is now 7-0 in the Big Ten.
Here's a look at five takeaways from the win over the Wildcats:
· Ferrell's run of brilliant play continues: Another game, another dominant performance from Yogi Ferrell. We may have to give Ferrell a permanent spot in five takeaways as long as his current play continues.
In seven Big Ten games, all wins for Indiana, he's now averaging 18.9 points, 6.4 assists, 3.4 rebounds and 1.6 steals per game. As much as we've questioned Ferrell's ability to lead in the past, he now deserves credit for putting this team on his back on both ends of the floor.
Offensively, he's IU's catalyst and leading scorer. Defensively, he's upped his level of play considerably from what he's produced in the past. It's hard to find much to criticize these days with Ferrell, who is playing as well as any guard in the country.
· Incredible perimeter shooting continues: As pointed out by John Gasaway of ESPN, Indiana is scoring 1.41 points per possession in its last two games.
After torching Illinois for 1.46 points per trip, the Hoosiers put up 1.36 points per possession on Northwestern. The reason for the offensive explosions the past two games? 3-point shooting.
Indiana is 32-of-64 from distance in its last two contests and nine different players have made a 3-pointer. When the Hoosiers aren't turning it over and are getting good ball movement, this offense can score as well as any in the country.
· The addition of Max Bielfeldt continues to pay dividends for Indiana: For whatever reason, Michigan didn't have Max Bielfeldt in its plans for the 2015-2016 season, which allowed him to transfer and play right away in Bloomington.
A rare transfer within the same conference, Bieldfeldt has been a major player in IU's recent 12-game winning streak, particularly in conference play. For the season, Bielfeldt is 53rd nationally in offensive rating and has hit 12-of-26 3s. He's a perfect compliment to Thomas Bryant as he can either back him up or play beside him if the Hoosier opt to go with a bigger lineup.
"I really worked on my shot over the summer with the coaches," Bielfeldt said on Saturday. "I'm getting comfortable in the system. Everyone's sharing the ball really well, and it's making it a lot easier."
· Defense continues to hold strong: After giving up 1.08 points per possession in its final non-conference game against Kennesaw State, Indiana has held each of its seven Big Ten opponents so far under one point per possession.
For perspective, Indiana held just three Big Ten opponents under a point per possession last season in regular season play.
"Along with mentality is also experience. The young guys are stepping up and being like sponges and absorbing our concepts and really studying extra film," Collin Hartman explained when asked about what is different for IU defensively.
"So if you learn concepts and people's tendencies, it's easier to get stops because you know what they're doing before they do it. So, I mean, that's the biggest thing is just getting extra film. We all work hard all the time. It's just a matter of being there and being in the right spot at the right time."
· Turnovers continue to decline: Indiana had a turnover percentage of just 15.2 against Northwestern, its lowest mark of the Big Ten season so far.
Why are the Hoosiers turning it over less frequently? Yogi Ferrell joked that part of the reason for the change is due in part to the fact that he and his teammates are now being forced to run extra in practice if they don't meet certain numbers dictated by the coaching staff.
"We don't talk about, hey, let's not turn it over," Tom Crean said. "We just keep talking about the decision making and keep putting them in situations in practice where they have to do different things. A lot of three on four, four on five things when we can, and that stuff helps them. But, again, when you're cutting and moving without the ball like that, it shouldn't be that hard."
Filed to: Max Bielfeldt, Yogi Ferrell