Indiana looks to stay undefeated in Big Ten play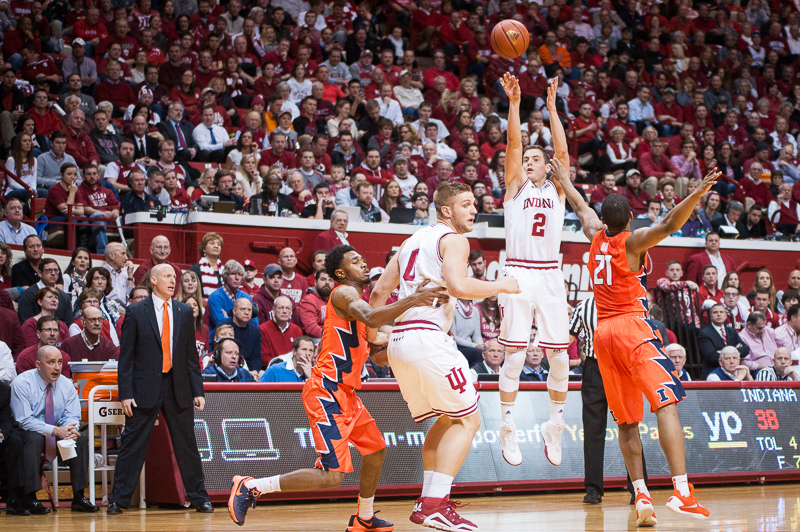 Indiana will look to move its winning streak to 12 games today when Northwestern comes to Assembly Hall to take on the first place Hoosiers.
At 16-3 overall and 6-0 in conference, IU has put itself in a position where it could go undefeated in the month of January. The Wildcats, though, are no pushover. Northwestern is 15-5, 3-4 and on a mission to finally get that NCAA Tournament berth they've been seeking under Chris Collins.
"They're a confident group," Tom Crean said. "They're coming off a game the other night that are one or two bounces the other way they'd beat Maryland at Maryland."
The Wildcats are led by sophomore point guard Bryant McIntosh, who leads the team in scoring at 15.7 points per game and 7.1 assists a contest. Senior guard Tre Demps is also averaging 14 points a game.
"Very committed, a tough team," Crean said. "You can see the toughness on offense with the way that they cut, with their screening, they don't turn it over much, they're very tough on defense and their rebounding is outstanding."
Northwestern also has big man Alex Olah, who averages 11.3 points and 5.8 rebounds a game, back from injury. Crean said he believes Olah can be a major matchup problem.
"Well because I think he can score so well," Crean said. "He's such a good post-up, he can face-up, he's a load because of the screen and roll game, and he's another guy that you really have to account for on the offensive glass."
Crean said that during practice, he has the forwards play against the guards to better prepare them for changing matchups throughout the game. It gives guys like Thomas Bryant a chance to matchup up with smaller, faster players and vice versa.
"It helps us win games in different ways," Nick Zeisloft said. "We're going to have to have our bigs switch on to guards and our guards switch on to bigs and defend properly and get stops no matter what. No matter what the size is, you have to win your matchup."
Crean talked about Collins, saying he views him as a great coach and someone who's very experienced despite his younger age.
"They really work well together," Crean said. "They have very good spacing. There's no question, Chris, I've always felt was going to be an excellent coach."
Northwestern plays a zone, something Crean says IU can't become stagnant in. On offense, the Wildcats run a slower paced offense, but that isn't something that Zeisloft thinks will hinder the Hoosiers.
"If they're going to try to slow it down that's fine, but we're going to speed it up and play at the pace that we want to play at," Zeisloft said. "It's not like we're just going to accept that, we're going to get our stops and then get out and run the floor like we always have been."
Filed to: Northwestern Wildcats