Balanced attack leads to dominant win over Northwestern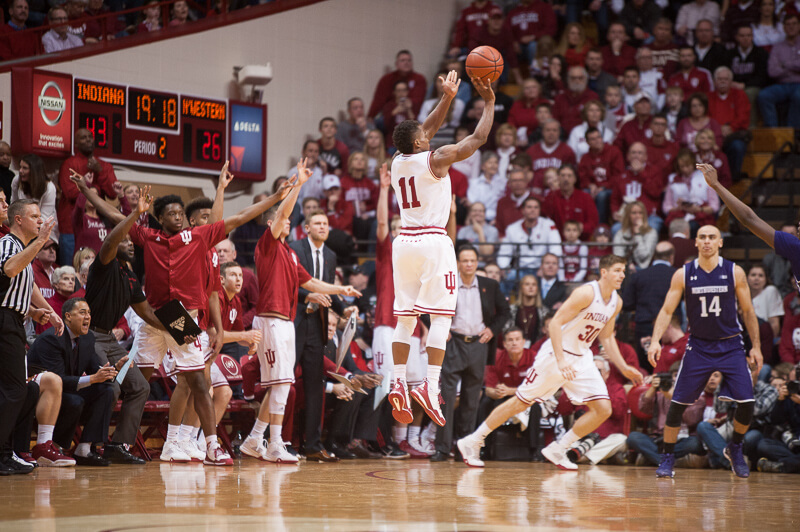 For the third straight game, Indiana held a lead of 30 points or more against an opponent in Assembly Hall. For the 12th straight game, the Hoosiers walked off the court victorious, after they beat down Northwestern 89-57 to improve to 17-3 overall and 7-0 in the Big Ten.
It was a well balanced attack for IU, led by senior Yogi Ferrell who had 17 points, six assists and three rebounds. Max Bielfeldt and Collin Hartman both also reached double figures with 13 and 11 respectively. Troy Williams and Robert Johnson each had nine points. 11 different players scored for the Hoosiers, as opposed to six for Northwestern.
It was truly a dominant win by IU, as it had better numbers than the Wildcats in every major statistic, including rebounds, where IU had a 40-23 advantage.
"We rebound every day in practice," Tom Crean said. "I think we're getting more physical with our blockouts, and there is an awareness thing to it. There really is. I don't know what the rebound difference was as far as our guard rebounding, but that's key for us as well. Our guys have a lot of respect for the opponent, and I think when you have a team that respects the opponent and respects how they win and doesn't take their abilities for granted, then that's good. That's the hunger that we've got to play with."
IU kept its turnovers down yet again, turning it over 10 times, and just twice in the second half. Ferrell joked that Crean makes the team run 17s, an intense sideline to sideline running drill, when it has too many turnovers.
"Coach has just been telling us for us to be a great team and for us to be able to win, we can't turn the ball over and have other teams scoring off our turnovers because one night we could be cold and not everything's going for us and if we give up those turnovers, it could be hard for us to win," Ferrell said. "So we're just focusing on taking care of the ball, taking more pride in the ball and what we do with it."
Hoosiers stay hot from behind the arc
For the second game in a row, IU made double-digit 3s. Seven different players combined to make the 13 in Saturday's game, with Hartman, Ferrell and Johnson hitting three each.
Bielfeldt has now made more 3s in his time at Indiana than he did in his career at Michigan.
"I think it's a combination of great ball movement like you were saying, getting open looks," Bielfeldt said. "I really worked on my shot over the summer with the coaches too. I think it's a combination that's starting to payoff. I'm getting comfortable in the system. Everyone's sharing the ball really well, and it's making it a lot easier."
Alex Olah and Thomas Bryant went at it in the post throughout the afternoon, and the Hoosiers outside shooters were left open a good amount of the time. With 21 assists, the ball movement on the perimeter was steady, and multiple players took advantage of shot fakes -most notably Johnson – who got all of his points on long-range shots.
"There hasn't been a team to slow them down yet," Northwestern Coach Chris Collins said. "Our defense was exposed and so has the six other defenses that they've played. It was them, they scored 105 in their last game so I think we did a good job by holding them to 89."
Northwestern coach, players praise Indiana
In the Wildcats post-game press conference, both Collins and players Tre Demps and Alex Olah, who combined for 36 points, praised the Hoosiers for their recent play.
"I think we need to learn from them," Demps said. "They're incredibly locked in, they're incredibly together and they're playing incredibly hard and it shows. You feel it when you're on the court, you know that they're a really good team."
Collins said Johnson did a great job of defending Northwestern guard Bryant McIntosh, calling him a "very good on-ball defender." He also felt that the four minute stretch at the end of the first half was crucial, in that he wanted his team to knock IU's lead down to single digits but instead, IU was able to increase its lead even more.
"You can see it when they walk out when they're warming up that they're really confident right now," Collins said. "They seem to have a great chemistry."
Other Notes:
· This marks the first time since 1987-88 that IU has had three straight home wins of 25 or more points in Big Ten play.
· The Hoosiers held a 14-0 advantage on second-chance points.
· The last time IU started the Big Ten season 7-0 was 1992-93.
· Yogi Ferrell moved up to 10th place all-time on the IU scoring list and is 10 points behind Christian Watford for 9th place.
Filed to: Northwestern Wildcats