What to Expect: Northwestern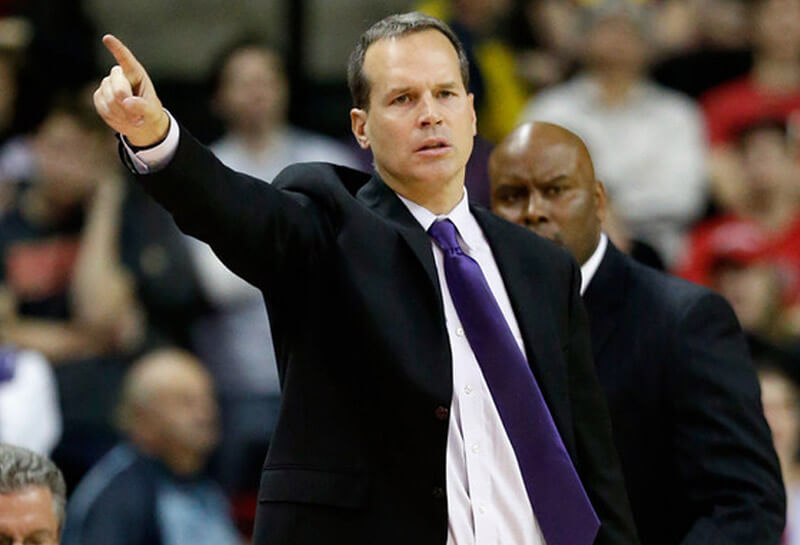 Indiana is back at it on Saturday afternoon as Northwestern comes to town for a matinee in Assembly Hall. The Wildcats are 15-5 overall and 3-4 in the Big Ten, but have dropped four of their last six contests.
The game will be broadcast on ESPN2 at 12 p.m. ET:
At 6-0, Indiana remains atop the Big Ten standings with Iowa, which beat Rutgers on Thursday night. Favorable schedule or not, the Hoosiers keep posting wins and gaining confidence. IU has won its last two games at Assembly Hall by a combined 59 points. That doesn't happen unless your level of play is extremely high.
But the road should get a little tougher on Saturday with Northwestern in Bloomington. The Wildcats have struggled lately, but just took Maryland to overtime in College Park. And the last time Northwestern came to Assembly Hall during the 2013-2014 season, Chris Collins and company left with a 54-47 win.
For Indiana to solidify itself as a legitimate contender for the Big Ten crown, it must continue to stack up wins at home and steal a few more on the road. As a KenPom favorite in its next three contests, now is the time for Indiana to keep its foot on the gas and collect another conference win.
MEET THE WILDCATS (all stats are now conference only unless otherwise noted)
Slowly but surely, Collins has Northwestern marching towards national relevance and an NCAA tournament berth. It may not be this season, but it's coming. The talent level is increasing in Evanston and with a very solid second year point guard in Bryant McIntosh, a breakthrough seems inevitable.
A lackluster non-conference schedule put a heavy emphasis on Northwestern doing the bulk of its work in Big Ten play, which has been a mixed bag to this point. The Wildcats do have wins at Nebraska and Minnesota with a home win over Wisconsin, but losses at home to Ohio State and Penn State certainly sting.
In McIntosh, who won a state championship at Greensburg, Collins has one of the better distributors in the league who has struggled with his shooting so far in Big Ten games. McIntosh ranks second in the Big Ten with an assist rate of 44.2 percent, but is making just 44.2 percent of his 2s and 20.7 percent of his 3s. His 14.7 points per game lead the Wildcats.
Joining McIntosh in the backcourt is known Indiana killer Tre Demps, who is also struggling with his shooting over his last seven. The 6-foot-3 senior is just 8-of-42 from distance for 19 percent. Both Demps and McIntosh are carrying a heavy load minutes with little behind them in terms of depth. Demps is logging 38.1 minutes per game in Big Ten play with McIntosh not far behind at 37.7. As his ShotAnalytics chart shows, Demps has really struggled all season from distance: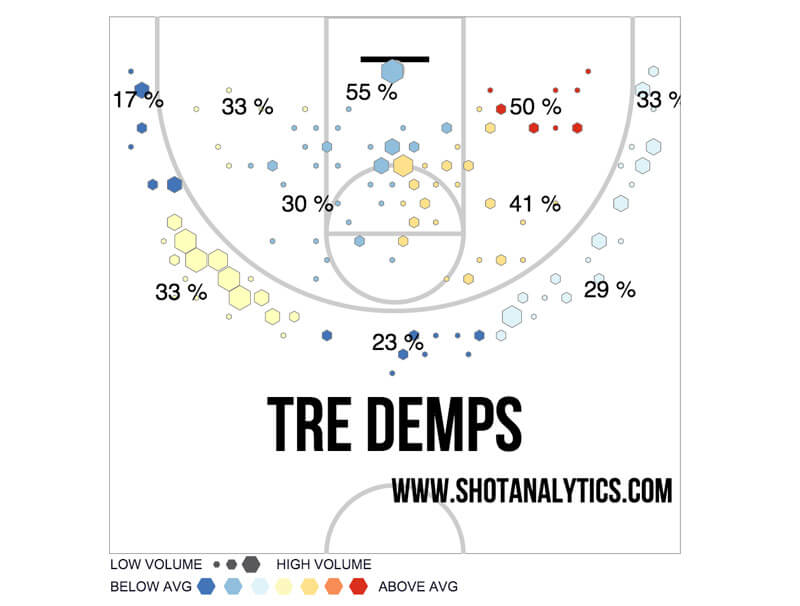 Northwestern was likely expecting a breakout sophomore campaign from Victor Law, but surgery in November to repair a torn labrum ended his season before it could begin.
Freshman forward Aaron Falzon, who is 6-foot-8, is the team's third leading scorer in conference play at 10.7 points per game. Falzon is hitting 36.4 percent on 3s and 53.3 percent on 2s. He also rarely turns it over with a turnover percentage of just 8.9 over Northwestern's last seven contests.
Junior wing Sanjay Lumpkin is a low usage offensive player (just 11 percent usage) that gives Collins a veteran presence in the lineup who can defend. His steal percentage ranks in the top 20 of the conference.
Two other wing players that Indiana will have to mark are junior Nathan Taphorn (42.9 percent on 3s in limited attempts) and Scottie Lindsey, who is a solid athlete and finisher. Lindsey is making 35.3 percent of his 3s and close to 56 percent on 2s in Big Ten games.
Up front, Alex Olah is back after a stress fracture forced him to miss six games and is slowly easing back into the rotation. Olah played seven minutes against Penn State and 13 at Maryland. He's averaging just 2.5 points and 1.5 rebounds in two Big Ten games.
His absence meant increased roles for Joey Van Zegeran, a graduate transfer from Virginia Tech and freshman Dererk Pardon, who had been slotted in for a redshirt. Van Zegeran is the starter at the five and is seventh in the conference in block percentage (7.7). He's also been finishing well with a 2-point field goal percentage of 63.6 percent.
Pardon is finishing even more effectively (70.5 percent on 2s) and has taken 32 free throws in seven conference games. He's also in the top ten in the Big Ten in offensive and defensive rebounding percentages and looks like a very good under the radar find for Collins.
TEMPO-FREE PREVIEW

The numbers will likely adjust as the competition level increases, but with the exception of turnover percentage and free throw rate, Indiana's profile is solid across the board.
One area that is certainly worth watching on Saturday is the rebounding battle. Northwestern is second in the conference in keeping teams off the boards and plays the most deliberate pace of any Big Ten team. The Wildcats will be focused on limiting Indiana to one shot and working slowly on the offensive end. Collins won't be advocating for a track meet nor should he.
Against Maryland, the Wildcats used a junk zone that kept them in the game throughout and it would come as no surprise to see a similar approach in Bloomington. The question is: Can Northwestern make enough shots? They come into Bloomington as the ninth best Big Ten offense and 12th in effective field goal percentage.
WHAT IT COMES DOWN TO
KenPom likes Indiana to win by nine with an 82 percent chance of victory and the Sagarin prediction, adjusted for homecourt, likes the Hoosiers by 11.
This, however, feels like a game that could be much closer when you consider that the Wildcats have road wins at Virginia Tech, DePaul, Nebraska and Minnesota and a narrow loss at Maryland. McIntosh and Demps have shot so poorly in league play that a correction there is certainly in play. And as Olah eases back into things, he could definitely be more of a factor that he has been over the last two games.
Still, Indiana is playing at a very high level with the duo of Yogi Ferrell and Thomas Bryant leading the way with Troy Williams producing more "good Troy" than "bad Troy" moments as of late. If the Hoosiers are to be taken seriously as a legitimate Big Ten contender, this is a game they must have.
(Photo credit: Rob Carr/Getty Images North America)
Filed to: Northwestern Wildcats