Records fall in big win against Illinois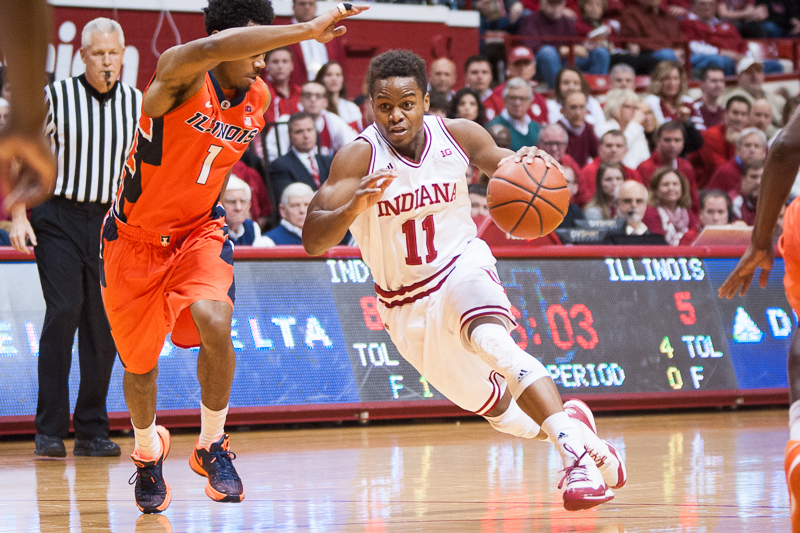 It was a record setting night for Yogi Ferrell. The senior guard passed Michael Lewis to become the record holder for assists in an Indiana uniform after a beautiful pass inside to Max Bielfeldt in the first half.
He would go on to have nine, along with 16 points, as IU beat Illinois 103-69 Tuesday night at Assembly Hall.
"That's a great honor," Ferrell said. "I played with a lot of great guys coming up: Victor Oladipo, Cody Zeller, Jordan Hulls, Christian Watford, that's what I like to be. I like to be a facilitator for my team, and I feel like I've gotten to have known my teammates very well all four years, the guys that are coming in here, in and out. So I basically know where they're going to be on the court. I know where they like to hit threes. That's what I've got to do is basically get the ball to them and they make the magic happen."
The win was the 11th straight for IU and moved the Hoosiers to 16-3 overall and 6-0 in Big Ten play.
After exiting the game late in the second half, Tom Crean held up Ferrell's arm like a boxer who had just won a fight. The crowd roared, recognizing the great performance by their team's leader.
"I didn't know he was going to do that," Ferrell said. "I thought he was just trying to give me a handshake. But that's pretty cool, man, all the fans cheering for me. It just shows how special Hoosier Nation is and all the fans that are behind us."
The Hoosiers had their way with the Fighting Illini, and for the second straight game at home, had leads over 30 points. Troy Williams led the team in scoring with 21 points and had four rebounds and five assists. Also impressive: He didn't turn the ball over once. IU had just 11 as a team.
Max Bielfeldt had a strong game as well. He scored 16 points, grabbed eight boards and dished out three assists.
"I think we had just our mindset," Bielfeldt said. "We're really focusing in. We're a lot clearer on what we want to do. There was a little uncertainty at times in the past, and I think we just really worked on that in practice and just kind of harped on the small things and playing that defense as a unit. Everyone being there for each other if there was emergency help or whatever it is."
The assist record wasn't the only one that fell during Tuesday's game. IU hit 19 three-pointers, which set the record for most 3s in a single game for the program. It broke the mark of 18 set last season against Minnesota.
Harrison Niego made the record setting shot with 51 seconds left to play. The final couple minutes saw both Tim Priller and newly added Jackson Tharp enter the game.
Nine different players made 3s for IU.
"We've got a bullseye on our back being the No. 1 team in the Big Ten now," Ferrell said. "So we've got to take it day by day. We definitely can't let up now especially. Every day's going to be a process for us. Even though we've set a standard for where we want to be and where we've met, we want to push that standard up for us and we just want to be great."
Other Notes:
The last time Indiana started 6-0 in Big Ten play was 2007-08.
The 34-point win is the largest margin of victory for IU in Assembly Hall over a Big Ten opponent since Jan. 28, 1992 against Purdue.
IU's 11-game winning streak is the third-longest active streak in the country.
IU had 27 assists in the game.
Filed to: Illinois Fighting Illini