Seniors lead Indiana to road win at Minnesota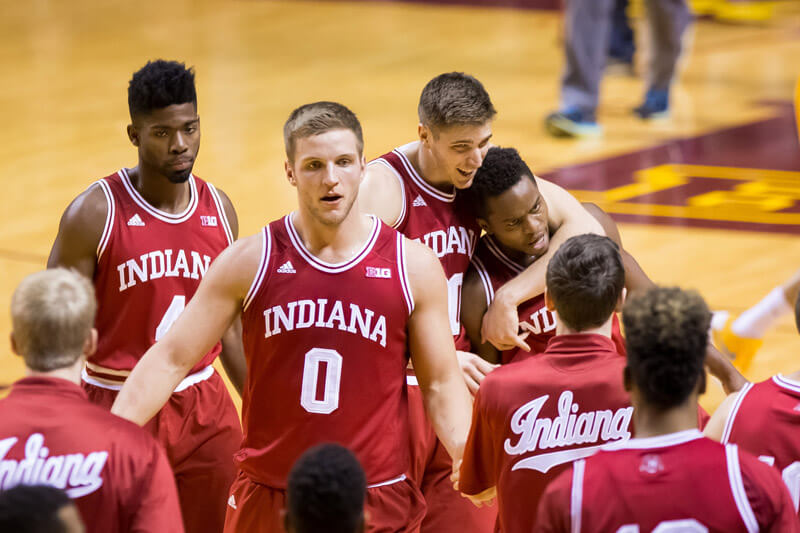 A win is a win. That's been the motto for Indiana on the road thus far in Big Ten play.
The Hoosiers outlasted Minnesota, 70-63, at Williams Arena Saturday to move to 15-3 overall and 5-0 in the conference.
"We're really proud of this win because we had to earn it," Tom Crean said in his postgame press conference. "We knew that we would have to here. I don't get caught up in people's records as much as you look at what they're capable of and they're potential, and they have that."
Yogi Ferrell took over the game for IU in the second half. He scored a game-high 20 points, had seven assists to move to second place all-time in Indiana history and added six rebounds.
Ferrell, with 544 assists, sits just one assist behind Michael Lewis for most in school history. Quinn Buckner drops to third.
"I definitely want the milestones," Ferrell said. "But the main thing I want is to win."
Ferrell help from a different bunch than normal, as Nick Zeisloft, Max Bielfeldt and Thomas Bryant all reached double-figures. Zeisloft broke out of his slump with five 3s, including four in the first half.
"When our guys see him make shots, that's a big, big thing to them," Crean said. "We don't treat Nick like he's the kicker and (tell him to) go stand off on the side and get ready to do your thing."
Bryant, who had seven rebounds to go along with his 10 points, didn't play in the final 7:31 on the game despite not being in foul trouble. Bielfeldt took his place, and was solid, getting 10 points for himself and four rebounds. He scored the first four points of the game for IU as well.
"We grew up inside of the game," Crean said. "I thought our leadership especially led by our seniors and juniors was tremendous in this game. The response of the seniors was huge."
Johnson, Hartman struggle
The reason Indiana had to count on other players was because foul trouble limited two key contributors, Robert Johnson and Collin Hartman. The duo combined for just six points on 2-of-11 shooting.
Johnson picked up his fourth foul early in the second half, just after staying in the game following his third foul. He wouldn't return until late in the game. Hartman finished with three fouls.
"We didn't have a great start, but it wasn't because we weren't prepared, and it wasn't because we took it for granted," Crean said. "We took too many jump shots to start. We have to establish our game for us in the paint."
Taking care of the ball
One of the key reasons IU was able to hold on throughout the afternoon despite its poor shooting was the ability to hold onto the ball in the second half. IU finished the game with 13 turnovers, 10 of which were in the first half while the other three came in the first 3:26 of the second half.
"We knew we were going to get a good shot from them," Bielfeldt said. "It's any team, any given night. Rutgers last year beat Wisconsin, you never know. You can't take anything for granted."
(Photo credit: Brad Rempel-USA TODAY Sports)
Filed to: Max Bielfeldt, Nick Zeisloft, Yogi Ferrell