Five takeaways from Indiana's win over Minnesota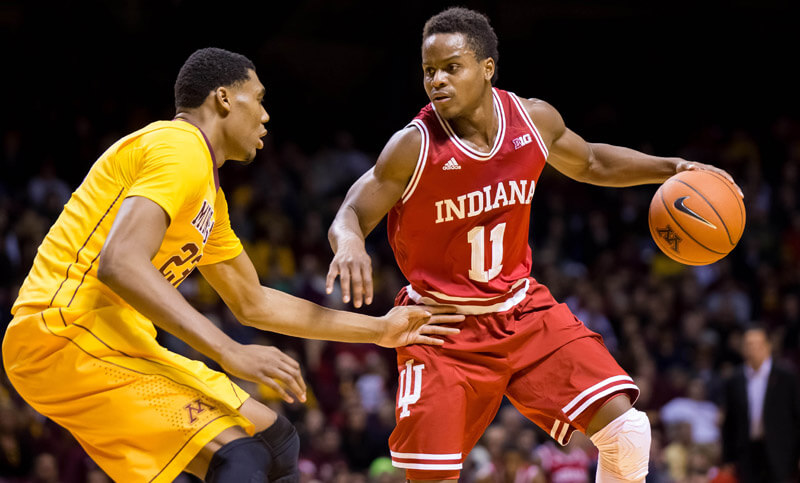 Indiana won its 10th straight on Saturday afternoon in Minneapolis as the Hoosiers beat Minnesota, 70-63. The victory moved IU to 15-3 overall and 5-0 in the Big Ten.
Here's a look at five takeaways from the win over the Golden Gophers:
· Yogi Ferrell continues to thrive in league play: Saturday's performance was the latest example of Ferrell's brilliance thus far in Big Ten play. No, Ferrell didn't shoot the ball particularly well. But when Indiana needed him to make a play, he did. The senior point guard made free throws, baskets down the stretch and set up his teammates with a team-high seven assists.
Through five Big Ten games, here are Ferrell's numbers: 19.8 points, 5.8 assists and four rebounds in 36.2 minutes. James Blackmon Jr.'s absence has meant more scoring opportunities for Ferrell and he's taking advantage without his production falling off as a distributor.
· Zeisloft breaks out of shooting slump in major way: The Hoosiers were in desperate need of offense after trailing Minnesota 17-9 with 10:06 to play in the first half. Nick Zeisloft had already missed his first two 3-point attempts after shooting 0-of-7 from deep against Ohio State and 1-of-6 against Wisconsin.
But Zeisloft kept shooting and hit four in a row from the 9:48 mark to the 7:34 to get Indiana right back in the game. He finished the afternoon a solid 5-of-8 from distance for 15 points. On an afternoon where Indiana got just two points in 21 minutes from Robert Johnson, getting that type of production from Zeisloft off the bench was crucial.
· Defense holds strong again: Indiana held its first four Big Ten opponents to under a point per possession and the streak continued on Saturday as Minnesota managed just .91 at the Barn.
Indiana currently owns the Big Ten's best defense in conference play at .93 points per possession allowed, which was probably unthinkable for many after watching Duke torch IU for 1.53 points per trip at Cameron Indoor Stadium.
But give the Hoosiers credit for this: Unlike early in the season when suspect offensive teams like Kennesaw State and St. John's racked up very good offensive numbers, it's no longer happening.
· Bielfeldt again delivers on the road: Senior Max Bielfeldt has been through the battles on the road in the Big Ten before as a Michigan Wolverine.
Bielfeldt's experience shined through earlier in IU's win at Rutgers and it was again on display against Minnesota as the graduate student came off the bench to score 10 points and grab four rebounds in 21 minutes. Thomas Bryant didn't play the game's last seven-plus minutes and perhaps Tom Crean felt he had a better matchup with Bielfeldt down the stretch.
Regardless of the reason Bryant sat, having a reliable backup option to turn to on the road is a major plus and Bielfeldt now has 31 points in three road wins.
· Indiana is taking care of business early on a backloaded Big Ten schedule: It's no secret that the Hoosiers have had a favorable start to conference play schedule wise, but they're taking advantage. Indiana might not be moving the needle much in terms of its NCAA tournament resume, but as the wins continue to pile up, the resume is strengthening nonetheless. And for a team that is still adjusting to playing without one of its leading scorers, continuing to build confidence is important.
With a trio of road wins already on their resume, Indiana still has multiple road games left that it should be favored to win, which could position the Hoosiers to have a road record better than .500 in conference play.
At 5-0, Indiana returns home next week for a pair of games against Illinois and Northwestern and a legitimate shot at a 7-0 Big Ten record. Since the loss at Duke in early December, Indiana has reeled off 10 in a row.
(Photo credit: Brad Rempel-USA TODAY Sports)
Filed to: Max Bielfeldt, Minnesota Golden Gophers, Nick Zeisloft, Yogi Ferrell