What to Expect: Minnesota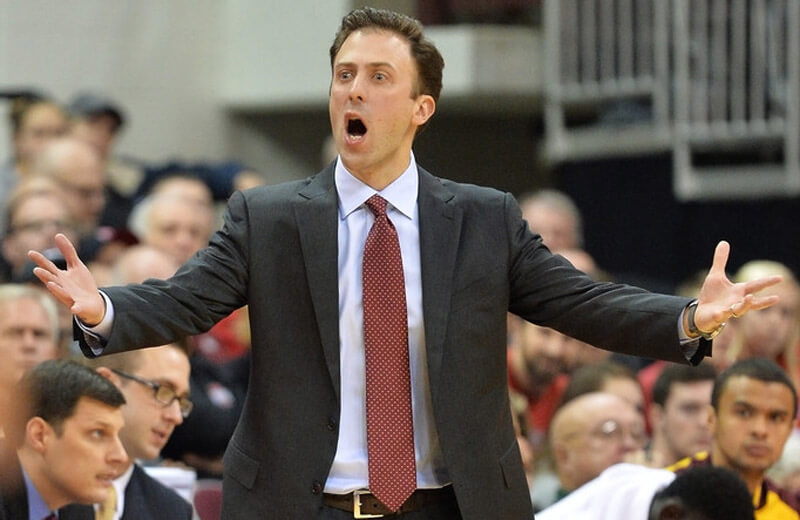 Indiana hits the road again in conference play on Saturday for a meeting with Minnesota at Williams Arena. The Hoosiers come into Minneapolis on a nine-game winning streak while the Gophers have won just one game since Nov. 30.
The game will be broadcast on BTN at 12:30 p.m. ET with Cory Provus and Bob Wenzel on the call:
Indiana's Big Ten schedule has been favorable to start and the Hoosiers have a golden opportunity to pick up a third conference road win this weekend against a program that currently appears to be in crisis mode.
The Golden Gophers weren't picked to finish in the top ten of the Big Ten by most, but nobody expected Minnesota to struggle this much through 17 games. After beating Clemson in the Big Ten/ACC Challenge on Nov. 30, Minnesota has dropped nine of its last 10 games. The lone win? Chicago State, which is ranked No. 340 nationally by KenPom. The two most recent losses by the Gophers have been by a combined 50 points to Northwestern at home and at Nebraska.
But as we've seen this week in college basketball, winning on the road doesn't come easy. And for Indiana, this isn't a contest that can be taken lightly. The Hoosiers had their struggles at Rutgers and also won at Nebraska, but it didn't come without some resistance. With a back half of the Big Ten schedule that is loaded, continuing to stack up wins now must be the focus.
MEET THE GOPHERS (all stats are now conference only unless otherwise noted)
Through five league games, Minnesota has the Big Ten's second worst offense at just .95 points per possession. The Gophers are led in scoring by sophomore guard Nate Mason at 13.6 points per game.
The 6-foot-2 guard has really struggled with his shooting in conference play as he's making just 39 percent of his 2s and 31.9 percent of his 3s. The ideal role for Mason is to be more of a distributor (21.1 percent assist rate), but with the lack of reliable options around him, he's been thrust into a more prominent role.
His primary help offensively is senior guard Carlos Morris and freshman wing Jordan Murphy, who appears to be very promising. Morris has been shooting well over his last five games (42.9 percent on 3s) and his effective field goal percentage of 52.5 currently ranks 21st in the conference.
Murphy, a 6-foot-7 forward who originally signed with VCU, was a late spring addition and is using 27.9 of the team's possessions while on the floor in Big Ten games. Murphy is averaging 10 points and 6.4 rebounds and also ranks in the top ten in the conference in both offensive and defensive rebounding percentage.
Senior Joey King came off the bench at Nebraska, but has started pretty regularly over his career. The 6-foot-9 King is making 45 percent of his 3s in conference play, is 16-of-16 from the free throw line and is averaging 9.8 points.
The post has been a major problem for Minnesota as 6-foot-11 sophomore Bakary Konate remains a major work in progress. Konate is playing 22.2 minutes per game in Big Ten games, but averages just 5.4 points and 2.8 rebounds. He's been pedestrian on the defensive glass, which helps explain why teams are rebounding 37 percent of their missed shots against the Gophers so far in league play.
One other frontcourt name to keep in mind is 6-foot-9 junior forward Charles Buggs, who has started eight games, but hasn't left the bench in two of the first five Big Ten games. Buggs is shooting close to 42 percent on 3s this season, but is apparently in Pitino's doghouse due to work ethic issues.
The primary rotation cogs off the bench in the backcourt are all freshmen: Kevin Dorsey, Ahmad Gilbert and Dupree McBrayer. Dorsey is scoring five points a game in conference play, but is shooting horribly (42.9 percent on 2s and 12.3 percent on 3s). Gilbert hasn't shot it much better – 25 percent on 3s – while McBrayer has a team-best 23.7 percent assist rate in Big Ten play.
TEMPO-FREE PREVIEW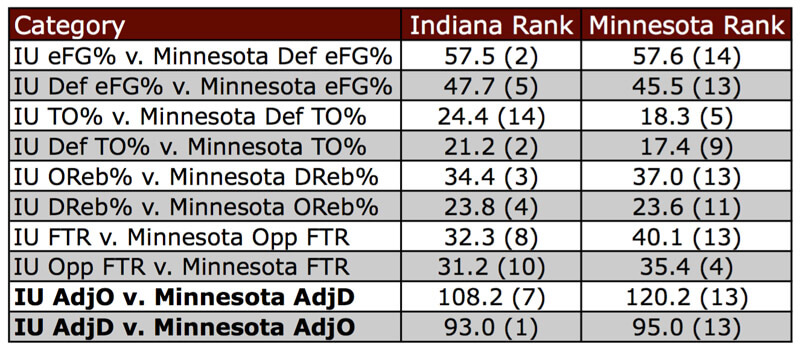 Given that we're nearly a fourth of the way into the Big Ten schedule, our tempo-free chart has been changed to include conference-only stats with rankings in parenthesis. The numbers are obviously still a bit skewed given that some teams have played tougher schedules than others, but that will work itself out as the weeks move along.
There's not a ton of encouraging things to point to here from the Minnesota perspective. The Gophers have the league's second worst offense and defense. And they struggle in several key areas that Indiana excels in.
Start with their effective field goal percentage defense, which is actually higher than Indiana's effective field percentage through four conference games. The defensive boards are also a major problem for Minnesota, which is allowing its Big Ten opponents to rebound 37 percent of their misses. That's an area where Indiana has been able to clean up its missed shots (34.4 offensive rebounding percentage) for second chance opportunities.
Pitino has preached that his plan for Minnesota is to implement a hard nosed, pressing defense that his father, Rick, has built a Hall of Fame career on, but this Gopher team isn't forcing many turnover and simply isn't putting up the resistance to stop anyone so far in league play.
On the season as a whole, opponents are shooting 68 percent at the rim against Minnesota as the chart below from Shot Analytics shows: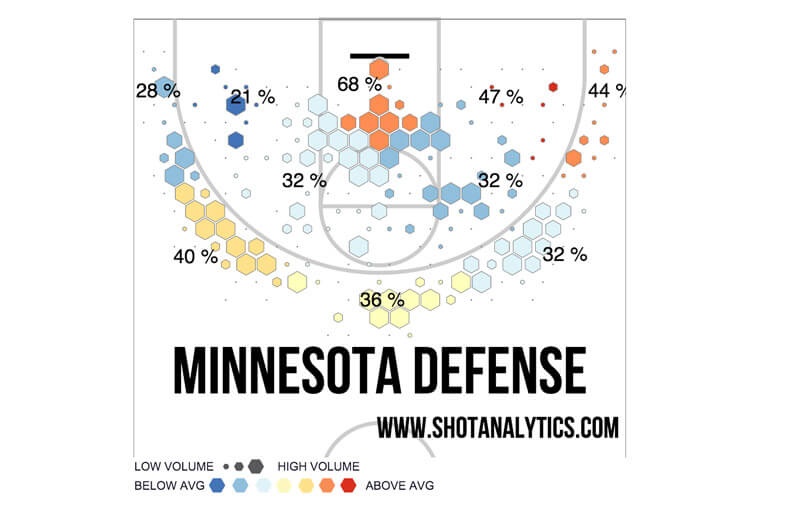 WHAT IT COMES DOWN TO
The KenPom projection is Indiana by 10 with an 83 percent chance of victory. Sagarin likes the Hoosiers by 13.
The Barn has historically been a tough place for Indiana to play, but given that Minnesota has already dropped five games there this season, this is a game the Hoosiers need to have. Right now Indiana's NCAA tournament resume may not have a marquee win, but the Hoosiers have positioned themselves to keep climbing the S-Curve if they keep winning.
We'll probably learn quite a bit about Minnesota's mentality as a team in this one. Are the Gophers tuning out Pitino's message on their way to a finish in the bottom two of the league? Or will there be some kind of prideful response and fight following embarrassment against Northwestern and Nebraska.
Ultimately, Indiana just needs to ensure the defensive mentality that it has exhibited the past three games travels north and the result should take care of itself.
(Photo credit: Jamie Sabau/Getty Images North America)
Filed to: Minnesota Golden Gophers