News and notes from Tom Crean's radio show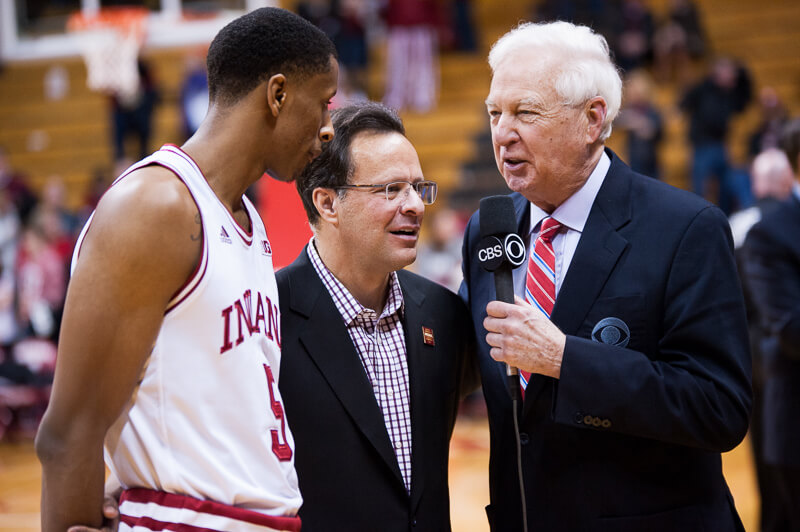 James Blackmon Jr., who is out for the season with a knee injury, returned to school on Monday, Tom Crean said at his weekly radio show at the Bloomington Holiday Inn.
His return caused practice to halt, as players and coaches alike were excited to see the sophomore return to Assembly Hall.
"I couldn't have kept practicing going if I tried," Crean said. "They were so excited to see him."
Crean also said that he does not have a timetable for Blackmon Jr.'s return.
Blackmon Jr. has not played in the last four games after suffering a non-contact injury in a practice leading up to the Rutgers game. He averaged 15.8 points and 4.2 rebounds per game this season.
On Troy Williams breaking out of his slump
Troy Williams matched a career-high 23 points in Indiana's win over Ohio State. It was the first time Williams had scored in double figures since the Rutgers game when he had 10.
"He's getting better," Crean said. "A lot of things we do have him in mind, whether it's the fundamentals, whether it's the situational decision making that has to happen because we have great belief in Troy. Troy is a real weapon because he can do so many things with the basketball, and sometimes he just needs to see where he needs to pick it up or slow it down and keep reading the game for what it is."
Crean also said Williams let the game come to him on Sunday. Williams said he didn't look at it so much as he was struggling, but that other guys on the team were stepping up and playing well.
"I don't like to focus on myself," Williams said. "The program is way bigger than just myself."
Thomas Bryant named Big Ten freshman of the week
For the second time this season, Thomas Bryant was named the Big Ten freshman of the week. He also recorded his first double-double of his career in the win against the Buckeyes, with 18 points and 13 rebounds.
"He's healthier so he can practice longer, he can practice with more intensity," Crean said. "We don't have to pull him out of things. He's a perfectionist every day. He truly is.
"He's one of the most coachable 18-year old young men I've ever been around in my life. He wants to be great. He has an unbelievable desire to see his teammates be successful."
On Assembly Hall
Indiana got off to a 10-0 run to start the game against Ohio State. Crean credited the fans for providing energy right from the beginning.
"There was real energy, there was real urgency," Crean said. "There's no question that when we got those first couple baskets and held them scoreless. Our crowd created even more energy for us which was fantastic. Our guys really thrive on that. It raises everybody's level. The crowd support from courtside to the top of the arena was excellent."
On IU's next opponent: Minnesota
Indiana will travel to Minnesota Saturday to take on the Golden Gophers at Williams Arena, also known as The Barn. The Golden Gophers have struggled this season, and are 6-10 overall and 0-4 in the Big Ten.
"You can't look at their record," Crean said. "This is a team that just beat Clemson, and Clemson just beat Louisville. They're a good team."
Crean said that because Minnesota lost so many players over the last two seasons, it's almost as if Coach Richard Pitino is starting over.
"I think Richard is an excellent coach and I don't think there's any question about it, he's his own man," Crean said. "He has an excellent style, they're very athletic. We're looking at this team with great respect."
Filed to: Tom Crean