Big Ten Power Rankings: January 11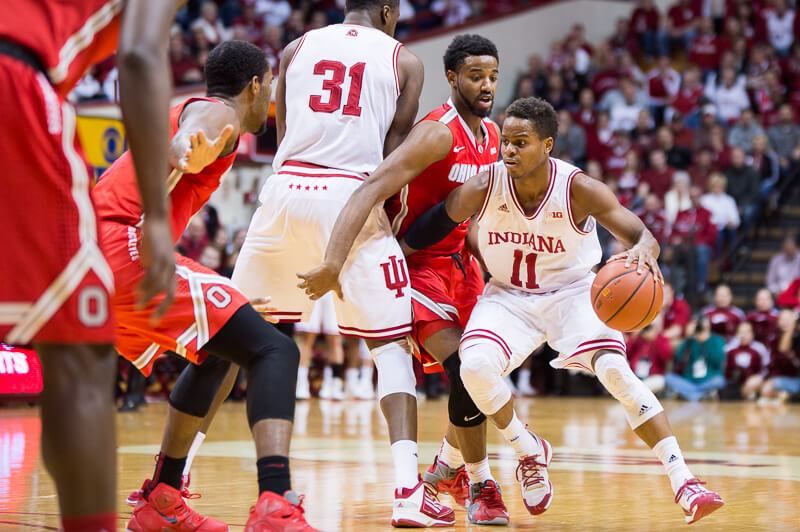 The Inside the Hall Big Ten Power Rankings are back following the second week of conference play and there are more shakeups in the league's pecking order. Here's a look at where each team stands after the second week of Big Ten play (Note: Points per possession numbers in parenthesis are for conference games only):
14. Rutgers (6-11, 0-4, .89 points per possession, 1.21 points per possession allowed) … There's no other way to put this: Rutgers is the worst major conference team in the country. The Scarlet Knights took two drubbings this past week: a 25-point smackdown at Maryland, which was expected. But Rutgers was even worse on Saturday in a 34-point loss at home to Nebraska. Will Rutgers win one Big Ten game? It's a valid question.
13. Minnesota (6-10, 0-4, .97 points per possession, 1.19 points per possession allowed) … It was another tough week for the Golden Gophers as they fell to Penn State in State College and then got absolutely pounded at home against Northwestern. Defense is a major problem for Richard Pitino's team as Minnesota has yet to hold a Big Ten opponent under 1.13 points per possession. With a road game at Nebraska and then Indiana coming to town, things won't get any easier this week.
12. Penn State (10-7, 1-3, 1.01 points per possession, 1.18 points per possession allowed) … The Nittany Lions split a pair of home games this week as they beat Minnesota and then lost to Michigan State by 27. The schedule is about to get very difficult now for Pat Chambers and company. KenPom projects them to lose their next nine games. This week, they travel to Purdue and Northwestern.
11. Nebraska (9-8, 1-3, 1.13 points per possession, 1.13 points per possession allowed) … There's nothing like a road trip to Piscataway to help a Big Ten team get a win. After starting league play 0-3, the Cornhuskers went to Rutgers and delivered a 90-56 beatdown on Saturday afternoon. Nebraska has a pair of winnable games this week: Minnesota at Pinnacle Bank Arena followed by a trip to the State Farm Center to face Illinois on Saturday.
10. Illinois (9-8, 1-3, 1 point per possession, 1.08 points per possession allowed) … In the most surprising result in conference play this past week, John Groce and the Illini handed Purdue its second Big Ten loss on Sunday evening in Champaign. The Illini have been decimated by injuries this season, but are projected to win five of their next six by KenPom. Junior Malcolm Hill was terrific in the win over Purdue with 30 points and eight rebounds in 35 minutes.
9. Wisconsin (9-8, 1-3, .98 points per possession, .94 points per possession allowed) … It was a tough week for interim coach Greg Gard as the Badgers narrowly lost to Indiana in Bloomington and staged a late comeback at home against Maryland before Melo Trimble hit a dagger to help the Terps escape Madison with the W. Through 17 games, one thing is very clear: Wisconsin is challenged offensively. The Badgers simply don't have enough guys who can create their own shot and it's putting a lot of pressure on Nigel Hayes and Bronson Koenig to carry a heavy load every game.
8. Northwestern (14-3, 2-2, 1.08 points per possession, 1.02 points per possession allowed) … The Wildcats split a pair this week, losing by nine at home to Ohio State and then crushing Minnesota in Minneapolis. With 14 wins, it seems like a foregone conclusion that Northwestern will reach 20, but the Wildcats really need a signature win or two to get into the NCAA tournament conversation. Sophomore Bryant McIntosh has grown into one of the nation's elite distributors as his assist rate (40.1) ranks seventh in the country.
7. Ohio State (10-6, 3-1, 1 point per possession, 1 point per possession allowed) … The young Buckeyes had an impressive road win in Evanston on Wednesday, but were pounded from start to finish by Indiana on Sunday in Bloomington. Still, this is a team that has rebounded nicely from a bleak 2-4 start. Ohio State should get back on track this week when it hosts Rutgers, but a trip to Maryland this weekend is another stiff test for a young team in a tough environment.
6. Michigan (12-4, 2-1, 1.13 points per possession, 1.05 points per possession allowed) … Michigan played just once this past week and fell by 17 to Purdue in West Lafayette. The bad news is that the Wolverines continue to be without their best player, Caris LeVert. The good news is that LeVert appears to be close to returning to the lineup. In what is the most challenging pair of games this week for a Big Ten team, Michigan hosts Maryland on Tuesday before traveling to Iowa on Sunday.
5. Purdue (14-3, 2-2, 1.05 points per possession, 1.04 points per possession allowed) … What was the most dominant Big Ten defense in non-conference play has hit a bump in the road early in league play. The Boilermakers beat Michigan easily early last week, but then had a clunker on Sunday in Champaign. The Illini scored 1.20 points per possession on Purdue, which was by far their worst defensive effort of the season. The Illini shot 17 of 31 on 2s in the upset and had no problem with Purdue's size advantage in the paint.
4. Indiana (14-3, 4-0, 1.08 points per possession, .93 points per possession allowed) … After surviving a tight contest against Wisconsin on Tuesday with a one-point win, Indiana played its best game of the season on Sunday against Ohio State. The Hoosiers overpowered the Buckeyes on both ends of the floor. Through four games, Indiana has the second best defense in the conference. Some of that is the schedule the Hoosiers have faced and some of it is improvement. The Hoosiers are off until Saturday when they travel to Minnesota.
3. Michigan State (16-1, 3-1, 1.15 points per possession, .97 points per possession allowed) … Denzel Valentine is back, which means it might not be long before the Spartans claim the top spot in the power rankings. Michigan State hammered both Illinois and Penn State this week and now will look to avenge its loss to Iowa. The Hawkeyes travel to East Lansing on Thursday for what should be one of the best games in the country this week.
2. Iowa (12-3, 3-0, 1.15 points per possession, .99 points per possession allowed) … The Hawkeyes played just once this week and it was a solid 11-point win over Nebraska in Iowa City. Jarrod Uthoff remains one of the best players in the country that nobody is talking about. The senior is hitting 45.5 percent of his 3s and ranks in the top 15 nationally in block percentage. In his last two games, Uthoff has 50 points.
1. Maryland (15-1, 4-0, 1.10 points per possession, .92 points per possession allowed) … On paper, Maryland is probably the most talented team in the Big Ten. And it appears the Terrapins are beginning to hit their stride. Over the past season and a half, Maryland is one of the best teams in the country at winning close games and that clutch factor showed itself again on Saturday as Melo Trimble hit a game-winner to beat Wisconsin in Madison. With freshman stud Diamond Stone roaming the paint and Trimble manning the point, Maryland has one of the best one-two punches in the country.
Filed to: Big Ten Power Rankings